Rosanna Lambertucci was eliminated from Dancing with the Stars after the play-off with Carlotta Mantovan and Antonio Caprarica: the ranking of the November 18th episode.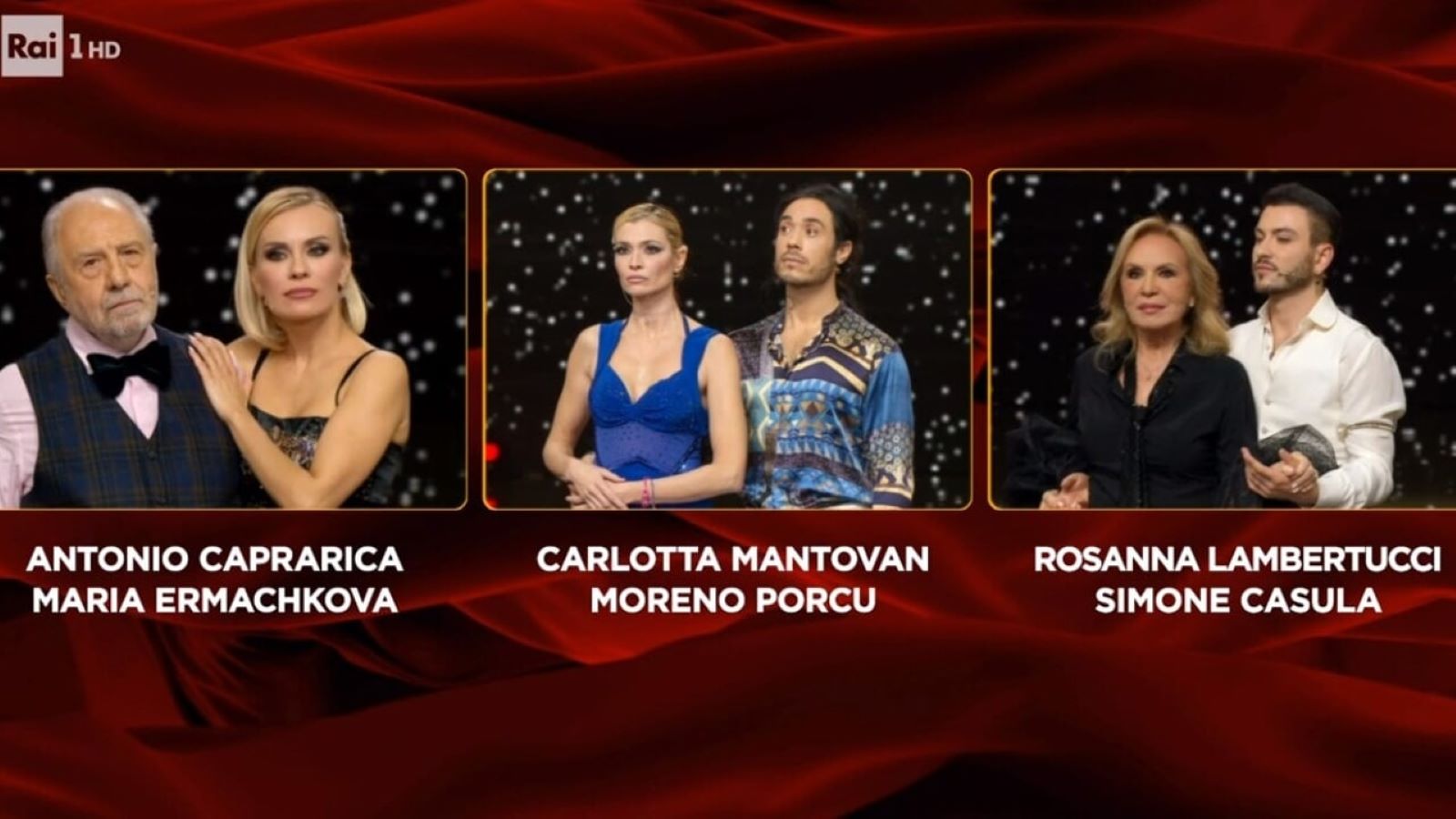 The fifth episode of Dancing with the Stars 2023 it was fatal to Rosanna Lambertucci and the dancer Simone Casula, eliminated from the talent show. The final ballot, which involved three couples, saw them defeated, as the public he preferred the couples formed by Carlotta Mantovan with the dancer Moreno Porcu and Antonio Caprarica with the teacher Maria Ermachkova.
Dancing with the Stars: fifth episode
The fifth episode of Dancing with the Stars 2023 opened with the reconciliation Between The Mammucari e Antonio Caprarica. The two ended one controversy lasted the whole week, originating after a clash that took place in the Hall of Stars. Teo and Antonio hugged before Rosanna Lambertucci's performance.
The space dedicated to Dancer for a night has been occupied by Simon De Pasqualewho he had by his side Rossella Erra, the people's tribune. At the end of the performance, Selvaggia Lucarelli gave the audience a fun imitation by Rossella, with the gallery replying to her with a nice comment: "Selvaggia, you are my pride".
Also this week, The Mammucari he became the protagonist of a useless controversy con Selvaggia Lucarelli so much so that he eventually had to to apologize acknowledging that he had crossed the line: "I publicly apologize to Selvaggia and recognize that I was wrong".
Wanda Nara he conquered the first place from the classification from the jury, composed as always by Guillermo Mariotto, Fabio Canino, Ivan Zazzaroni, Carolyn Smith and Selvaggia Lucarelli. The little treasure Of Alberto Matano he rewarded Simona Ventura and Samuel Peron, that of Rossella Erra He went to Paola Perego and Angelo Madonia.
In the end the sum of votes of the jury and the treasure gave away the first place to Simona Ventura.
The ranking of the fifth episode of Dancing with the Stars: Simona Ventura in the lead
Simona Ventura and Samuel Peron: 90 points
Paola Perego and Angelo Madonia: 70 points
Wanda Nara and Pasquale La Rocca: 49 points
Antonio Caprarica and Maria Ermachkova: 40 points
Sara Croce and Luca Favilla: 40 points
Lorenzo Tano and Lucrezia Lando: 37 points
Carlotta Mantovan and Moreno Porcu: 35 points
Teo Mammucari and Anastasia Kuzmina: 31 points
Giovanni Terzi and Giada Lini: 31 points
Rosanna Lambertucci and Simone Casula: 28 points
Three-way ballot and the elimination of Rosanna Lambertucci: The public's verdict
Combining the scores of the ranking and social votes, have emerged three couples destined for the final ballot: Antonio Caprarica with Maria Ermachkova, Carlotta Mantovan with Moreno Porcu and Rosanna Lambertucci with Simone Casula.
Rossana and Simone left the talent show, voted by 10% of the public. Carlotta received 63% of the vote. Caprarica was preferred by 27% of viewers.