Ethan Hawke directed Laura Linney in the film Wildcat and the two stars talked about the importance of Philip Seymour Hoffman in their lives.
Ethan Hawke he directed his daughter Maya and Laura Linney in the film Wildcatpresented at the 2023 Toronto Film Festival, and the cast also includes Laura Linney, with whom the actor has a connection that dates back many years.
The project tells the story of Flannery O'Connor, shown while she is writing her first novel.
A friendship relationship
Laura Linney, interviewed to talk about Wildcat, said: "There are few people in the world who, if they ask you to do something, whisper it to you and you show up. And, for me, Ethan is one of those people". The two stars worked together in 1992 at the theater during a production of the play The Seagull, which marked Hawke's Broadway debut.
Ethan later recalled that their friendship continued for three decades: "Sometimes we were together, sometimes we greeted each other from different parts of the room and asked each other: 'How are you? I am still alive. The last two years have been really tough.' 'Oh, what happened?'".
The situation led the two stars to think of Philip Seymour Hoffman, as Ethan admitted: "I think it's funny, I think about him so much because as soon as people are convinced that individuals don't matter, they actually do. And we don't understand how Phil was an essential part of the New York acting clan. And I didn't realize it but he was, for people like me and Laura and many others in New York, a conduit of energy and also he put you in difficulty. He pushed us to be the best versions of all of us. And you could see him saying, 'Did you sell out that project? Don't do it again'. I remember him seeing Paul Dano at a show and saying, 'Yeah, we might have some problems. He could be good".
Philip Seymour Hoffman: 10 great roles to remember him
The importance of family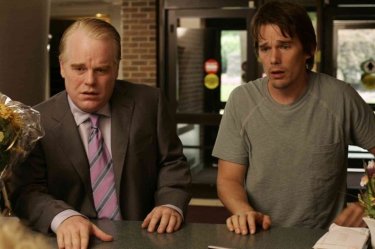 Laura Linney added: "Art leads to family. And there is a biological family and what Armistead Maupin calls a logical family. And many of us in the arts have a very carefully curated logical family. When you actually have both, when you can see someone who has them, who are biologically and logically linked, that's a really powerful situation and I think it's rare to see. So it was incredibly exciting to be on set every day, not only to watch someone I admire and love evolve in these incredibly inspiring ways, but also to see his daughter benefit from a lifelong conversation. life and that she had with him. This is an incredibly exciting thing to be a part of. And so I stood there and immersed myself totally in that reality".
Maya Hawke developed the film Wildcat with Shelby Gaines and decided to ask her father to direct it after she turned 50, realizing that he had dedicated his life to having a spiritual relationship with the creation of artistic works: "I thought, 'This guy I know really well made some of my favorite films about artists, Blaze and Seymour: an introduction, and he's really interested in the connection between spirituality, and faith and art. I bet we would be a really good team to make this movie'".