The Straw Hat Crew is the protagonist of the new character posters of the ONE PIECE live-action: let's take a further look at the Mugiwara in the flesh!
Only a few days left until the release of the live-action Of ONE PIECE are Netflixand some of the newest promotional materials were released today some previously unreleased character poster depicting i Mugiwara: ready to board?
The Straw Hat Crew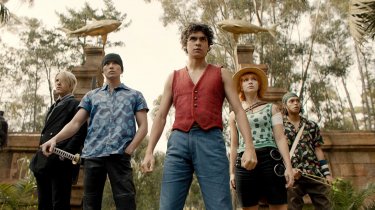 The new ONE PIECE character posters just shared by Netflix are dedicated to Luffy and his Nakama: Zoro (Mackenyu), Nami (Emily Rudd), Usopp (Jacob Gibson) and Sanji (Taz Skylar) keep the main protagonist company series starring Iñaki Godoy in these new images of the first members of the Straw Hat Crew.
ONE PIECE, who is the most powerful of the Mugiwara? The stars of the live-action Netflix answer
Il live-action di ONE PIECE
Currently composed of an 8-episode first season, the Netflix live-action One Piece will arrive on August 31 on the streaming platform.
ONE PIECE, Eiichiro Oda's message on Netflix live-action: "We have not compromised"
The series, led by Matt Owens and Steve Maeda, will show us the events narrated in the Saga of the East Sea, and will also see in the cast Jeff Ward, Peter Gadiot, Vincent Regan, McKinley Belcher III, Craig Fairbrass, Langley Kirkwood, Morgan Davies, Alexander Maniatis, Grant Ross, Celeste Loots, Steven Ward and Ian McShane as narrator.