Sometimes it only takes four minutes to become a world star, like for Midge Maisel; others, on the other hand, need seventy-six to close one of the most important and loved TV series of recent years, as for the ninth episode of The Marvelous Mrs. Maisel 5. It is known, feared by fans as much as by the authors, the endings are always difficult to achieve and they almost never come out perfect. There is always something missing, something that could have been, should have been or wanted to be, and rarely everyone agrees. Furthermore, considering the conclusion that Amy Sherman-Palladino had given to Gilmore Girls: A Year in the Life, our concern was even more justified. Fortunately, the danger has vanished and there were no surprises of that kind, also because they more or less knew the fate of the characters in the series thanks to the flashforwords.
That doesn't take away from that something is still pending in The Marvelous Mrs. Maisel 5. There are things unsaid, unshown and undone, leaving them to our interpretation. For example, the reconciliation between Midge and Susie. Or one wonders what happened to Joel. Is he out of prison? If yes, is he back with Midge? If not, did he die in prison or is he still alive? From the 2005 photo Midge has on her desk, we can deduce that they are not back together and that he is missing. Otherwise, he'd be hanging around that huge house. Surely the Weissmanns and the Maisels are gone too, but we don't know how and when they left, except for Rose. Frankly though, are questions to which each of us can give his own answer.
They absolutely do not affect a splendid episode that many already count among the most beautiful of The Marvelous Mrs. Maisel 5, of the entire show and, even, of the year. Hard to contradict them, right? We don't even try. On the contrary.
And one of the reasons is the return of Lenny Bruce. Finally. We were missing like oxygen in the air. Luckily we didn't witness his death, because it would have been too much. Sure, it's still painful to see the end of his career. It's touching that he doesn't want Midge to associate with him; he heartbreaks to observe how by now he has lost hope. The protagonist of The Marvelous Mrs. Maisel 5 she didn't want to turn her back on him, because Lenny was the one who taught her, inspired her, helped her cultivate her art and never gave up on her; so it was unbearably terrible to see him give up on himself, to be forced to throw in the towel. But it cannot help those who do not want to. He can only always carry it with him, in the form of the "luck" that reads them in the note in that Chinese restaurant. There, where she confesses that she loves him in the only way a comedian can: by joking. And our heart, at that moment, exploded with bitter happiness.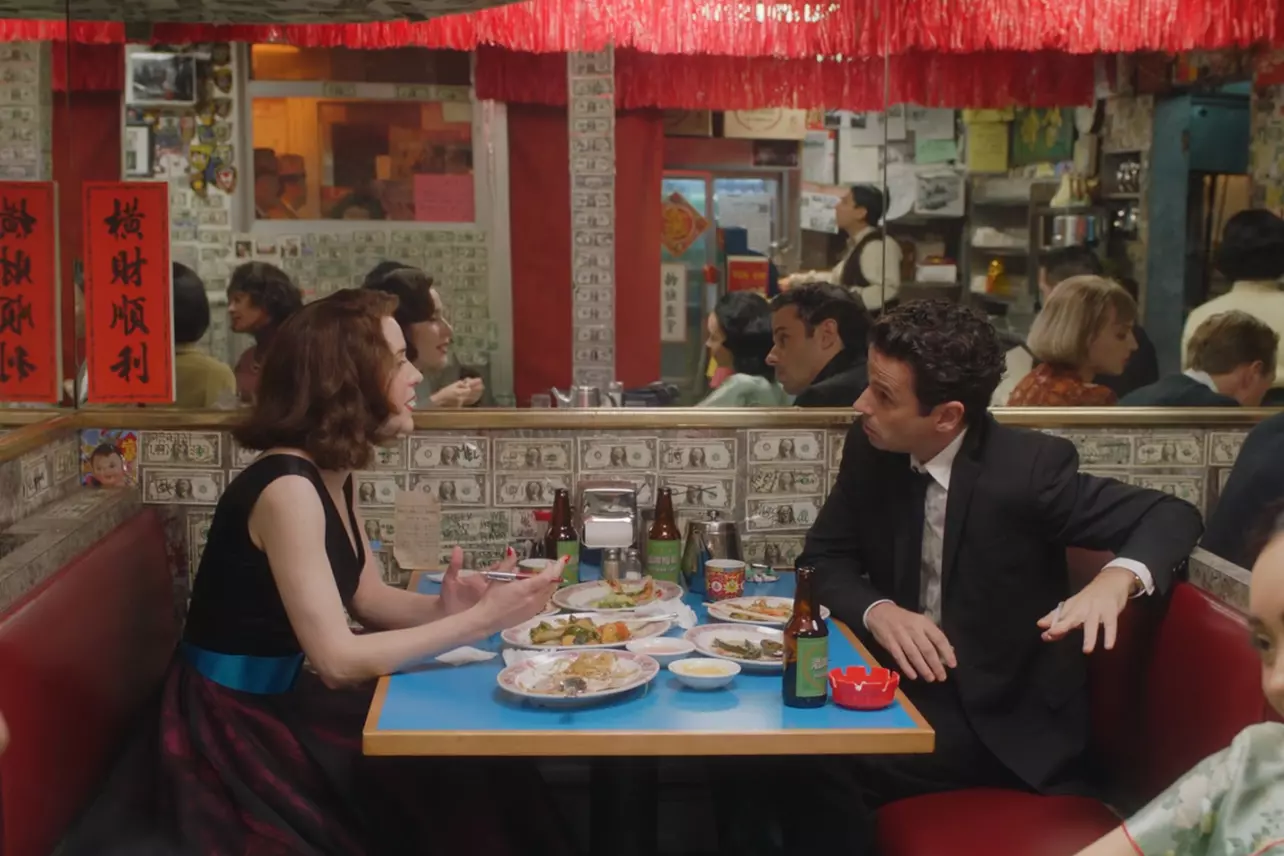 Lenny isn't the only man who helped shape Midge's career in The Marvelous Mrs. Maisel 5.
Joel was the catalyst for that, prompting Midge to take the stage at the Gaslight and unleash that passion she didn't know she had. She stoked the fire, sustained it, and changed what we all thought of him. If it weren't for her cheating, Midge wouldn't have gotten to this point in her life, so she doesn't hold any grudges, as evidenced by the genuine scenes between them before she appears on The Gordon Ford Show. And then there's Gordon Ford, a love interest who proved to be so much more for Midge. Because he is the one who gives her the name of The Marvelous Mrs. Maisel. Admittedly, we didn't love it in this episode, as she gets in the way of Midge's career. We have to consider that at the time television was the only way to make yourself known and Gordon doesn't tolerate anyone stealing the show from him, least of all a woman. Also, that same woman duped him into enlisting his wife on her own crusade, which had pissed him off even more.
So if nobody gives it to her, Midge takes her chance. Like the first time she performed at the Gaslight, she grabs the microphone, not waiting for anyone's permission, not following the rules, closing the circle of her story about her. This is how she left her mark and so she will continue. She wants to be known as a comedian, perform at venues like Carnegie Hall, hear the laughter of the audience rather than write for someone else and stay behind the scenes. AND in that instant, in those few seconds she sees the microphone, she chooses to be a comedian instead of a writer. She knows that by performing, she would be kicked off the show, but it's a risk she's willing to take because being on the show would mean she finally made it. Which is on the right track. No more detours.
It was simply the best decision I've ever made in my life. And it's wonderful to see her on that stage, for four whole minutes in a scene that is simply perfect, because in The Marvelous Mrs. Maisel 5 his stand-ups were very few and we missed them so much.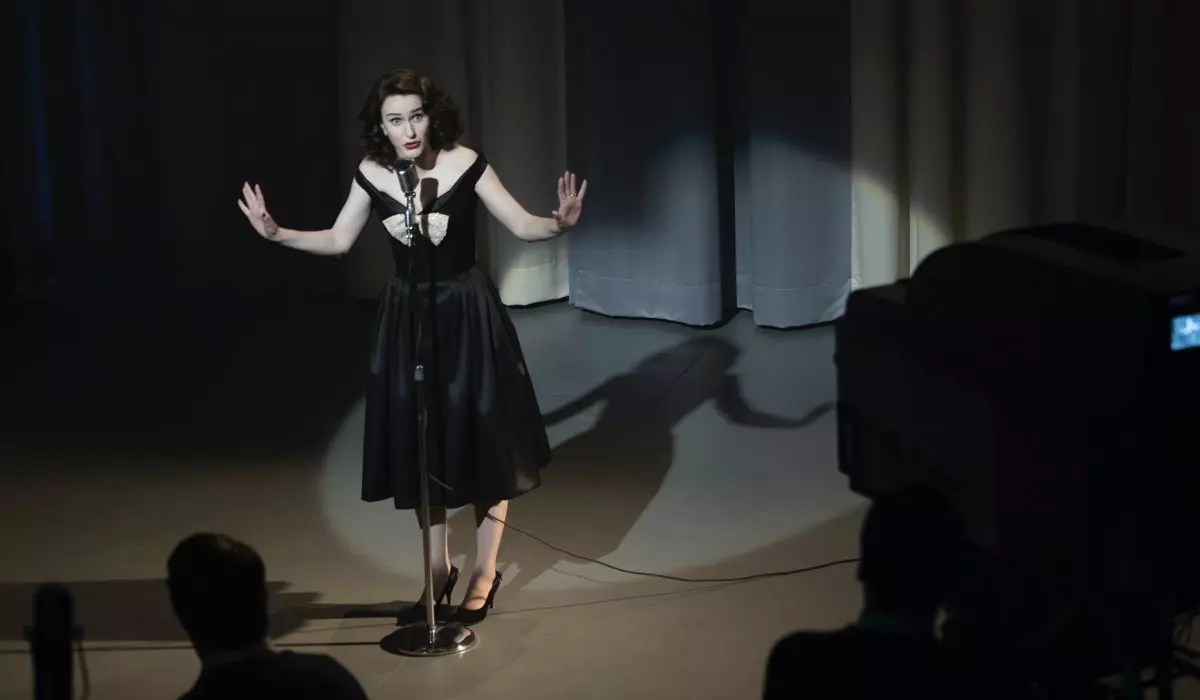 No one can deny her talent anymore, not even Ford who finally treats her as a comedian and a full-fledged host. From Joel to Shirley, from Archie to Imogene, passing through two iconic and moved Abe and Rose, everyone she loves is there, unconditionally supporting her, for what may have been the first time ever. It is his moment, which retraces – nostalgically for us and for Rachel Brosnahan, who is saying goodbye to Midge – his story, which repays her and Susie's sacrifices. Even that favor asked of Hedy. Wonderful Susie, which opens up like never before, and now, perhaps, Hedy is no longer a bitter memory, but one that changed her life. Thus the two arrive at fame, which is what they ardently desire, even at the cost of loneliness. Maybe that's why old Midge wants to perform every night of her, because otherwise she'll have to admit she's alone. In fact, she has a huge apartment, but no one to share it with. Not even the children who, as we have seen in the flashforwords, are far away. Physically and emotionally.
In reality, Midge has Susie, although she's on the other side of the world.
It's poetic to see them watch Jeopardy together!. Combined with the apartment scenes, there is something lonely here, as if all good things have come to an end, symbolizing the end of The Marvelous Mrs. Maisel 5. But, it's also the reminder to enjoy the journey rather than the destination, as we did watching the TV series. Because the best moments are those before fame, where the two decided together and jumped together, as for the Gordon Ford Show. AND the final scene is the essence of the show, because it's about Susie and Midge – ah, immediately give the Emmy to Rachel Brosnahn, Alex Borstien and Luke Kirby because they absolutely deserve it. Were it not for the other, neither Susie nor Midge would have ever embarked on this career and their story would be incomplete. So yeah, it's fitting that the last frame is dedicated to their bond, which is still going strong. After all, Midge once said that she wanted someone to make her laugh. And that's Susie. She has always been Susie. They are the real endgame of The Marvelous Mrs. Maisel 5our happy ending.
That's why this was the closure we deserved, for a TV series that we will miss terribly; from the incredible narration, where she laughs and cries at the same time; with such true and profound characters, especially a Midge, a splendid imperfect heroine, who also earned her star on the Hollywood Walk of Fame; that she beautifully honors the strength of women. Perhaps we should honor Midge and Susie by enjoying our journey and tackling it as only they can, to the sound of "Tits up". And then, with the curtain down, there's only one thing left to say:
"Thank you and good night"
The Marvelous Mrs. Maisel 5: the review of the eighth episode of the fifth season