On April 13, it debuted on Netflix Obsession, a British miniseries that combines eroticism with thriller implications.
That's still for effect 50 shades of Grey or for the recent goodbye to Sex/Lifethe British miniseries made it, immediately took a place in the global Top 10 of the platform.
Who would have thought that?
Certainly not me after looking at it, yet here I am writing about it.
Oscar Wilde he was right: talking about it well or talking bad about it doesn't matter, as long as you talk about it. This was also the case for the film from which the miniseries is based, The damage, in turn inspired by the novel of the same name by Josephine Hart.
When it was released in theaters, the critics split in two and even in that case, for better or for worse, it was able to be talked about.
Netflix, however, has invested in the title in terms of promotion.
On the occasion of the launch, he even opened a red-light boutique in London, the city that forms the backdrop to the story we are about to talk about.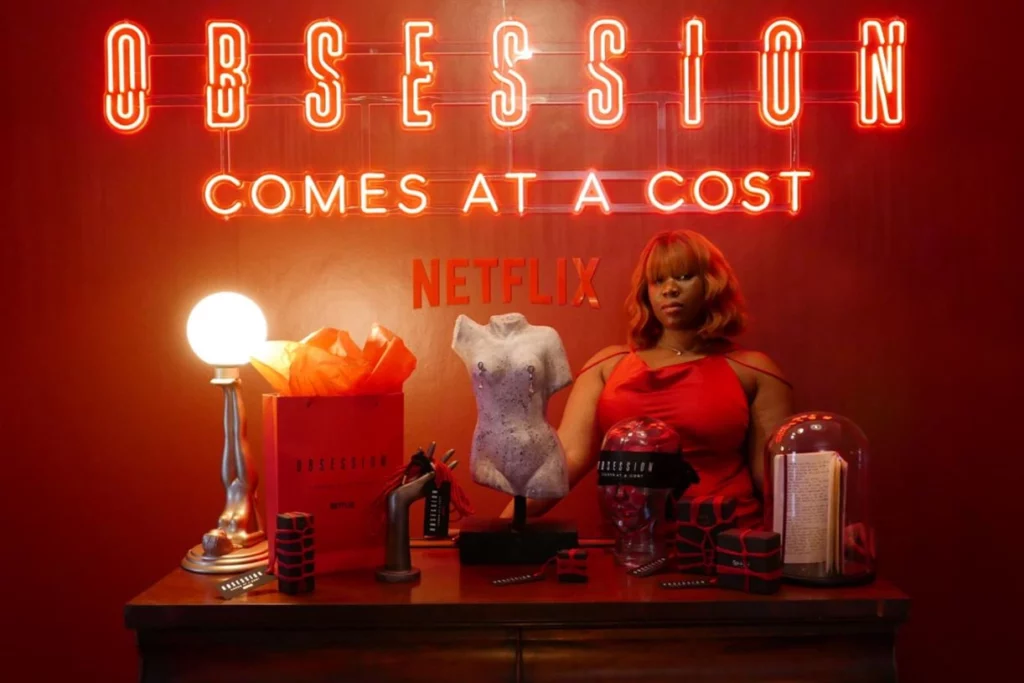 William Farrow is a highly respected surgeon and lives in his beautiful house with Ingrid, an equally successful judge with whom he is happily married, at least apparently.
The couple's son Jay, now a young adult, is a promising doctor just like his father.
The Farrow family looks perfect and it is, but perfection by its nature it has a flaw.
I know, it sounds contradictory, yet it is. Perfection always brings boredom with it.
This is why William's gaze is absent. He is not a man, but an automaton. A lifeless puppet who operates on patients, goes to the gym, eats healthy, maintains business relationships and has been sleeping next to the same woman for years every night, then wakes up and does it all over again.
He has achieved all of his goals and now he stands still, in a state of stasis in the picture of his perfect family. That happiness is just a pose and in that photo, to tell the truth, William wasn't even smiling.
But one evening the surgeon is kissed by the gaze of a woman and wakes up like in a fairy tale… for adults.
She gets close to him.
Looking at her so closely it's clear, she will be a few years older than Jay. In fact, the sensual stranger introduces herself as Anna Barton, the fiancée her son had told him about.
In a second that spark seems to go out in William when she inadvertently puts him against the wall with allusive phrases. In the days that followed, the memory of that conversation full of innuendos haunted him to sleep.
The man will condemn that family photo in which he posed for years to suffer an irreparable tear due to his obsession for Anna.
Not all in Obsession it is to be thrown away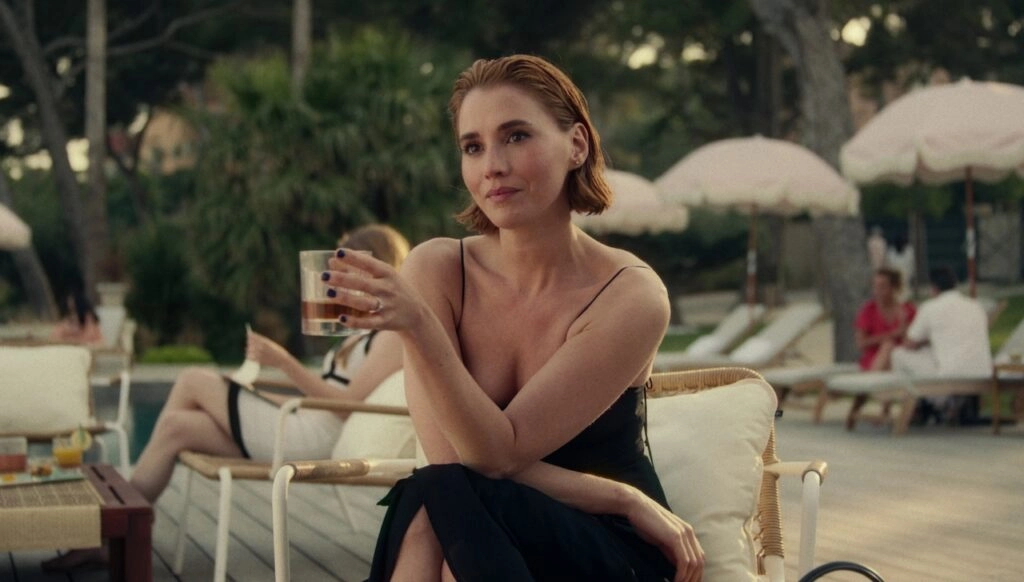 I have suffered damage. Damaged people are dangerous. They know they can survive

Anna Barton
Charlie Murphy as Anna she is charming, even magnetic despite her character writing being very superficial.
Unfortunately not even a parenthesis of true introspection was dedicated to her capable of realizing her charm despite the aura of mystery around the woman supporting the narrative.
"Understanding" Anna is the goal for which we continue with the vision. But when you actually get to know what there is to know, you simply don't want to know anymore.
She and William throw each other a few more hungry looks during their first official meeting in the presence of Jay and Ingrid, they wouldn't even see a T-Rex strolling in the living room.
Anna and the dad of the year they begin to see each other in an apartment where they consume all their passion preferably on hard and cold surfaces such as floors.
Thus they lead a parallel life blissfully quiet, without arousing anyone's suspicions. Much Jay is the stereotypical nice guy who closes one eye, the other too, and then plugs his ears.
When he asks Anna for clarifications on what she has done in her absence, just say "Learn to love questions, Jay" and then he stops making them. It's a phrase that literally makes no sense that she repeats over and over again. I still haven't figured it out yet with him it works every time.
There is no escalation in William's obsession with Anna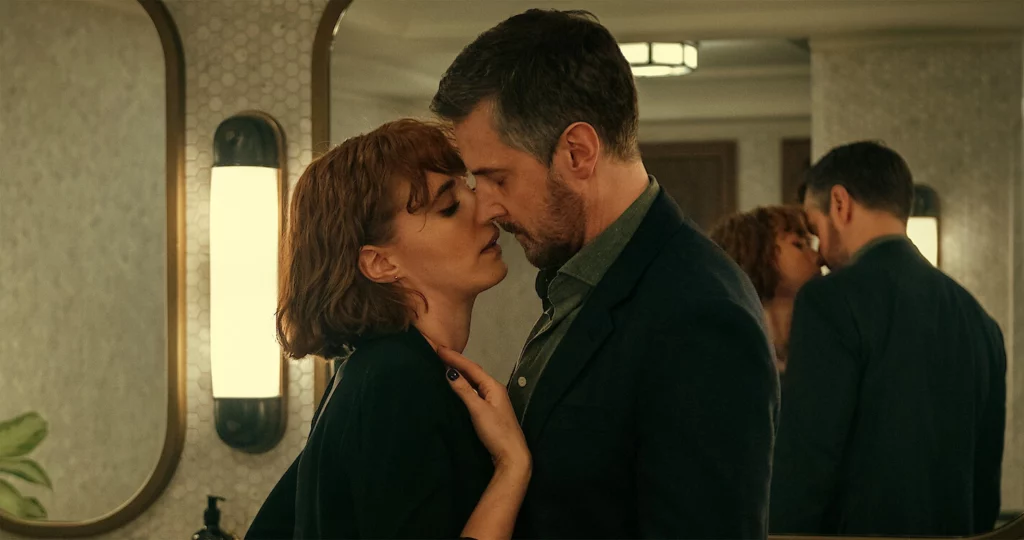 Even the most extreme erotic scenes have no force, they are seasoned with explicit dialogues that are vaguely embarrassing and more sexy than sexy. the main element is missing in a story of this narrative genre: chemistry.
Between Jeremy Irons e Juliette Binoche in the '92 film there was all right, between Charlie Murphy e Richard Armitage in the miniseries the same cannot be said.
The actor we enjoyed as Thorin Oakenshield in Lo Hobbituses yes and no two facial expressions for the William dish, a character who actually doesn't have much to say and who when he tries to communicate something is cringe. Like the time she frantically masturbates smelling a pillow Anna slept on.
It all feels forced all the time.
On the other hand, the miniseries is watched in an afternoon and the ending has the kind of twist that you wait for all the time.
I admit that I started watching Obsession expecting a type of erotica closer to that of Sex/Life or even of Bridgerton that with Regé-Jean Pagescientifically, the most beautiful man in the world has definitely surprised us.
But this time we are light years away from the desired result, however the thriller element tries to wearily drag us towards a surprise ending that was in the air from the beginning.
Do you think it was worth the wait?