We see the Baths of Caracalla from above, as if we were arriving in Rome from a spaceship. And in the middle of that place that smells of history, we find another spaceship that has already landed. It's a square illuminated in blue, and it really seems to be in one of those movies in which a ship descends into another world, an older world. This is how a very particular film begins, the one we tell you in the review of All up! Happy birthday Claudiusil event movie which arrives in cinemas on 15, 16 and 17 May.
It is a film that tells the unpublished musical project of Claudius Baglioni Twelve Notes – All Up!the 12 extraordinary events that took place from 3 to 19 June 2022 at the Baths of Caracalla: the first time ever for a pop artist to have opened the opera season of the Rome Opera House. All up! Happy birthday Claudius it is an extraordinary document for understanding who Claudio Baglioni is today: not to be missed both for those who have not seen the concert and for those who were there but can see it from a new point of view.
123 between classical and modern musicians, singers and performers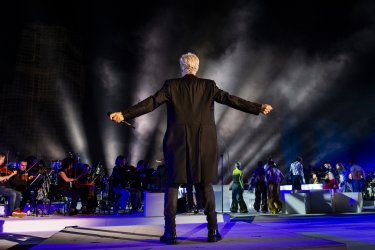 Twelve Notes – All Up!the series of concerts staged at Caracalla's thermal baths in June of last year is already in itself an ambitious, very rich, particular show. The concert saw Claudio Baglioni on stage accompanied by 123 classical and modern musicians, singers and performers, with the artistic direction and theatrical direction of Giuliano Peparini and the video direction of Duccio Forzano. Also on stage the Italian Cinema Orchestra, founded in the historic Forum Studios recording studios and directed by Danilo Minotti, author of the arrangements together with Paolo Gianolio, and the Giuseppe Verdi Choir with the Artistic Director Marco Tartaglia and the Choir Master Anna Elena Masini. The film makes this whole show even richer and allows the audience to see it in another way: if live he could grasp the overall vision, here thanks to the careful direction he manages to grasp many details impossible to see in a concert: the expressions of the faces, the gestures of the dancers, the touch of some musicians. Compared to a film like Ligabue – 30 years in one day, which also chose to stage the backstage, with an interview with the protagonist and other artists and collaborators, in this case the choice is made to stage the concert, without adding anything else.
Ligabue – 30 years in one day: "The audience singing 'We won' was a liberation"
Claudio Baglioni, the last immortal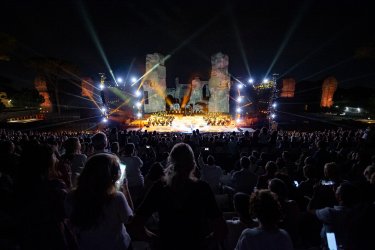 The stage, in the center of the Baths of Caracalla, looks like a spaceship, we said. And to bring the beginning of Tutti su! Happy birthday Claudio to a science fiction film there is also that oval door, which almost looks like one of those portals that allow you to travel from another dimension. It is from here that the dancers who are part of the show and then Claudio Baglioni enter the stage. And the singer-songwriter, very elegant in a tailcoat and white shirt, really seems to have arrived here from another time. AND All up! Happy birthday Claudius, after all, it is just this, a journey through time, in 50 years of career. Baglioni is a Highlander, the last immortal (or, at least, one of the last) of our song. Around him the stage is sparse, that square we were talking about at the beginning, with two "Americans" with lights on the sides, and with the backdrop deliberately free, empty, so as to show the beauty of the place, a natural scenography . Then, against that background, some projections will appear: for the most part they are abstract images, because the idea of ​​Baglioni's live concert, as he recounted at the press conference, does not include screens that amplify what is happening on stage, but other art forms that move on that stage, like dance.
Claudio Baglioni, an unmistakable voice
The go to dance is given with I am herefollowed by Twelve notes. Water from the moon, supported by the electric guitar, has a rock edge. Several times, during the concert, Claudio Baglioni's music becomes a sort of symphonic rock, with the singer-songwriter also picking up the electric guitar (as in I would leave). In any case, what amazes is his unmistakable voice: warm, versatile, with a great range that allows him to reach very high notes effortlessly, to hold them for a long time (A thousand days of you and me is an example). But also, something that is often underestimated in a singer, to master the low tones perfectly, which is very difficult. Thus, on the stage of Caracalla, Baglioni above all moves his voice. A world moves around him, artists who are dancers, acrobats, actors and who give life to stories that complete the songs. Dressed and made up like postmodern pierrots, with clothes and movements that recall some choreographies by Jean Baptiste Mondino, they create the mood the song needs every time: like the sensual topless dance that tells all the feeling and passion that I'm in a masterpiece song like A thousand days of you and me. However, Baglioni also moves, coordinating with the dancers, as when he hints at dance moves to the funky rhythm of How many times. But in every song he doesn't just sing: he interprets the song every time not only with his voice, but with expressions and gestures. A complete showman. During the concert there is also space for his son, Giovanni Baglioni, a virtuoso of the acoustic guitar.
Claudio Baglioni in Rome 2021: "My favorite film? Blade Runner, painfully human"
A crescendo finale, made up of great hits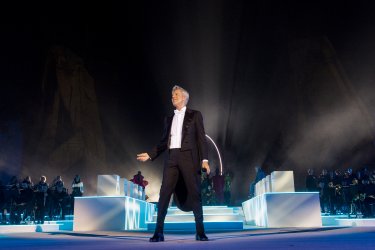 In the concert there is also room for the irony of W Englandfun and rhythmic, and for the intensity of Poster. Application no it's one of the most enthralling songs, electric and pop, one of those songs that enthralls the crowd's choirs, and is played with eight musicians (including guitarists, bassist and drummer) in the foreground. And it leads us towards a crescendo ending, made up of great hits such as Along the way, You will have, A thousand days of you and me, Viathe most "pulled" of the evening, Life is now. Baglioni smiles, satisfied. It was a great night of music.
This little big love and…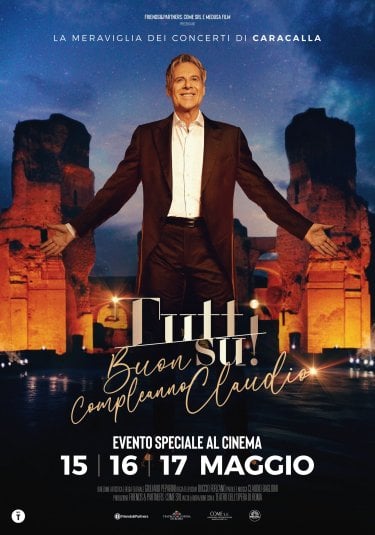 To understand who Claudio Baglioni is, just understand that, only in the seventies, he strung together a series of immortal songs such as This little big love, Beautiful love, And you, Saturday afternoon, And how are you. Things on which any artist would have focused an entire career, proposing them endlessly, and trying to create other similar ones. Claudio Baglioni has always tried to go "beyond", to quote the title of one of his albums. And so those songs, which in the film you will hear over the credits, are indeed given to the public, but enclosed in a medley (which, unlike the film, is positioned in the middle of the concert ) whispered, intimate, only for voice and piano. Almost as if he wanted to make fun of himself, granting them but without putting them too much in evidence. It is also from these details that one judges a great songwriter.
Conclusions
In the review of Everyone on! Happy birthday Claudio we told you about an extraordinary document to understand who Claudio Baglioni is today: not to be missed both for those who have not seen the concert and for those who were there but can see it from a new point of view.
Because we like it
Claudio Baglioni, a voice with an exceptional range, with a full-blown stage presence, and with a repertoire of great songs.
The choreographies that complete the show and the richness of the musicians who are on stage.
The careful direction that allows you to point out many details that escape live.
What's wrong
Except that at the cinema you can't ask for an encore and listen to even more music.