"You are useless, most of you. You are as bad as those idiots of my children" (Logan Roy)
The quote from a dead Logan Roybut more alive than ever in the beating heart of what remains of his Waystar Royco and in the obsessions of his children, forced to deal with the constant calls of the historical collaborators to the greatness of the father that they will never reach, it is most prophetic. Logan is enclosed inside a big screen, with the team sifting through the recordings of a commercial he was preparing for the launch of Living +, the last major project the tycoon was working on. A project that also becomes the last great foothold of his son Kendall to try to postpone first, and then blow up, the feared agreement with Matsson for the sale of the entire Waystar. But if Logan learns what Kendall and her other son Roman are up to, trying to blow up a multi-billion dollar deal for their lust for power, he would say exactly those words: very bad. And idiots.
Logan for power has lived a lifetime. For that even more than for the money. But by enlightened king as he always was, he also knew when the moment had arrived to step aside, so as not to ruin the image of everything he had built previously. The attempted sabotage of the maxi-agreement with Matsson set up by his sons would have seen him like a reckless, insane, terribly idiotic move. But Logan is gone, and the two male heirs of him in his absence have decided to play with fire. During the umpteenth board meeting they try to highlight some defects in the structure of the agreement with Matsson and even some defects of the young Scandinavian entrepreneur: no collaborator supports themtestifying to the fact that trying to overturn the table is a long, tortuous and dangerous road, but at the same time nobody dares to say that I'm completely out of my mind. At the end of the meeting, however, Shiv clearly tells them that he understands their game and despite the wide perplexities he doesn't do much to dissuade them: he basically sketches and, for now, let it be.
Entire episode 4×06 of Succession seems to suggest something very clear to us: things are inexorably drifting. The exalted way that Kendall and Roman they approach their idea of ​​revolution he does not convert in the slightest but only meets astonished faces of people who do what they are told without believing in what they do, just because they have to. Anyone who dares to say or do something to the contrary is rewarded with dismissal: so the paprika Roman, in a total state of confusion mixed with delusions of omnipotence, he decides to kill Joy first and then even Gerri, obtaining the consent of his brother who is too taken by his desperate attempt to kill her turn over the table to give weight to such trivial things.
Succession 4×06
Kendall, on the other hand, is more shrewd than Roman, who as a reaction to anyone who goes against him fires here and there like a spoiled son, while Ken doesn't let his pride fuck him when CFO Karl shows him his lack of respect by putting himself on an equal footing: he knows he needs it right now, but revenge is a dish best served cold and Kendall, unlike Roman, knows it. His only goal right now is to create the conditions to make impossible the agreement with Matsson, the rest is marginal: and the card in his hand is called Living+.
It seems like a weak card, especially he seems weak. Prey to himself and his ambitious desperation. The presentation of Living+ to the public and investors is immediately branded by the whole Waystar team as an announced flop, so much so that Roman, who was initially supposed to go on stage, is persuaded by Shiv to get out of it. But nothing can stop Kendall, determined to go to war at the cost of dying: before the presentation he is tense and as soon as he gets on stage he seems uncertain and nervous, as his brothers and his subordinates do not fail to underline, who observe everything from their box. In short, everything suggests an inevitable defeat.
Incredibly, however, at the moment of the presentation the heir to the throne Roy manages to show off a convincing performance, even resulting in an unlikely duet with his father's hologram: the novelty is well received by users and investors, and there actually seems to be potential. Matsson, already unnerved by the launch of a product he doesn't want to know about, goes off the rails and writes a terrifying tweet which he then deletes.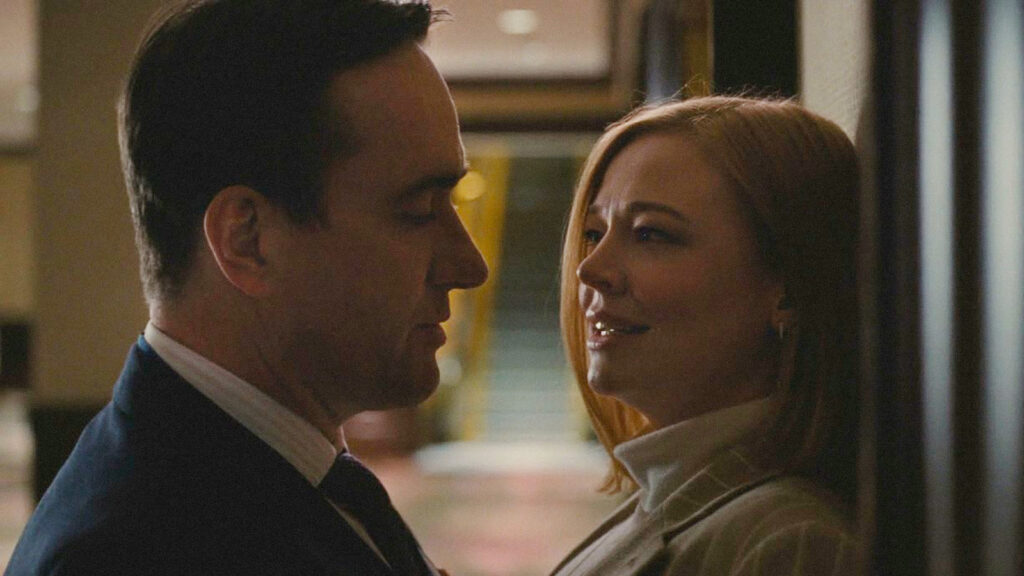 If Kendall is the absolute star of the bet, Shiv confirms her nature as a balancer and manipulator on many fronts and on many poles, but he seems to want to privilege the brothers over Matsson; the newfound relationship with Tom is interesting, with the latter who we had always seen submissive in dialogues with his ex and who now manages to be more relaxed and less fearful. There seems to be something between the two that is a mix of good and attraction, which unites them even when they want to separate. They both admit they prefer money to everything else, in a frame of usually very brilliant dialogues.
The focus on Roman at the end of the episode demonstrates that the youngest is still the person most shaken by his father's death: the fact that he watches a video montage of his father who offends him in a loop is indicative of the unhealthy relationship that the boy has with his parental figure, considering offense and prevarication as the first form of paternal affection and attention with which he has come into contact and from which he is unable to detach himself.
But the fate of the Succession finale clearly depends on Kendall, and hers crazy attempt to keep all that is his. Kendall is a dreamer. He is rambling, excessive, but he has the dream of keeping the American conglomerate to himself and the determination to try and succeed unlike his brotherweaker and more vulnerable, more manipulable, basically unsuitable for any form of leadership even though he has generally grown in terms of brilliance and competence in the working world. Living+ is the project on which to start yours eternal life as new emperor Roy, and no longer just from interim ruler. Kendall is as ravenous as a wolf who has only been fed scraps up until now. Because for him the 192 billion that his family would collect to give everything to Matsson are this: waste. And the plans with Pierce that he had with his brothers before his father's death are also nothing but waste. Kendall Roy wants it all. Television series have taught us that characters like him, those who are not satisfied and claim to want to have and do everything, even what they are evidently unable to do or have, inevitably collide with a reality that annihilates them mercilessly. But Succession is a strange story.
Vincent Galdieri