"A love film, a film about 50 years of a couple's life, with lots of Italian songs". This is the film that Giovanni dreams of making, the director played by Nanni Moretti it is The sun of the future, his new, beautiful film (here you can read our review). Giovanni, on the other hand, is making a very hard, busy and demanding film, which tells the story of a section of the PCI of Quarticciolo, a couple of militants, and their choices during a moment in 1956, that of the Russian invasion of Hungary. It is a film within a film, a classic by Nanni Moretti. But the real film, what we see, in the end becomes just that: a love film (understood in a broad sense, like so many types of love) and with many, great songs. A bit like what Nanni has always done, but here it has surpassed itself. Indeed, he calls it a film with songs, because he knows that the musical is something more structured and elaborate, but moretti's new film has a certain playfulness, movement, lightness than a musical, and manages to do all of this in a story that it is not light at all, but full of content. Let's go then to review the sun of the future through the great songs (not only Italian) that he inserted in the filmand which he married perfectly with his images.
1. Think (Aretha Franklin)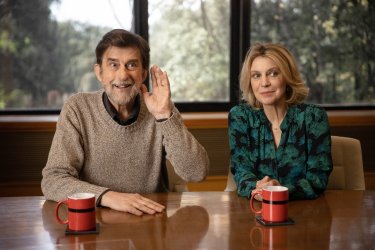 Talk about great Italian songs, Nanni Moretti, but one of the places of honor ne The sun of the future it's up to a great song, which has already made the history of music and cinema. AND ThinkOf Aretha Franklin, a major hit from one of soul's greatest voices. The arrival of Think starts from afar. From the idiosyncrasy Nanni feels for sabots, those shoes that cover the toes but leave the heel uncovered. She wears them Barbora Bobulova, the first actress of her film. And so, in the car, with his wife, Giovanni sets off in a tirade against sabots and against slippers, also quoting The Father, in which Anthony Hopkins wears pajamas, but wears shoes. For slippers, there is only one exception: Aretha Franklin's slippers in The Blues Brothers. And this is where the song from that film starts, Think, and Nanni and Margherita Buy begin to dance, amused and entertaining, to the rhythm of the music. With a good suspension of disbelief, because she's driving. But cinema is this. Thinkthe Aretha Franklin classic, was released as a single in 1968 and is taken from the album Aretha Now. It is an enthralling and irresistible rhythm'n'blues piece, a female anthem on freedom. The song, as mentioned, was filmed for the film The Blues Brothers of the 1980.
2. They are just words (Noemi)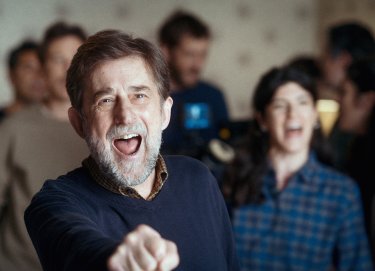 Veronica Scoppelliti will be very happy, in art Naomi, because shortly after Aretha Franklin arrives her. It is a great honor, it is well deserved. Nanni Moretti never chooses songs from her films at random, and it's nice to hear one of the best Italian voices, a true blues voice. Here too the song was born in the car, in the background, while Nanni Moretti is speaking. Gradually the song takes more and more space, and with a leap we are on the set. Giovanni's entire film crew, cast and crew, are lined up on set. Everyone sings together and, once the song is finished, we start filming. It is curious that Moretti launches a song that says Are just wordsbecause he himself once said "words are important". And then everything has something ironic, and also very intense. Sono solo parole was written by Fabrizio Moro for Noemi, who presented it at the Sanremo Festival in 2012, where it finished in third place, and is included in the album RossoNoemi – 2012 Edition. Arranged by Corrado Rustici and recorded in Berkeley, California, it is a piece on incommunicability, on the importance of gestures over words, on the fact of being able to solve problems and always move forward in life, as Noemi had declared .
Nanni Moretti's Sol dell'Future is a love film
3. Far away (Luigi Tenco)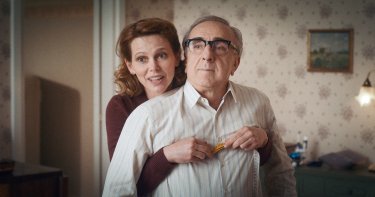 Using songs in a film is also a wonderful way to do great editing, to evoke moods, and to tie scenes together with elective affinities. As Far farmasterpiece of Luigi Tenco, enters the scene halfway through the film to tie two scenes together. "Who cares about politics, this is a love film" Barbora Bobulova, the leading actress of the film Giovanni is shooting, has just said. Between her and Silvio Orlando, leading actor, love is being born. And Luigi Tenco's song, ethereal, dreamy, transports us from the set of their film, with the circus and the palaces of Quarticciolo at another moment, in the cinema where two boys are watching The sweet life. It's almost a dream: while those characters are living their lives, Giovanni enters the scene as a mentor, to suggest to the boy to kiss her, after they have seen The sweet life at the cinema, appearing in the seat behind them. Loves that are born, and one of the most romantic songs to bind them. Far far it came out in 1966 as Side A in the 45 rpm Far, far away/Everyone is free and it's from the album Tenco. It was launched in Un disco per l'estate 1966. It is an autobiographical song that suggests the end of an important love, perhaps the one with Valeria, the Tenco company at that time.
4. The song of lost love (Fabrizio De André)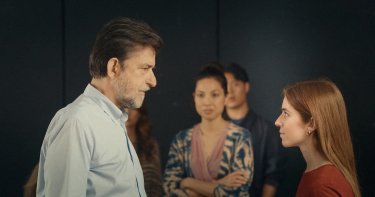 One of the film's most intense moments is The song of lost love Of Fabrizio De Andre, a true masterpiece of Italian music. With that intense, lyrical, orchestral intro, De André's song immediately had a cinematic, dreamy sense. It's like a flight that allows us to travel from one story to another. In this case it is the third storyline of the film, that of the love story between the two young men who were watching La dolce vita at the cinema. While De André's song is flowing, Giovanni is in the car next to them, and sees them stop. He suggests to her the words to say to the boy during an argument. Nanni explained that this scene was only supposed to have music. But she had so many words in her head, she wrote them, but she couldn't make the actress, an intense Blu Yoshimi, learn them on the fly. So she decided on this expedient, to be a prompter. The song of lost love came out in 1966, as side A, in 45 rpm The Song of Lost Love/The Ballad of Blind Love (or Vanity) and included on the album All Fabrizio De André. The music of the song is based on theAdagio from Concerto for Trumpet, Strings and Continuo in D Major TWV 51:D7 by Georg Philipp Telemann. The song comes from the true story of the now finished love between him and his first wife, Enrica Rignon, known as "Puny", when things went wrong but the two continued to live together.
Nanni Moretti's Sol dell'Future is a love film
5. I want to see you dance (Franco Battiato)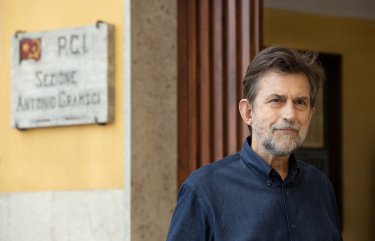 Franco Battiato, an old acquaintance of Moretti's cinema, is one of the great stars of Il sol dell'avvenire. We already knew it from the trailer and those irresistible technopop keyboards that open I want to see you dance, a classic of Franco Battiato. A song that is already cathartic, liberating in itself, which arrives at a key moment in the film. Nanni Moretti's Giovanni is on the set, with his leading actors – Silvio Orlando and Barbora Bobulova – to whom he explained how to do the scene. At that moment, he calls "action"but stay"in the field", in front of the actors, as if enchanted. He begins to hear this music and he, together with all the others, launches into a liberating dance, a spin on oneself with arms outstretched. And, in the meantime, we also see the couple whose We were talking above. For them, after that quarrel, everything will be fine. But it is the moment in which we understand that the story of the film will also change. I want to see you dance is taken from the album Noah's Ark of 1982, the one that followed the great success de The master's voice, which partly continued the style, but also tried to deviate from it. In the song, which starts with an electronic base and ends with a Viennese waltz (with Giusto Pio's violin), there are many exotic and esoteric references, such as the whirling dervishes of Sufism. The usual mosaic of songs by an artist who, as Marco Spagnoli's documentary Franco Battiato – La Voce del Padrone by Marco Spagnoli explains, "screw you with popand then takes you into deeper and deeper territory.