Welcome back with the review of the thirteenth episode of the nineteenth season of Grey's Anatomy. In this episode and as previously announced by the channels of Shondaland and personal Shonda Rhimes, Kelly McCreary, interpreter of Maggie Pierce is about to leave the series. Now, we are used to seeing characters leave. If there is anything fans of Grey's Anatomy they are the best, that something is in saying goodbye to the characters. One for one reason, one for another, we have seen them parade in front of us like the models leaving the catwalk, sometimes they come back, sometimes they never come back except for the mystical and transcendental experience of some near-death moments.
Anyway, it seems to me that we are really losing one after another lately. It will be that having lost the main character, that of Meredith Grey, the glue from the first season is something that I have not fully metabolized yet, but hey, in not making the metabolization processes work properly I am the best, ask my endocrinologist. Nonsense aside, yes, this continuous turnover of people brings new characters and new air to the series which is always good, but it is sad to have to say goodbye to a character again, even if that character is Maggie Pierce and until a few years ago I would have practiced a sacrifice to the gods of the TV series to make it go away.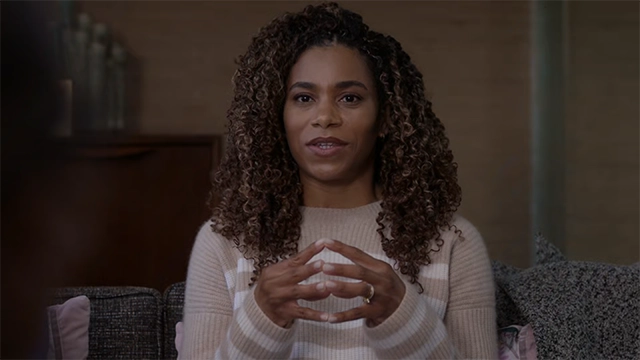 And, you know, Maggie Pierce will be leaving the Grey-Sloan Memorial and the medical drama available on Disney+ will once again lose a character. But let's take a small step back and insert Pierce into the dynamics of this episode. First we see her go to a couples therapist with Winston. And already here there were – in my opinion – the details for calling the lawyer and having the divorce papers prepared. No, because guys, you have to explain to me how you can't even be able to say a true value of the woman you say you love. Boh, I Winston I can not understand it anymore.
Why, in short, gentlemen, he takes it easy because his wife, one of the most renowned surgeons in the country is called for an emergency operation, among other things, on a particular little girl, of course, but it seems to me that a little more than fifteen-year-old girl runs the risk of being paralyzed or even dying. And he's there playing the offended and hurt child. But do you think, Winston? But can you do it, Winston? Are you recovering, Winston? I am shocked, appalled.
And while he whines like a little boy, we see Pierce in complete Wonder Woman mode, saving the little girl who has a hobby of riding bulls and not the mechanical ones, the ones that hurt you. Ok, yes, it's also thanks to the magnificent Amelia Shepherd, but you still get the point, right? On the one hand we have Winston whining and complaining like a five-year-old who hasn't bought ice cream and on the other we have a great queen who saves lives and works miracles. I think it's clear where I stand in this matter.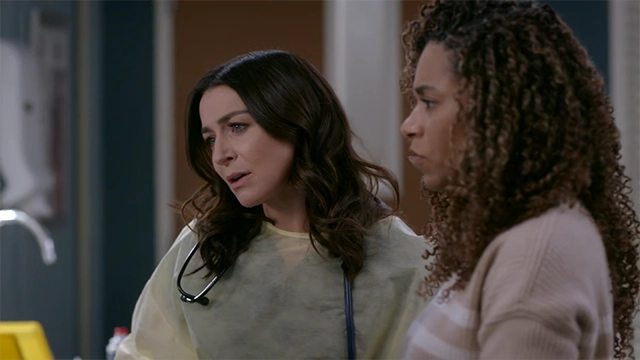 And, in fact, at the end of the episode I had a moment of pure enjoyment, one of those that almost make you understand why people get so excited in the stadiums during the goal of their favorite team. When I saw Maggie Pierce do the "reading" (point out all flaws) in Winston, I swear I cheered as if my favorite team had just scored in the final of whatever the name of the football tournament everyone gets excited about. Pierce is absolutely right. He focused on a word she said to him, he is trying in every way to play the part of what he wants to mend the relationship, but expect her to slip up to attack her and bring up everything that went wrong between them, but of course leaving out her share of responsibility in it.
And when Pierce told him — rightly so — that his passive-aggressive attitude is simply a way to shift the blame for their failing relationship onto her and run away instead of fixing things, I applauded so loudly that I marvel at the fact. that I have not skinned my hands. Well done Maggie, that's how it's done. Don't let Winston dump all the blame and blame on you for the failure of your relationship. Show what you're worth.
Alexa plays "Flowers" by Miley Cyrus for this queen.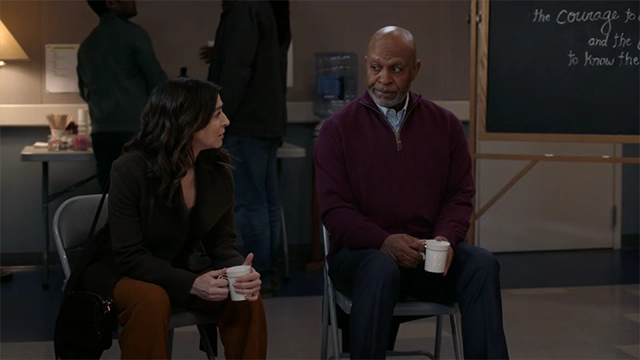 There is one thing – regarding Maggie's farewell to Grey's Anatomy – that scares me: Amelia's reaction. Amelia Shepherd looked great at the start of the season. She had Scout, Meredith, Maggie and Kai. And now Meredith has gone away, Kai we only see them from time to time and from a distance and now Maggie is also going away. I'm a little scared for my favorite of this medical drama. And, yes, I shouldn't have to bring up the usual story all the time, but if this tendency of people around her to leave her continues, well I'd start to fear for her sobriety. Don't get me wrong, I'm sure she can overcome them without resorting to and falling back into the old patterns, but surely her sobriety, albeit minimally, could risk being compromised. And Amelia has done so much to get to this point that I just couldn't accept it.
But let's go ahead, let's go ahead and talk about Link and Jo. Link and Jo "sniffing" each other and turning around for the whole season we could say. After the events of the last few episodes of Grey's Anatomy who have seen Bailey's clinic involved, we see Jo come to terms – in her own way – with what happened. And we find her in bed thinking she's flu, but by now we know her so well that we know – just like Link – that it's not a real flu, but that it's simply the way her body and above all her psyche reacts to certain situations.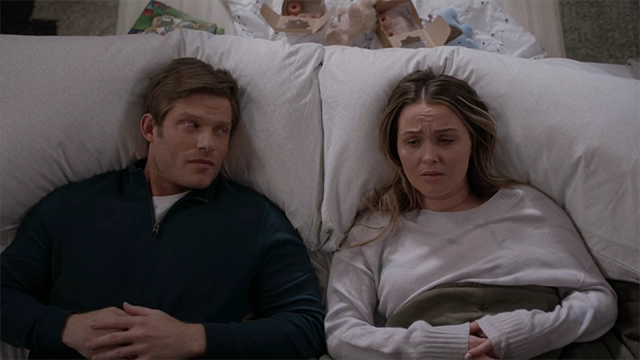 And I have to admit that although those who read these reviews know how much I loved Amelink and how much I hoped for their happy ending, I'd be really happy to see them together. They both deserve someone who is totally compatible with them yet not similar. Jo and Link are almost opposites, a bit of a moderate version of the "opposites attract" that Amelink used to be. They have many things in common, such as principles, love for family and the desire to be able to trust someone blindly. But they are also completely different in attitudes, in ways of doing things, in the prudence of one which clashes with the impulsivity of the other. And maybe that's why they are perfect.
By the way, as they underlined in that beautiful and almost touching scene in bed: Jo needs someone she trusts and who can make her lower the barriers she has built to protect herself and Link is the kind of person who believes of always having to worry about everyone and everything and having to somehow bear the weight of the world on one's shoulders. Both, however, at the end of the day simply need someone who is there for them and who allows them to fall asleep at night without the fear that when they wake up there is no one on the other side. Therefore for i Jolink (it could fit as a name, don't you think?), thumbs up.
Still remaining in the clinical field, we need to talk about Miranda Bailey for a moment. I love Bailey, I don't think it's new. She along with Webber she is the only other character present in this medical drama since time immemorial. In this episode, due to the events of the previous episodes, Bailey found herself the victim of a terrible fact: her personal information, including her telephone number and home address, were distributed on flyers in which there is his face and it reads "baby-killer" (child killer).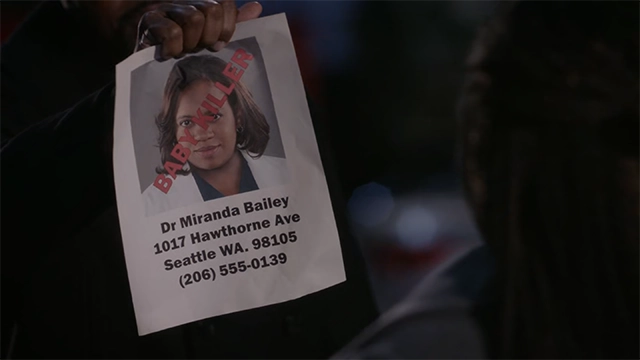 It's really here that I could come up with a mammoth pippone about how crazy these obsessed are, but I won't. I'll just say that this pillory that Bailey has been destined for in this area is only fictional, but if I think there are people who suffer it in real life, I'm terrified. That final scene where Ben finds the flyers on the cars, awful. Terrible because such a thing is not normal. But do you think? It's madness.
But let's go ahead and conclude with the residents. We conclude with them because they are my joy, Grey's Anatomy of residents is something wonderful. It's funny, it's interesting, it's finally what this medical drama was in the beginning, but enhanced in some way and shape. They are the new MAGIC, but they are also a completely new thing. I really don't know how to explain it, but I hope it's – albeit remotely – understandable.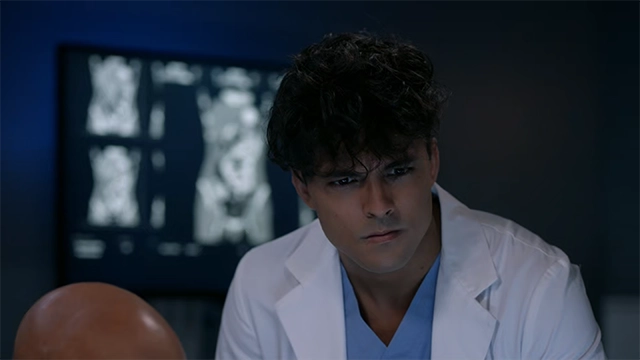 I loved that Adams and then Griffith also stood up to Webber and managed to solve the case of the patient with the toothpick in his stomach. Frankly, at first I also believed that the guy had arrived at the hospital feigning pain just to be able to get painkillers, but I'm glad I was wrong. Well done guys, but above all well done Adams, all of yours came out in this episode shepherditudine. The moment in which Griffith asked him (after asking everyone) to be her best man was also very nice. It's one of those things that is a bit reminiscent of the Japrils, but until Adams interrupts her wedding and declares his love for her by telling her that he believes she loves him too, we can't say for sure.
Schmidt's redemption was also very nice. Schmidt who gives "Eyeglassesbecame the super serious and feared head resident. He who was a heart of cream, but as he rightly pointed out in his conversation with Kwan, the pandemic and the closure of the program stiffened him a bit, changed him. What can I say: that moment at Joe's was really nice, I loved it. I really hope to see them more often in these moments outside the hospital, maybe right at Joe's. We report this aspect of Grey's Anatomy classical, in Grey's Anatomy new.
That's all for this episode, see you next time!