Warning: This article may contain spoilers on Solos, Extrapolations, The Ranch, Space Force, Crisis in Six Scenes.
Things don't always go as planned. Great expectations are not always met. The world of film and television productions is as unpredictable as it is meritocratic. The public is king, especially with the advent of ruthless new platforms that increase voracity and volatility. In this frenetic context, the audience is difficult to conquer, and the titles struggle to emerge and consolidate in the collective memory. A strategy that is often rewarded, however dangerous, is to resorting to well-known faces within audiovisual productions. Whether it is the signature of a great author, a director or a face particularly capable of involving viewers, the choice to draw on prestigious names within the TV series is adouble edged weapon. If these are profitable due to their ability to attract new users thanks above all to competitive marketing strategies focused precisely on their personalities, the expectations that gather around them entail the need to return a structure that is up to par. Famous personalities such as Steve Carell or Morgan Freeman stimulate curiosity, but then the task of conquering and retaining the public is up to the story itself. Precisely for this reason, it often happened that the title was unable to meet expectations, proving to be a huge one disappointment capable even of betraying our own interest.
From Amazon Prime Video with Solos to Netflix with Space Force, there are many players who have proposed high-budget TV series with a stellar cast that have disappointed the expectations created around such gigantic structures. Here are five painful examples.
1) Solos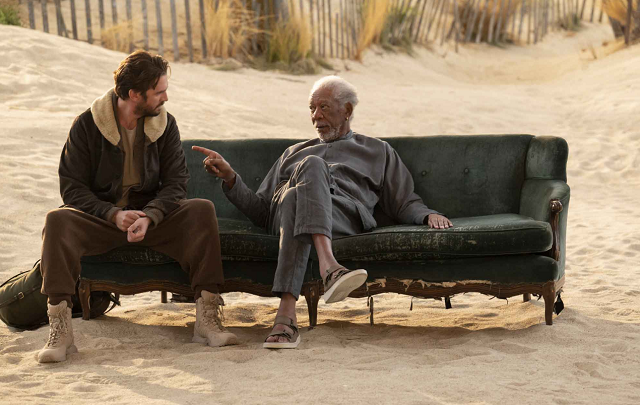 Amazon Prime Video already has Modern Love in its catalog of original content as an anthological TV series crossed by various well-known faces who color the various episodes and contexts. In October 2020, the portal tried its luck again with another title of the same format, Solos, released in May of the following year. It is a sci-fi drama anthology created by David Weil with an all-star cast taking turns in the seven episodes first and only season totals. Solos counts especially eight big names for its seven self-contained segments: Morgan Freeman, Dan Stevens, Anne Hathaway, Constance Wu, Helen Mirren e Anthony Mackie, Uzo Aduba e Nicole Beharie. In each episode a protagonist takes his own space on the screen and in the story to tell different facets of thehuman being, emphasizing the connection that exists between each individual. We are always in a constant state of commonality, even in the most isolated cases in which we are unaware of it. Human beings always share experiences. Unfortunately, Solos does not fully satisfy, in a fluctuating box set of episodes. Some fantastic in their singularity, others subdued and not up to the expectations and premises set by the title itself. Definitely a miniseries to be appreciated more with a deferred rather than voracious vision, nevertheless, the use of cinematic faces of such credit is not enough, ending up making Solos and great regret made of excellent performances.
2) Extrapolations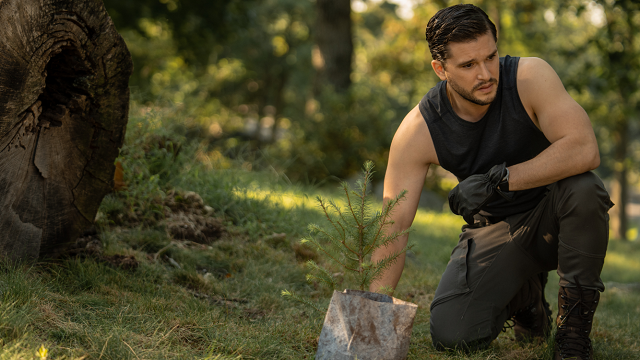 Apple TV+ has already demonstrated its great ability to offer high-quality titles using both well-known faces and lesser-known performers. In the case of Extrapolationsthe platform has advanced a TV series which, especially in the main phases of its communication campaign, focused heavily on the cast. It is a huge list of actors and actresses called into question for an epochal season that certainly has ambitious goals. With the first episode released just over a month ago, starting the weekly publication of each anthological segment of the TV series, Extrapolations take advantage of its anthological format to propose a story in eight acts with different protagonists. It is a varied cast for a particularly expensive production that includes Ken Harington, Meryl Streep, Tobey Maguire, David Schwimmer, and many others. Created and directed by Scott Z. Burns, Extrapolations And a more than thirty-year epic on the effects of climate change. An ambitious plot with an exceptional cast that took more than three years to work on from the time of its announcement. Following the weekly release of the various chapters of the TV series, we would like to say that Extrapolations did not meet the high expectations created around such a production. Disappointed and perhaps too betrayed byhype in general, the TV series ends up being too risky an attempt in a portal like Apple TV+, which has demonstrated its production skills in more modest titles, but not only.
3) The Ranch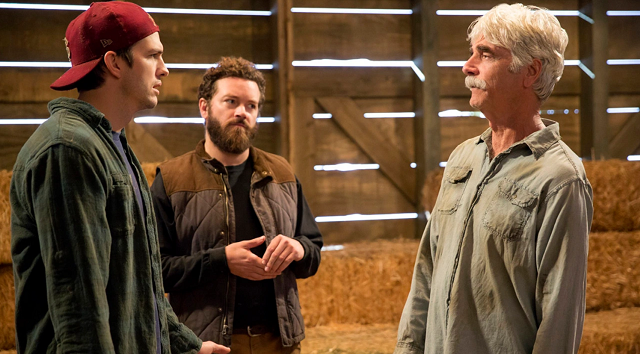 That '70s Show is one of the sitcoms that have made the history of the reference genre, there are also among the best known faces of the famous TV series Ashton Kutcher e Danny Masterson. More recently, the two have returned to co-star in another television product. The Ranch sees both well-known interpreters working, once again, side by side in a sitcom with excellent premises which, however, has not managed to fully convince. Kutcher and Masterson play i two brothers Colt and Rooster Bennettchildren of Beau (played by Sam Elliott), a rancher from Colorado, who start running the fictitious family ranch Iron River Ranch. The microcosm of The Ranch is accompanied by a number of further figures, animated by names such as Debra Winger, Elisha Cuthbert, Wilmer Valderrama, Debra Jo Rupp. It is an original Netflix sitcom of four seasons of twenty episodes each, despite the longevity, The Ranch he never really conquered. The dysfunctionalities of the Bennett family and the difficulties of running the business got off to a flying start with some brilliant comedic timing but, after a short time, the sitcom became a caricature of itself, with an abuse of recorded laughs and excessive drift serious who have helped to make the identity of nebulous The Ranch.
4) Space Force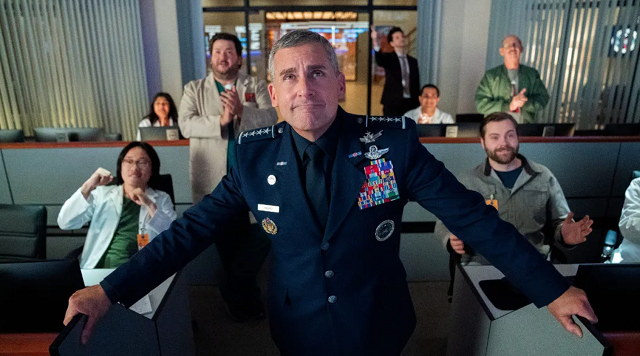 Despite Netflix's various successful titles, one format that the streaming leader fails to offer as effectively is that of sitcoms. In an attempt to find its flagship reference product, the portal initially focused heavily on Space Forcerevealed one of the biggest disappointments proposed by its digital catalog. It is a workplace comedy created by Steve Carell together with Greg Danielsformerly a comedy pen of the caliber of The Office US, Parks and Recreation e The Good Place. The duo's creativity already seems like an excellent premise, to which has also been added a promising cast made up in particular of John Malkovich, Ben Schwartz, Diana Silvers, Jane Lynch, Larry Joe Campbell e Lisa Kudrow, to which Carell himself is added as the unpredictable protagonist, CSO and family man alone. A assembly of well-known personalities in the world of television, cinema and comedy on which Space Force and Netflix have focused a lot since the beginning, in particular as the main attractive element of the communication strategy of the title itself. Unfortunately, Space Force it disappointed expectations from many points of view, ending up being a tasteless comedy, an echo of itself and of the real workplace comedies that preceded it. Although with some typical elements of the genre, the TV series fails to make a difference and survive. Although the first season went well on average, the sharp drop in the second made it inevitable cancellation.
5) Crisis in Six Scenes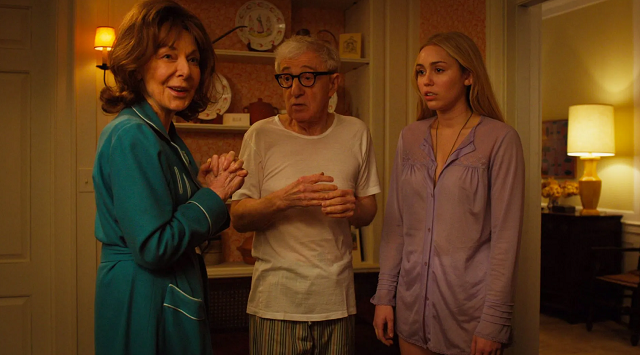 Available exclusively on Amazon Prime Video, Crisis in Six Scenes is the miniseries created by and starring Woody Allen in 2016 for Amazon Studios. All six episodes are directed, created and performed by the celebrated director who returns to television productions for the second time after the film Don't Drink The Water (feature made for ABC in 1994). Flanked by Miley Cyrus, Elaine May, Rachel Brosnahan and John Magaro, Allen plays the protagonist Sidney Munsinger in a comedy set in 1960s New York with a suburban family at its center upset by the arrival of an eccentric guest, animated by the American singer. Unfortunately, the episodic format does not seem to allow a creative like Woody Allen to fully express himself, making the title a story that he has never fully conquered and ending up being forgotten, often even obscured by the great director's curriculum. In fact, the director himself defined it (even a priori) as a «cosimic embarrassment» realized in a moment of confusion, and to which never wanted to give a second season. Indeed, Crisis in Six Scenes it was also not particularly successful with critics, with a generally cold reception.
Did The Ranch deserve more consideration?