It came up Disney Plus without making much noise, but we are sure that the laughter of those who have already seen it has already been heard far and wide: let's talk about What We Do in the Shadows 4, the new season of the irreverent comedy without inhibitions, a unique product of its kind that has never stopped entertaining us with its crazy ideas. After a cliffhanger which had left us in suspense over the fate of the protagonists and which had prompted us to wonder about how the fourth season could put the pieces of the puzzle back together, returning to our favorite Staten Island mansion was truly magical!
Among new interesting developments, unprecedented scenarios, satisfying and revolutionary dynamics, but with the same unmistakable and crazy style, What We Do in the Shadows 4, with its ten episodes not only knew how to present hilarious episodes from the vertical mold in which to be able to experiment and play with seriality itself, but also brought forth gods horizontal narrative strands that gave cohesion to the seasonmanaging, albeit in the surrealism that embraces the show, to convey the psychological development of some of its protagonists.
Without further preamble, here is our review of What We Do in the Shadows 4, which you can retrieve on Disney Plus: enjoy reading!
NB: in the following article you will find spoilers only regarding the first episode of the fourth season of the comedy.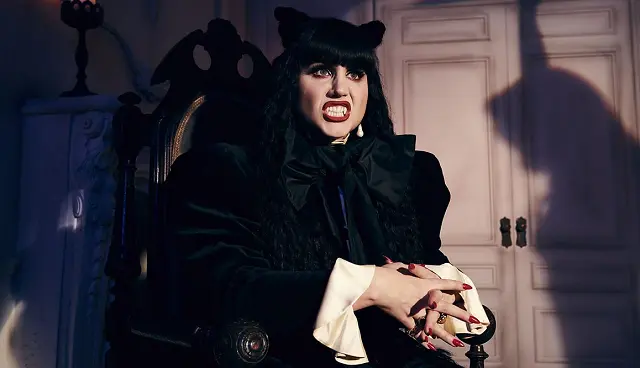 Let's start by saying this: What We Do in the Shadows 4 was a triumph, a season that lovers of the series will love both in terms of his humor completely out of every scheme and capable of giving moments of pure nonsense and typical misconduct of the black humor, and for the unexpected plot twists. In fact, they have led the narration to evolve and change constantly compared to past seasons, so as to offer a breath of freshness where, after three seasons, the air would have risked rarefying, which, however, on the other hand, has partly removed the drama from the almost "dramatic" ending with which the third season had closed.
If you had believed that William, Nadja, Nandor and Laszlo would have remained separated at least in the first few episodes of the fourth season, you were very wrong.
After a time jump of about a year, we find out that Nadja has decided to abandon the Supreme Vampire Council out of boredom, now wishing to open a Night Club for Vampires, and that Nandor has returned from his solo journey. The Implacable does not seem to hold a grudge for not having been joined by his familiar Guillermo (who in any case was forced by Lazlo to look after Nadja in London) and has a new purpose in mind: to invest every resource to find his soul mate. Aspirations that are not easy to pursue if you think that the manor house where they have lived for decades is in very bad shape and is just a few steps away from a definitive structural collapse.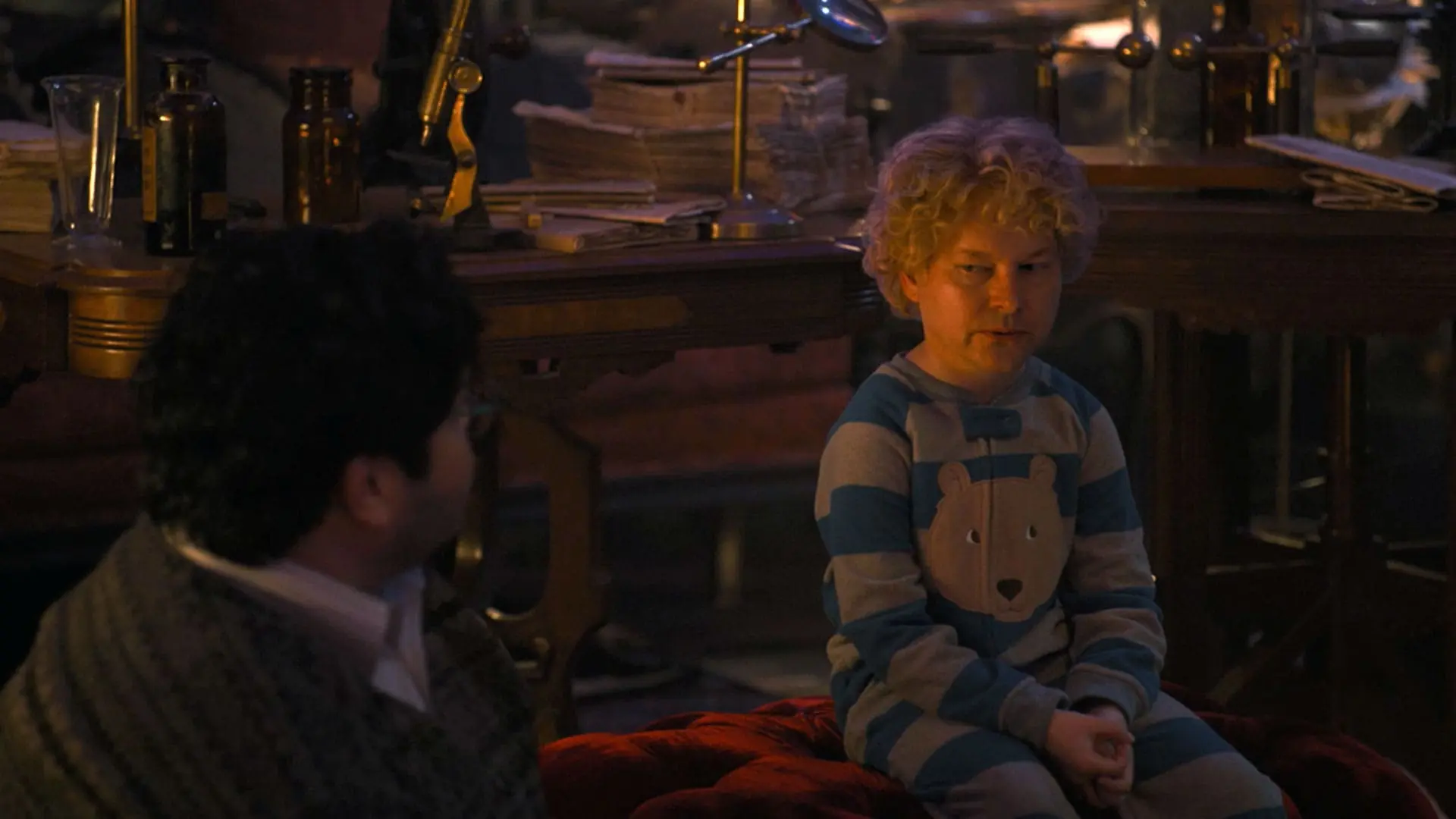 But that's not all, because, as anticipated on the third season finale, the most shocking surprise is given to us by Lazlowho spent his time alone raising that little and sweet creature as well as a nightmare worthy of being among the most disturbing inhabitants of the Uncanny Valley which is "the little guy who crawled out of the late Colin Robinson's abdominal cavity". The visual effect of seeing the very adult head of the actor Mark Proksc on a growing child's body wasn't something we didn't know we needed until we actually saw it. An alienating effect (and disturbing) to which we never managed to fully get used to and which automatically led us to laugh or smile at each of its appearances. There storyline linked to Lazlo and his relationship with the small "Guess what Colin Robinson" is as funny as it is sweet and holds many surprises also from an emotional point of view.
Why, paradoxically, this comedy-horror mockumentarymanages to make us empathize with absurd vampire protagonists more than other comedy series manage to do in decidedly more sober and coiffed contexts.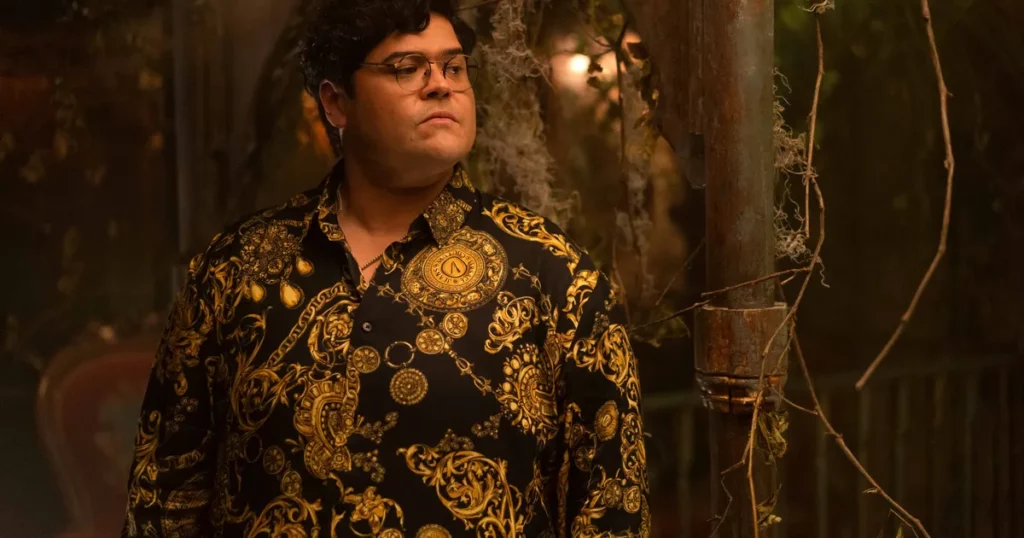 Furthermore, within this fourth season, each of the characters finds a way to stand out and shine with storylines aimed at deepening aspects of their characterization and the dynamics that bind them to the other characters of this strange and very often confused extended family nucleus in which, between hypnosis, magic potions, spells and particular creatures, everything is permitted. In addition to the always mind-blowing Natasia Demetriou (Nadia), Kayvan Novak (Nandor), Matt Berry (Laszlo), Harvey Guillen (Guillermo) and Mark Proksch (Colin), who have again shown that they have crazy chemistry and really had a blast shooting on set, an honorable mention goes to the comedian Kristen Scalein the guise of the Guardian, perfect sidekick for Nadja and the VIPs who, as per tradition, lent themselves to some hilarious cameos.
When we say that in What We Do in the Shadows 4 everything is possible, it is because the series itself actually allows it.
With his incomparable stylistic figure, capable of not taking himself seriously and playing with his parents grotesque costumes and scenery, with prosthetic make-up and surreal settings in which by now we expect to be able to find everything, there is really nothing that the series could not convince us. A freedom that can be recognized not only from a writing typical of black comedy, foul-mouthed and without inhibitions, in which one can joke about everyone and everything, but which can also be allowed very fine meta-serial experimentsas happened in 4×08, Go to that construction sitea parody of the many programs related to the sale and renovation of properties that are so popular on many TV channels today.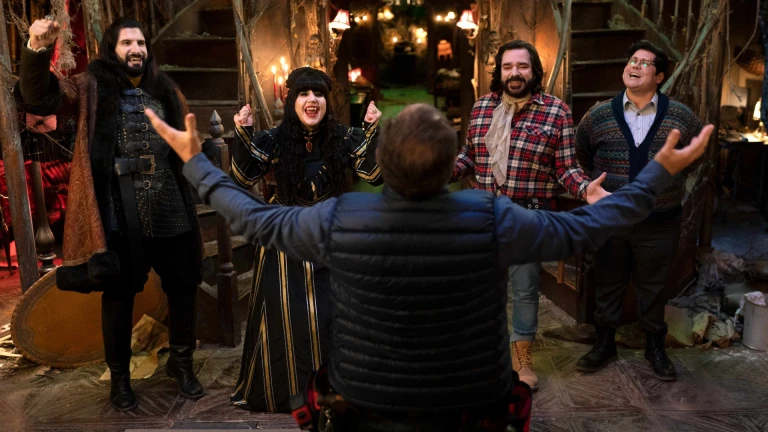 For the rest, What We Do in The Shadows 4, does not disappoint expectations at all and keeps the accelerator pressed on all those aspects that had made the first three seasons of the showa truly unparalleled show in today's television and which is confirmed as one of the flagship jewels on the local catalog of Disney Plus: actors perfectly in part and with a strong comic talent, a dynamic direction made interesting by the good old fake documentary effect and a screenplay that never runs the risk of getting bored thanks to the construction of a wonderful ever-expanding world building.
Absurd, demented, hilarious, but unexpectedly capable of making us emotional for bloodthirsty (or energy) vampires, What We Do in the Shadows represents the perfect example of a series that always manages to find new ways to entertain its audience. Already renewed for a fifth and sixth season, we can't wait for this vampire series to return to our screens soon: after all, the 4×10 episode has dropped a bomb that could change the course of its history forever. We can't wait, can you?