Known for her portrayal of Amelia Shepherd in Grey's Anatomythe series with the highest rate of dramatic moments, Caterina Scorsone was often the protagonist on the set of stories of great tragedy. But experiencing such a moment in real life is something no one can ever be ready for.
And so when the actress found herself living a devastating personal experience, the shock came to take over, making it difficult for the woman to talk about what happened, at least until now.
With a recent post on her Instagram channel, Caterina Scorsone recounted some time after the incident, the great fright that overwhelmed her when a terrible fire he engulfed the house where he lived with his children with his flames.
The Grey's Anatomy interpreter wanted to show some shots of what was her home, dedicating a few lines to the story of the events and dedicating special thanks to the people who were close to her.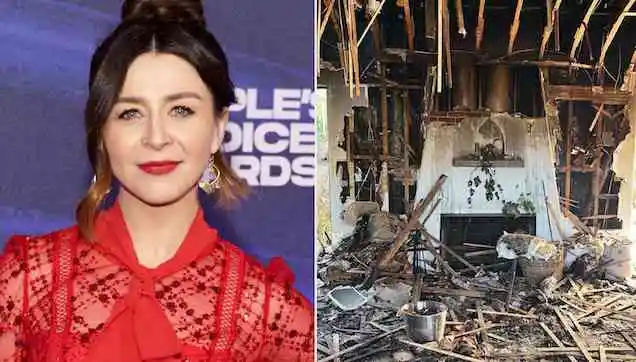 The woman recounted the very brief moments of the tragedy, explaining:
Hello friends. A couple of months ago my house caught fire. As I was getting my kids ready for bed and finishing up bath time, I saw smoke seeping around the tub. When I looked down the corridor, a river of thick black smoke had already formed and was filling the room. There's one thing to know about wildfires: They happen fast. I had about two minutes to get my kids out of the house and we ran out without shoes. But we made it out safe and sound, and for that I will be eternally grateful. Heartbreakingly we lost all four of our pets. We are still digesting that loss, but we are lucky to have loved them so much.
A sudden event, the details of the dynamics of which are not explained to us by Scorsone, who however is keen to reassure the fans: she and her children, ten-year-old Eliza, little 6-year-old Pamela and three-year-old Lucky, They are fine.
The same, unfortunately, cannot be said for the other very important piece of his family. His four pets did not survive the fire. And the actress dedicates a part of her shots to them, remembering the great love they gave him and declaring herself grateful to have been able to have them in her life.
But as Caterina is keen to point out, the post on Instagram is not intended to talk about the fire. It's a post dedicated to community and love that people are able to pass on and that was demonstrated to him in the difficult post-tragedy moments. So the woman continues her speech, thanking one by one all the people who have been close to him.
This is not a post about a fire. This is a community post. This is a love letter to the incredible people who have shown up and the incredible ways they have done so. Thanks to the firefighters and detectives (thanks Trey!) Thanks to my neighbor who answered our frantic banging on her door. Thank you to my children's school parents who sent toys and books, to my friends at greysabc and shondaland who sent clothes and supplies, to my sisters who came in to handle the logistics so I could be with my children. Thanks to my team who made it all the more simple. What we've learned is that the only thing that matters is the people (and beings) you love. The only thing that matters is the community. We wouldn't be here without it and we are so grateful. Thank you.
The message of love and communion that the actress sends through her post is important and moving, showing us that even in the moment of tragedy it is precisely the loved ones and the strangers you meet on the way and who are willing to lend a hand to you, the true dono to be treasured. We wish Caterina Scorsone and her family to overcome this difficult moment soon, confident that the love of her loved ones will soon make this episode just a distant memory.