"I don't skate through life David, I walk through life. In really nice shoes" words of Alexis (Annie Murphy), the spoiled and selfish daughter of the extravagant Rose family of Schitt's Creek. From the ultra-luxury mansion in which the Roses lived, they don't skate to their new life, we are thrown by the adverse circumstances created by their business manager who has taken care of the business but only his, in the classic take the money and run style.
From one Neverland to a needy relative of Stars Hollow, from a residence, where one room could contain a football field and a two-family house in height, to two communicating rooms in a Motel. Surely all four members of the now disastrous Rose family are provided with beautiful shoes in addition to their clothes and Moira's wigs, the only things not confiscated by finance. Schitt's Creek it is a forge of irony with perfect characters without any exclusions. Extremely patient patriarch Johnny Rose (Eugene Levy) underlining his Jewish spirit with Groucho Marx eyebrows, younger son David Rose (Dan Levy, son of Johnny-Eugene also in real life) esthete, snob, pansexual with homosexual turn , Alexis Rose (Annie Murphy) a Paris Hilton with a heart and to close the matriarch Moira Rose (Catherine O'Hara) a Norma Desmond of soap operas, eternally over the top. With the exception of Johnny Rose who wasn't born rich and built his empire after finishing his studies simply with good business acumen, family members determine their personal balance and with others from the comfort of their lives.
Johnny has always done everything for his family and was convinced he had succeeded, not only in economic terms but in terms of relationships, until he moved to Schitt's Creek when he discovered all the frailties of his loved ones. As with all people devoted to the family who focus on their work as a means to take care of them, Johnny Rose has lost sight of the real goal and finds himself (re)knowing his children from the close distance of the small rooms of a Motel that recalls his name as the owner of Schitt's Creek (Rosebud, not only a film reference but also a pun on bud, mate).
Life is what you make it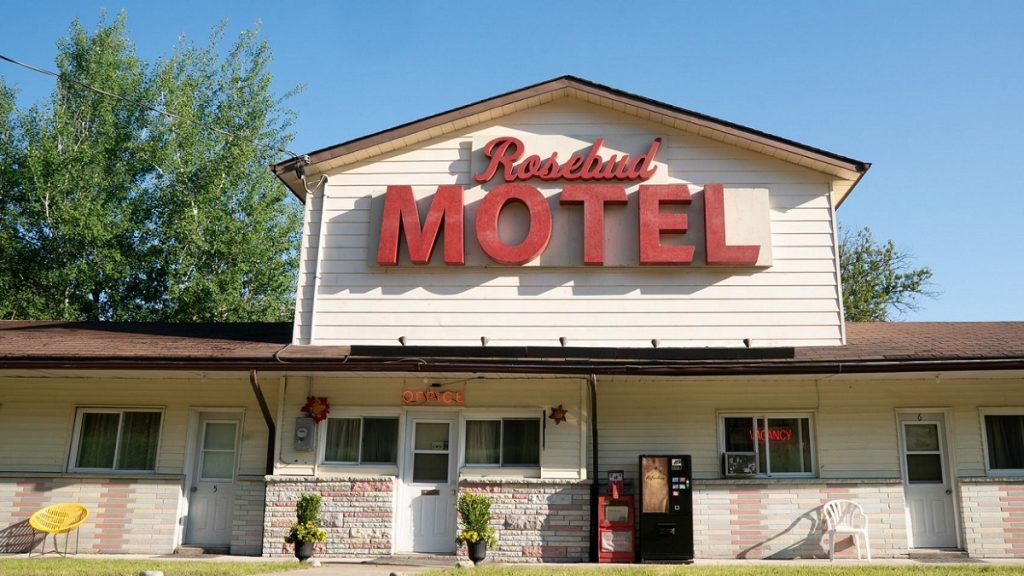 The journey of the family starts from the Rosebud observatory which soon breaks away from the cliché "from rags to riches" and takes a balanced and credible pace on the path of the Roses to discover themselves but above all of them towards others. In the beginning Roland Schitt (Chris Elliot), the town's handyman mayor, pushy and with questionable table manners, is the specter of their downfall. They look at him and the other inhabitants with arrogance considering their stay at Schitt's Creek as temporary. The balance of power is immediately reversed. It is the Rose family who are made fun of because they find themselves fish out of water in normal situations for all people who live on wages. True strength is in the experience of everyday life, life is what you (of) make it. The temporariness becomes permanent and the initial reluctance of the four Roses to take part in the life of the community opens up to the suggestions of the inhabitants, with fluctuating and extremely amusing results but the journey of confrontation with the other has begun. The world no longer begins and ends with their lives but extends to those of those around them.
As their lives intertwine with the Schitt's Creek community, they open up to their best selves. Moira participates in the Jazzagal group where her artist ego is put to the test. Her eccentricity makes her love her and she too gets elected to the city council before being called upon again to act in a film. Alexis continues to have an eventful love life until she decides to resume and complete her studies, she opens a PR firm and simultaneously closes her opportunism. The disconnected David "concludes" his inconclusiveness and will open a shop by setting up business with Patrick with whom he will begin his first real, long relationship which will lead to a marriage where the unexpected is a special guest. The reliable but with scarce appeal social Johnny will take advantage of his commercial ability to relaunch the Rosebud Motel and will share the adventure with Mayor Roland who over time has proved to be a true friend. Everything would suggest the usual story of redemption, selfish characters, with little attitude to consider others who become altruistic but Schitt's Creek it is not the classic series with didactic life lessons at the end of the episodes, with the moral served in small monologues.
Irony, amusement, mockery, always remain an integral part. An example of all. Moira still can't remember Alexis' middle name even at the end of the series and wants to go back to her old life even though the change in her is already accomplished. As in The Good Place who managed to give the right space to authentic personal improvements in the most unlikely characters, Schitt's Creek manages to give a credible narrative and growth arc, effective for all the protagonists, not just the Rose family. Each changes in contact with the other as Jung had already stated in his time, "The meeting of two personalities is like the contact of two chemical substances: a reaction is produced such that both will be transformed". Alexis in New York, David who decides to stay, Johnny and Moira back in California. In the Diaspora, the Rose family will bring their new Promised Land with them.
The Schitt's Creek community will continue to be inclusive but with more charm, a last piece of America ready to offer the second chance, the one we all need.