You know when you're talking about Grey's Anatomy maybe with friends and the huge roundups of tragedies and catastrophes that have occurred in the series come out? Here, the nineteenth season – albeit started in a different way – seems to want to reiterate that times will also have changed, that this series is trying to evolve and give us a new point of view, but that certain things then – after all – don't change so much. Having seen the episode you know what I mean, but we'll get there slowly.
Let's start from the beginning – what a novelty, you might think – and finish at the end (oh well, I'm delirious, but it's Sunday, it's starting to get hot, the session is approaching and my brain's flights of fancy help process the imminent discharge of responsibility that I will bury). But let's get back to us, just digress and let's talk about Grey's Anatomy. At the beginning of the episode we find a distracted, out of focus Lucas Adams. Although I believed this distraction could be caused by the situation with Griffith, it seems that – instead – it is caused by a belief that I am not deserving.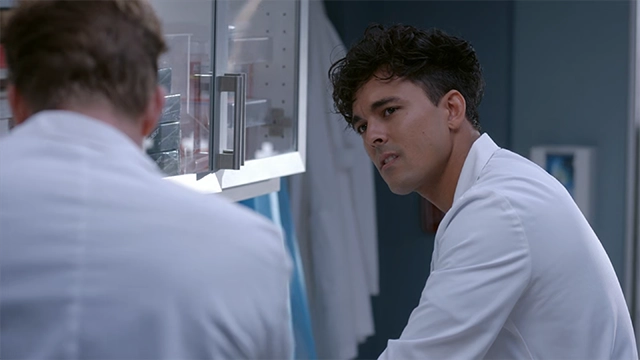 Being just the beginning of Generation Z, but at the same time so close to the Millennials, I think I speak for all my brothers and sisters, cousins ​​and cousins ​​out there when I say imposter syndrome is something most of us suffer from. So I was very interested in this storyline and above all in its development. Adams thinks he's at Grey-Sloan Memorial because of Meredith Grey, her aunt. But we viewers clearly see that fire in her eyes, that flame that is typical – one can say – of the Shepherds and their genius.
We see it from the way Amelia is secretly proud of him, we know it because he was Derek's favorite nephew, confirmed by the fact that in times of need he always knows how to act. Yes, perhaps he forgets the simple things, the basic ones like remembering to pay the electricity and gas bills, but in the hospital he always gives his best, unlike what we have seen in this episode of Grey's Anatomy. It's not unusual in this medical drama for someone to have moments of uncertainty, to stumble along the way: just think of George, but also of April Kepner and even Cristina Yang who I remind you – at one point – was convinced she wanted to leave medicine and want to be a bartender (a bit like what happened with Helm). If we want to look at the recent and not the remote past, we can talk about Jo Wilson or Levi Schmidt.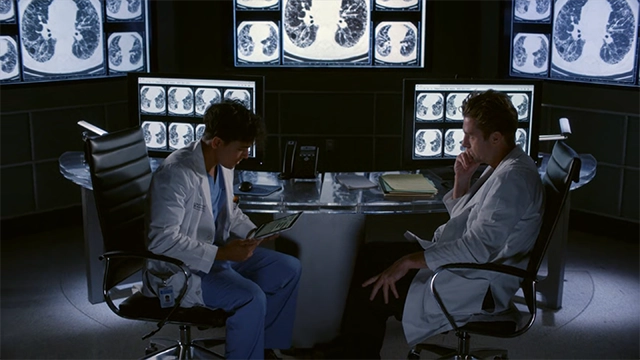 All or most of the characters on Grey's Anatomy have suffered setbacks in their life path, but they have more or less always managed to get by and I'm sure Adams will too. In short, he is a Shepherd and the Shepherds do not throw in the towel.
Oh my God I wrote and heard this last sentence in my head with the voice of those dubbers who translate stuff from English like "hey champ" o "beautiful here, man" with the voice super set. I can't explain it to you, but I was scared.
Seriously, let's briefly turn to Nick Marsh. Nick Marsh who was apparently "hung" by Meredith Grey. After moving out of Seattle, Gray decided — rightly — I might add (although she empathizes with Nick a bit) to start over elsewhere without Marsh. The situation is not really clear, he reminds us that he told her he loved her and she has practically disappeared. Our queen of ghosting. Now, recalling the episode of Meredith Grey's farewell, her attitude also makes sense. She has a family to think about, a very important role to play and he didn't immediately give her a certainty, so her brusque attitude is justified. On Twitter we would say "I stan this queen".
It will be fun trying to figure out how this story ends, especially having Nick Marsh often in the episodes. Surely he will provide us with updates on his sentimental situation and consequently on that of Meredith. Now that I think about it, if they let him leave with Gray he could stay on the series as a series regular and seen and considered that Grey's Anatomy it's like the permanent state job, but of TV series, who are we not to wish him to stay?! I mean, Nick, if Meredith doesn't want you, we'll pick you up like a stray kitten and keep you with us at Grey-Sloan Memorial where there's room for everyone and if there weren't room left, Shonda would surely find a way to make room (usually involves the death of some character, but we're not complaining about that anymore).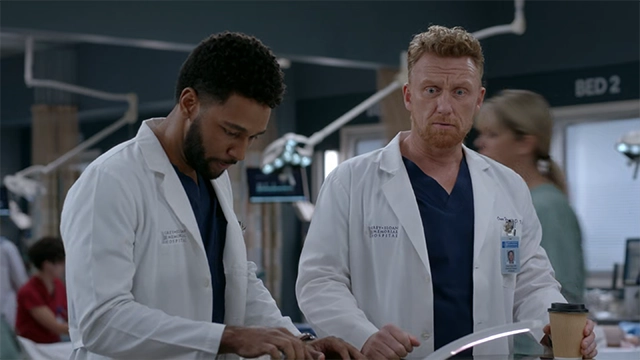 An interesting situation is the one that is forming in a completely fragmented way between Pierce and Ndugu. We know there's bad blood between a husband and wife at the moment and their relationship seems almost destined to end, but in this episode, aside from Hunt's comment that more than helping people it seems to me he wants to turn her against other people, it seemed to me that Ndugu was trying to voluntarily (but without letting his wife know) do everything to save his patient's lungs intended for transplant for Pierce's patient. A gesture that Maggie most likely will not know about, but which could be indicative of Winston's desire and still alive interest in her and therefore the glimmer of light at the end of the tunnel, the remote possibility of resolving their problems and conflicts . Who knows, we'll see.
Last, but not least – indeed we follow the philosophy of "save the best for last", or let's keep the best for last – let's talk about the dream team: Addison Montgomery returned to Grey-Sloan Memorial and more specifically Miranda Bailey's clinic to help Bailey, De Luca and Wilson train new gynecology residents on practices banned in some states, such as abortion.. And here I could open an endless discussion on how crazy and unfair it is for a woman to be deprived of the right to be able to freely choose her body. So I'm going to boil down my absolutely pro-abortion stance to a quote from Miss Green Rachel straight from the forever famous and wonderful sitcom Friends: "no uterus no opinion" (no uterus no opinions), perhaps applying a slight modification and transforming it into "my uterus, my opinion".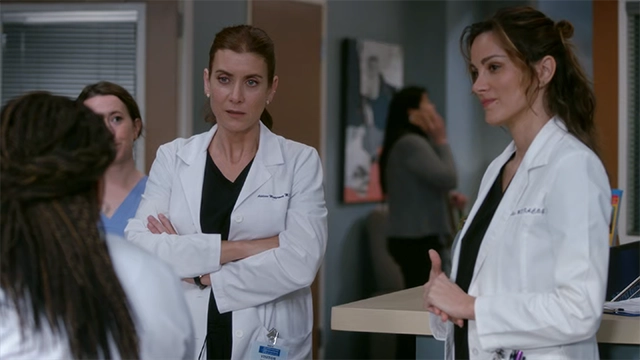 Addison's arrival, who has become a public figure precisely because of her mission to bring support and help to those who need an abortion, where it is impossible, causes a great stir in front of the Bailey Clinic. Indeed, a crowd of idiots gathers at the entrance in an attempt to protest against this practice and above all to try to ban patients from entering. The crowd becomes so enraged that a brick is thrown into the clinic, breaking the glass and hitting poor Kwan on the head.
And here the question arises: but these guys who are fighting to defend the rights of an organism that is not yet a human being how can they then deliberately injure a human being who is already a formed person and exists, breathes and lives? Contradictory, your honor, completely insane. Yet it is so, yet these people told fictitiously in Grey's Anatomy exist on our earth, breathe the smell of flowers and walk among us. Scary if you ask me, terrifying in some ways.
The fact is that not happy with having hurt someone with their reckless folly, the demonstrators at the end of the day allow themselves – and here I could curse in all the languages ​​of the world – to run over the pregnant resident – absolute madness – and also Addison Montgomery, the great, the immense, the ingenious, the magnificent Addison Montgomery. And no, gentlemen, I'm not in it. Ok that we are at Shondaland and we're as used to these tragedies as we're used to the chronic fatigue brought by summer time, but Addison's not. Addison don't have to touch me.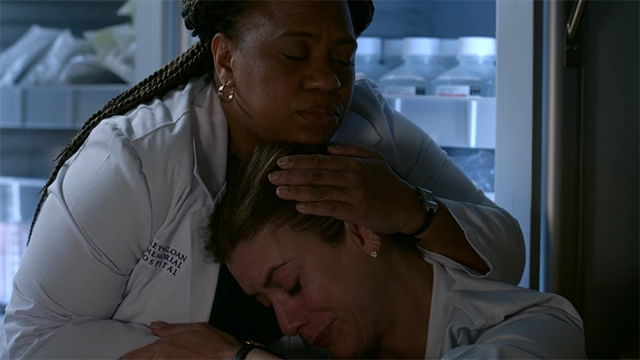 Then, ok, if the world of medical drama has taught us anything, all the great female doctors are run over by crazy lunatics, we just need to watch the first episode of Doctor Giò, but I'm not with it, not with Addison. So, let's talk face-to-face, Shonda. You took George, you took Lexie, you took Mark, you took Izzie, Cristina, Alex from me, you killed Derek, you took April, Arizona, Jackson and Callie from me, I absolutely cannot tolerate anything bad happen to my beloved Addison Montgomery. And then we saw her still interacting so little with Carina DeLuca and I deserve more interactions between them who – who knows why – remind me of the Celine Dion of the times of My Heart Will Go On. So he does something, but don't make me die Addison. Not now that I've had it back after a thousand seasons. I refuse, I object, Your Honor.
And nothing, now I shut up and we'll close it like this for this week, but I'll be back more energized than ever to review the next episode of Grey's Anatomy because from the promo we see Addie on a stretcher and I'm already anxious. I hope Shonda is good otherwise she will have to suffer my very annoyed comments under every social account of her owned by her. I understand it's a medical drama, but too much drama for these doctors, that's it.
PS how amazing was Altman? She is truly the best.