Unbreakable Kimmy Schmidt is one of the Netflix series that best manages to unite carefree, comedy e absurdity, but hides much more. Like a slightly cloying motivational book, this product that comes from the creativity of Tina Fey it is sprinkled with little life lessons, resulting from the most incredible situations.
But what story would it be without love? Luckily in Unbreakable Kimmy Schmidt that's not missing either! Here then its creators, with irony and in perfect "Kimmy style", enchanted us with one of the most beautiful and absurdly realistic love stories we can find on the small screen.
Unbreakable Kimmy Schmidt above all it speaks of liberation, starting with that of the protagonist from her bunker. But this concept of release it returns at various moments in the narration, elevating itself to a metaphor for a social condition within which all the characters find themselves forced, in turn. This little gem of Netflix-branded positivity is done stereotype destroyer in the funniest and most unconventional way possible, giving his audience a genuine entertainment that moves souls. Above all, the portrait that this series makes of the lgbt+ community is very appreciable, within which the characters depicted are varied and decorated with a thousand facets.
Let's start with the introductions: Titus and Michael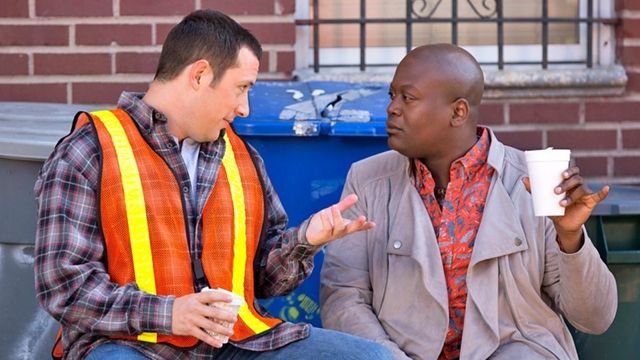 Impossible not to mention Titus Andromedon, full-fledged co-star and roommate of red-haired Kimmy. The real star of the show staged on the stage of our small screen is perhaps him. A black and gay character who doesn't take himself seriously, but continually plays on the more classic representation of the mainstream media. Our Titus aspires to glamor and sophistication, but it is barely touched with purely comic effect, leaving room for an aesthetic trashwhich makes the camp its strong point.
To give three-dimensionality to the character of Titus are above all the multiple quotations and refences to the world of American pop culture, but fortunately it's not limited to this. There are many background stories that reveal the difficult life in the Big Apple, always with irony but leaving out the caricature aspects in favor of a not at all poor comic exorcism that manages to hit in the right places. To further sublimate an excessively parodistic categorization, the character of Michael intervenes, the right opposite to be placed next to Titus.
Michael Politano he is one-third American, one-third Italian, one-third puppet (it's a long story) and works as a builder. His approach to homosexuality is late and naive, but perhaps among the most truthful possible. Despite the hyper-masculine context that surrounds him, such as the construction site, and a traditionalist family, the resolution for Michael turns out to be much less problematic than expected. In fact, she soon discovers that his family takes him in and loves him for who he is and that the rest of the world, well, in the end it doesn't seem to care at all.
Titus and Michael: the odd couple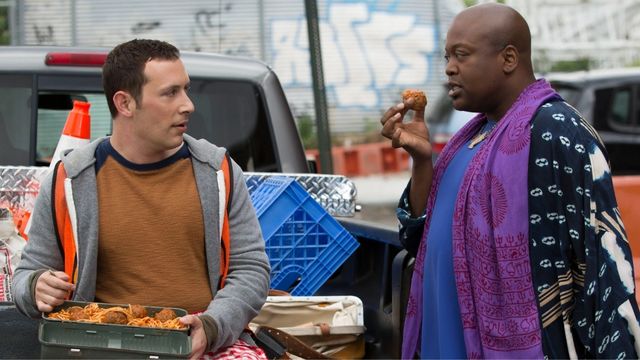 Titus and Michael have absolutely nothing in common. But just nothing at all. Yet somehow together they compensate. Their greatest strength is being able to push each other beyond their limits. When Michael learns to tell his story, Titus learns to listen: the needs of others become more important than their own. The two then begin a mutual exploration of one's own worlds of belonging, who turn out to be less alien than they imagined. Thus the aspiring actor teaches others the beauty of living outside the box, while the builder reciprocates with admiration and affection that push Titus to make increasingly responsible and important choices.
But it is just as things seem to be going well that the breaking point. Titus, for a moment, recognizes his young self in Michael's eyes: the revelation of a new part of himself, the fear of not being accepted and the discovery of being able to be loved by someone. Titus then makes a difficult decision for both of them: he must let Michael have the time to get to know each other, learn, love and experience. He cannot tie his existence to that of the first person who has shown him to be worthy of love. The character of Titus reaches his apex of learning right now, demonstrating how much he and Michael have done each other good.
Love according to Unbreakable Kimmy Schmidt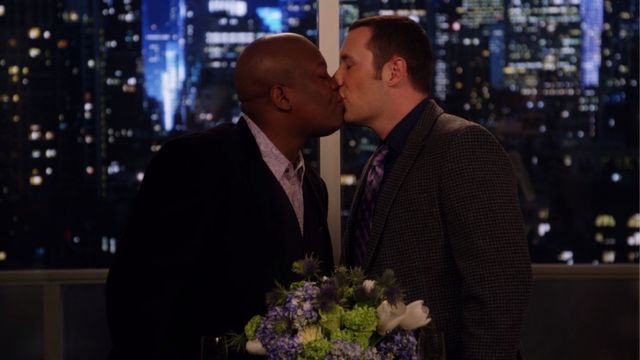 Years go by (and episodes) and while Titus seems to go through all five stages of mourning rigorously through Beyoncé's discography, Michael meets different people, loves and lets himself be loved. The aspiring actor has nothing left but to devote himself to his career, as in any self-respecting romantic comedy. With the help of Jacquelinemeanwhile become an agent of "stars" like Johnny Mustache (yes, that's right, Titus with a mustache), Titus manages to get close to fame on several occasions, but each time he blows it up with some chaotic scheme to win back his Mikey.
Titus invents TV series (how can we forget The Capist), buys peacocks, covers up successful relationships, and even feigns interest in learning the building art of hammering, all just to try and get back to Michael, in the hope of a confession of love. The point of no return is marked by yet another bankruptcy circumstance: during a boat event where Titus is the guest of honor with his musical success "Boobs in California", the singer declares his love for Michael who, however, present with her future husband, rejects it.
Any hope for a flashback seems to be in vain. Michael is now close to his wedding day while Titus finally manages to get a part in The Lion King of Broadway. Just on the day of his theater debut, however, Michael asks the actor to sing during the ceremony, unconsciously hoping for one last great melodrama that would have torn him from his wedding vows. Titus refuses and pursues his dream and just when he thinks he has lost his love for him forever, Michael appears outside the theater, ready to welcome him into his arms.
The two manage to have the best happy ending in Hollywood, celebrating their love on the red carpet of Titus' cinematic triumph with a pair of endearing adopted children. But what makes this chaotic adventure special is the wholesomeness that characterizes this story, marked by mutual improvement constant that accompanies the couple in each step. Titus and Michael are the perfect example of a narrative greet, fun, moving e unconventional that we would like to see more often represented on the small screen.
Unbreakable Kimmy Schmidt – Tituss Burgess Talks Netflix Special