Ladies Paradise 7: interview with Paola Cecchi (Elisa Cheli)
For the series "Sometimes they come back" an already familiar face peeps out Ladies Paradise 7as we investigate better in this interview a Elisa Cheli, Paola Galletti in Cecchi. She rejoins the department store as Venus, but what has changed about her? She's a mom now and, inevitably, we imagine that his vision of the world is different with a creature to look after and raise. She is the same interpreter who makes us think about further change that she experienced as an actress returning to be an integral part of the cast of the soap.
Find the video with the complete interview at Paola Cecchi (Elisa Cheli) at the beginning of this article.
Elisa Cheli feels at home, but the "home" has changed…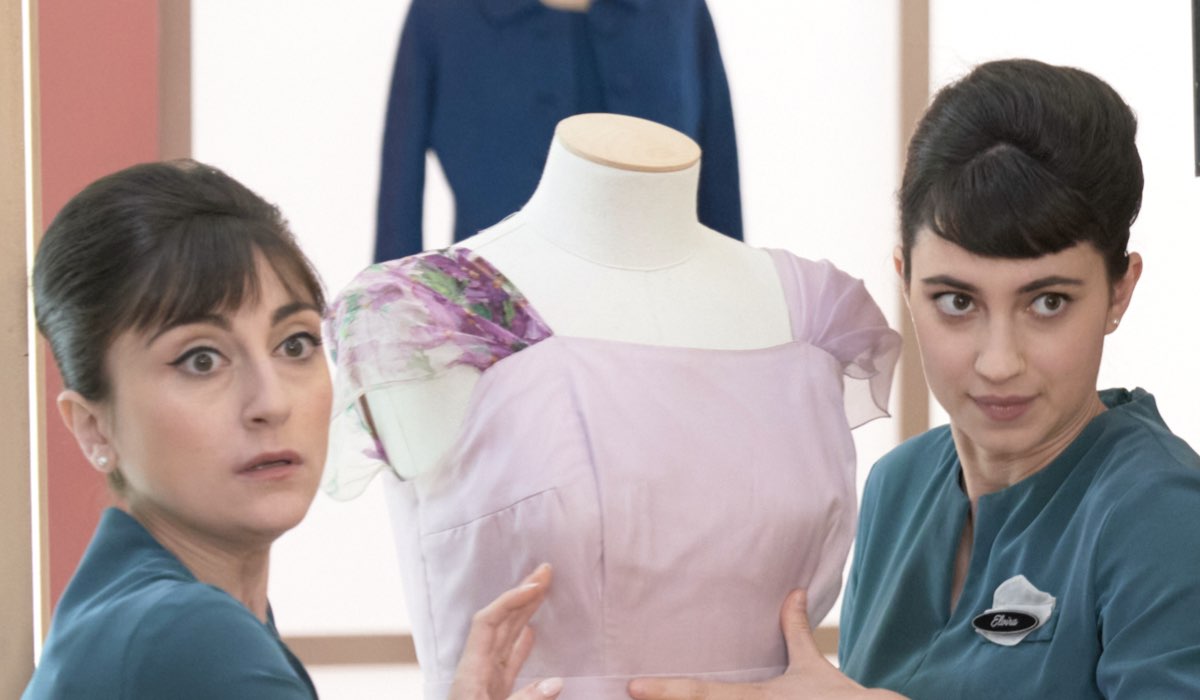 Projecting us Ladies Paradise 7in this interview with Elisa Cheli, we give her the warmest "welcome back" there is. For those who missed a few episodes – just a hundred or so! – Paola got pregnant last season. As a result, she leaves her employment by Venus and goes on maternity leave. His limited presence in season 6 is offset by his return to it Ladies Paradise 7as one of the Venuses.
What was it like coming back after quite a considerable amount of time? At Paradiso the large family is ready to welcome everyone back, but the experience of individuals is something unique.
read on after the commercial
Thinking about his experience ne Ladies Paradise 7in our interview Elisa Cheli explains that "I certainly was very and am very happy to be back and it was strange because I returned to a familiar environment, but at the same time the cast that I left – shall we say – is almost gone". It's really true given that, over the course of the episodes, many faces of the first seasons Daily have abandoned the storylines.
Consequently, continues Elisa Cheli, "On the one hand I have this feeling of being at home, but with a new cast and new colleagues. So actually, that's a start new for me tooTruly!". Thanks to the gap between the sixth and seventh seasons, the actress changes and returns "even with new awareness."
"The mother side will emerge" of Paola in Paradise
Speaking of changes and awareness, we can't help wondering if the condition of Paola's mother can influence her way of seeing work, of perceiving the weight that work has in the economy of a mother's life. It's not an intuition about Ladies Paradise 7which – in this interview – Elisa Cheli denies. "Yes sure! Paola is also very ironic. So actually, then handles everything: he succeeds, but this maternal being of his will come out a lot". In what sense? We are curious to find out the details and she adds that it will emerge"especially in certain situations, which will not affect colleagues so much. It will concern more another part of Il Paradiso with which Paola will bond particularly and with whom, in short, she will be very maternal. So this of her being her mother will also be seen precisely with other characters."
Now we know: he's referring to the Atelier! With what happens from the 126th episode onwards, the staff of the Atelier changes…
"Paola could aspire to better" by Franco
read on after the commercial
Paola, at the moment, is the only Venus married (with the exception of Anna, who – however – has a complicated history). From the few episodes we've seen him in, we think that Franco, Galletti's husband, is not a shin of a saint. We have a little intuition that the marriage relationship between Paola and Franco is not the best or the happiest. Ladies Paradise 7 – starting from this interview with Elisa Cheli – will it change the situation? "I believe that, in reality, Paola is very much in love and she underestimates herself a little because, in my opinion, she could aspire to something better and she's satisfied for a bit. It seems ugly said like this, but it's a bit of an impression – that she too was satisfied with this relationship which drags on a bit." Said this, Galletti is very much in love… Will that be enough?
As for weddings, for those hoping for orange blossom soon? Elisa Cheli is rooting for a character in particular…
Watch the full interview at Paola Cecchi (Elisa Cheli) at the beginning of this article.
"Ladies Paradise" is a series co-produced by Rai Fiction and Aurora TV. The Daily 5 season is broadcast on Rai 1 starting from Monday 12 September 2022 in first vision.