A list to greet everyone. A letter of recommendation. One last game of paintball. A father and daughter chat with the latest arrival. She words of comfort to build strength, to remind her that farewells are not always scary if what you earn increases in courage. The Office, a TV series that we never imagined could move us to tears, surprises us with emotion at the end of the seventh season with episodes 22 and 23, first preparing us and then sinking the blow, giving us one of the biggest and most painful farewells of TV series .
But let's face it at the beginning, we didn't immediately understand each other. It will surely have happened to many of you to start The Office with the highest expectations and then being shot down by the first few episodes. We simply weren't used to it, we didn't understand each other. A hot-tempered and incompetent boss, a professional stooge, and a battered and anything but well blended crew. An office. Any office where different human beings go every day just to receive the paycheck on the 5th of the month. Nothing more. Let's go back together to that day, when after only two episodes we wondered if the praises towards the series weren't too excessive or if we weren't too little awake to understand that, without even realizing it, we would have fallen in love with it.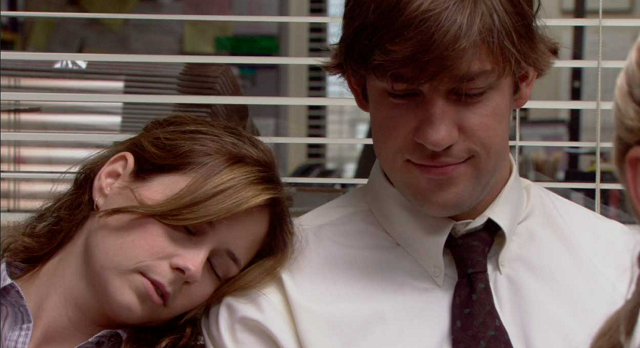 Grow up After. As they say about those puns that never make anyone laugh. You hear it later. E The Office it does exactly that, with the difference that it becomes fun from episode to episode. And yes, it makes you cry, but it makes you laugh. It grows, becomes giant until it takes on the features of an unshakeable titan. A cult for many, an album of family memories that you will never want to stop leafing through. Incredible to think how it was for many the first cold encounter with The Office; unthinkable to even be able to imagine, at the time, how beautiful and long the road that brought us up to here, to 7×23 would have been: the episode of that farewell mistakenly Perhaps hoped for many years before and now the bearer of an unfillable void. We really never expected this.
We've known that for a while already. 7×22 had also already opened the door to Michael's exit. The first hurried greetings and a pile of boxes in which she was packed her life. Vita, who out of laziness was still all stretched out on the desk. A printed list, with a dozen or more names in a column one below the other, faces Michael will never see again for a few months or perhaps years. Saying goodbye to them, one by one in their own way is Michael's final day goal. Of those last hours in the office that gave home to hundreds of jokes, to all those intimate and insignificant moments that fortified every relationship within the Dunder Mifflin Paper Company making it much more than just a workplace.
Among those ergonomic chairs, in the theater of an open spacesomething more happened. And let's not talk about the stature of the TV series in the comedy scene, which we already – very high – assume, but let's talk about humanity. Of that constant social experiment that is life with others and which has never been more successful than in that office in Scranton. But let's also talk about Michael Scott: that absurd man without whom all this could never have existed. A great and pervasive love like that of an extended family where clashing is the order of the day but after a few hours it seems to be all over. And the father in this story could only be him, our Michael.
Jim: You're not leaving tomorrow. You're leaving today, aren't you?

Michael: Maybe

The Office 7×23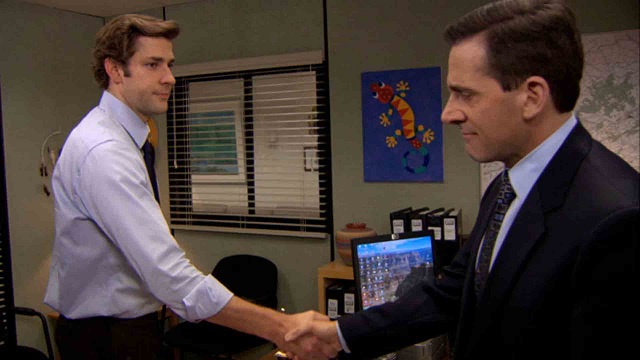 It's time to say goodbye, and even if it hurts, it's right. It's right that Michael follows his happiness, it's right that the character evolves, grows and finally touches closely those dreams of a lifetime, impalpable even just a few years earlier. He who built a family within the walls of an office now wants to create one for himself together with Holly etc.How could we ever say that this is not right? Yet it hurts. Yet selfishly we wanted to stay with him until the end, or at least a little longer.
Nothing would have changed. Temporarily removing a step that would have had to be taken in any case would not have facilitated the exit, it would have done less harm. We would have done it for us. To enjoy a little more of his company and what his company creates in those around him, but that wouldn't have been right. The spiky-haired Michael with a complicated relationship with women, short-tempered and temperamental is no more: he has given way to a softer-haired and somewhat wiser man: not too much, it wouldn't be him.
We press play in our album of memories, we open the curtain to the memory of everything that Michael Scott has given us: between jokes, headers and cringe at the highest levels – before it was cool. And whoever said that in comedies you only laugh, maybe you haven't seen this episode.
A breakneck rush to arrive on time and then a greeting at the airport like in love movies. Because yes, The Office it was also a beautiful love story. One of those that initially leave a bad taste in your mouth but only after many years are conceived as perfect. Michael's farewell made us feel exactly like this: initially disoriented, torn and then only later, after a long time, full of gratitude towards that sometimes hysterical character who gradually learned to empathize by tearing our hearts apart with his leaving the scene, but giving away, with the best of wishes, a prosperous and perfect future for the hero of our story: without a mask but with a gigantic heart.