Inside Job starts from a premise that is as simple as it is effective.
The conspiracy theorists. Those crazy drunks shouting in the street that the government controls us. The geeks who create sites on reptilians. They, all of them, are right.
Even those convinced that Michael Jackson and Steve Jobs are still alive and well.
Pretty much everything he told us Enrico Rogeri are Mysteryhere, it's true.
Inside Jobin fact, tells the work from within behind the cover of deep state conspiracies. The shadow government – a sort of toga and masked parody of the Illuminati – entrusts this task to the Cognito Inc., a secret U.S. organization partially funded by the Reptoids. This company does things for them like replace the president with a robot and Photoshop away Atlantis from photos of Earth's satellites.
The Earth which, by the way, is not flat, of course not. It is concave. Everybody knows.
Inside? Mole men and the good old man Kraken.
But who are they this sort of Man in Black of Cognito Inc., which actually help to control and subjugate the entire world population?
Reagan Ridley, a Beth who (almost) made it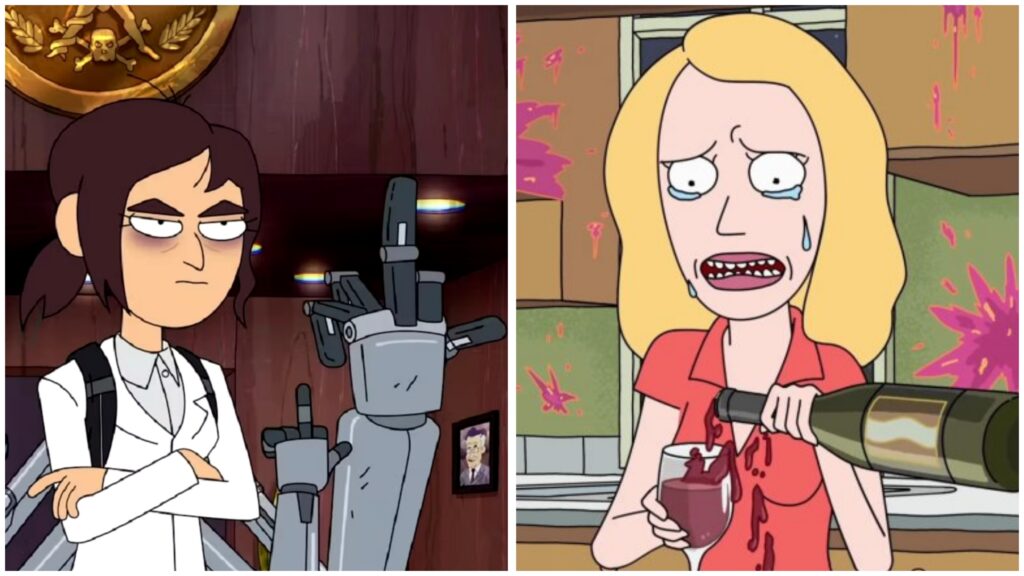 A comparison that could make someone turn up their noses given that Inside Job is one of those beautiful series that are affected by the shadow of Rick and Mortyyet I see Beth's untapped potential expressed in Reagan.
How would Morty and Summer's mom have become if Rick hadn't abandoned her when she was just a child?
First, I doubt she would have been a mom anytime soon.
Without the wound of abandonment and without the need for a safe haven, Beth would never have seen someone like Gerry. Instead, her constant confrontation with a Rick present would have unleashed her whole sense of competition. She would certainly have become an equally formidable scientist.
That's how his profile and Reagan Ridley's profile connect in my mind.
Reagan, like Beth, finds himself dealing with an almost narcissistic intelligent father, Rand Ridley, former CEO of Cognito Inc. Alcoholic, anafective and, obviously, genius.
And even then the apple didn't fall far from the tree.
Reagan is one brilliant scientist, an expert in robotics and a neurotic workaholic.
His goal is to climb the Masonic pyramid one step at a time, all the way to the top, all the way to the eye. Where he father of him has been and beyond, where he hasn't even arrived. However it is totally inept in the social sphere and fails to gain respect from his collaborators. That's why when she finally gets the promotion she dreamed of, she is joined by a co-leader:
Brett Hand, uno yesman who looks too much like Fry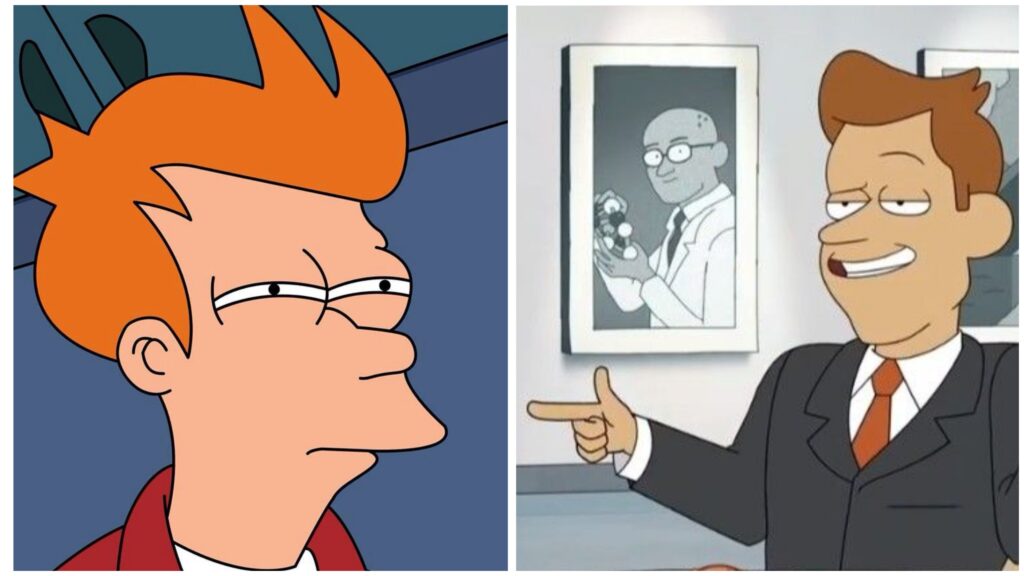 A boy at his first work experience with only a curriculum made up of brotherhoods and a desire to please anyone in front of him. In short, a guy as incompetent as he is nice. And how can you not find him pleasant on the skin with his red hair and somewhat immature Philip J. Fry air, but in a suit and tie?!
Initially Reagan feels threatened by him who overshadows the results simply by attracting attention with his compliance. Then she realizes that collaboration between the two is possible and she, with a resolute attitude, tells him:
You are the charm, now I understand. I actually need a mediocre white man to act as a human shield and social lubricant while I achieve my true goals
And the rest of la gang : a half-dolphin, a doctor with an easy recipe, a psychoactive mushroom and the influencer who created selfies to make people self-monitor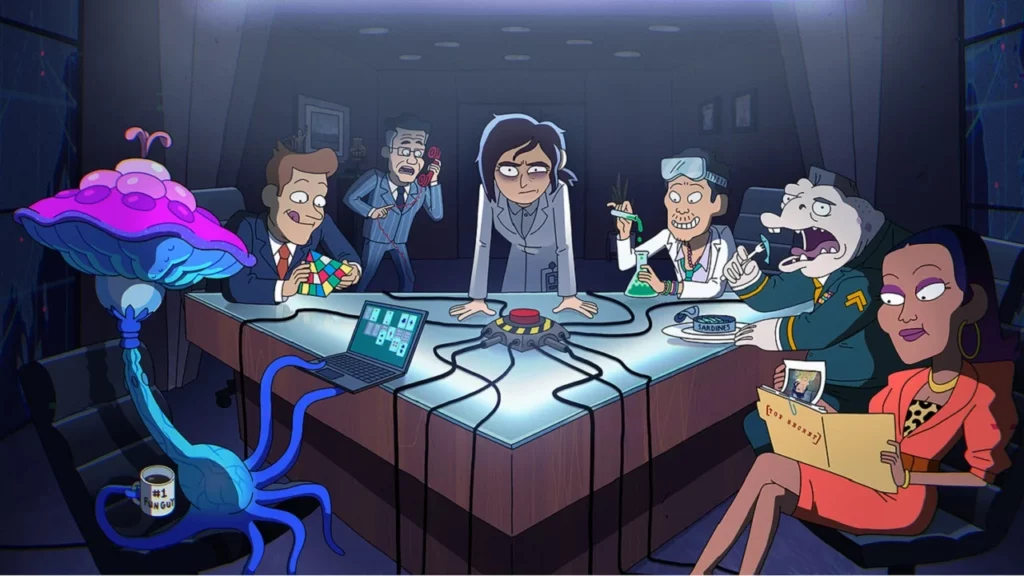 About Futuramain the original cast we find important voices including that of John DiMaggio.
To those who "the original dub is religion" this name should sound familiar, because Of May has lent his voice to historical characters in the panorama of animated series such as Bender, Jake in Adventure Time and Marcus Fenix ​​​​in the franchise of Gears of War.
In Inside Job as Glenn Dolphman, a war hero turned dolphin hybrid for his countryresponsible for armaments.
Then there's Andre Lee, more chemist than doctor and more drug addict than all the rest. No one suspects his affair with Gigi, the public relations colleague who launches trends on social media to distract the masses. Actually Magic Myc lo tobeing a mushroom with psychic powers, as well as cynicism and sarcasm to spare.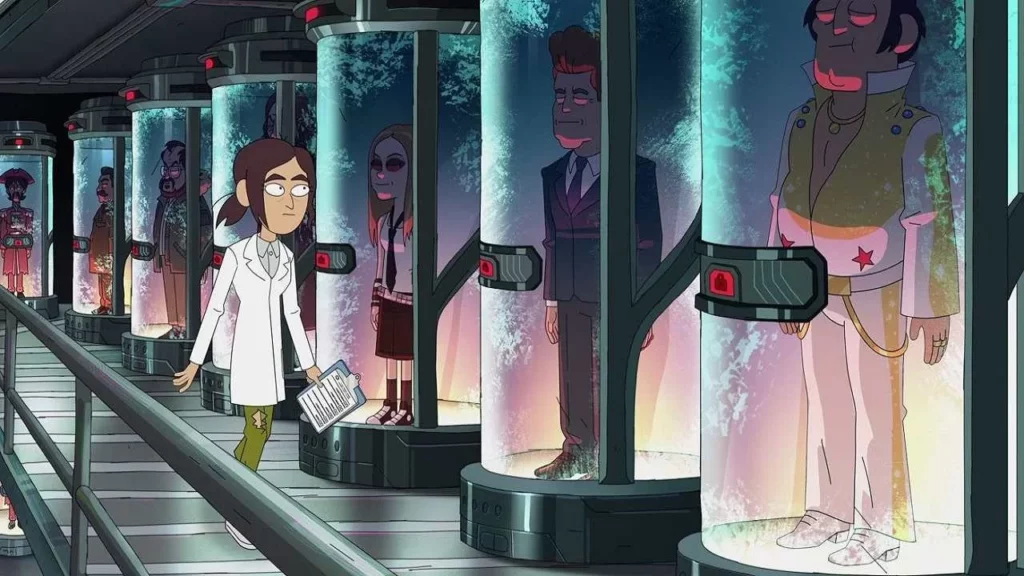 I main characters they are stains, in part stereotypes already seen, clones of archetypes widely used in contemporary fiction. Not for this, however, they lack personality and during the episodes, mostly self-contained, it is their stories that create a common thread.
Do not miss the typical combo of the animated TV series that are having success in recent years, a quick and contemptuous irony seasoned with kilos of quotations on American history and culture.
The strength of Inside Job it is precisely his composition of many very unoriginal elements – from the science fiction frame to the more superficial characterization of his characters – framed in order to tell a new story.
It's a pity that Inside Job is also another adult cartoon that didn't make it, taking its place in the top 5 most painful cancellations of the last year.
Although all the conditions for a third party seemed to be present, on January 8, 2023 Netflix announced the interruption of the series of Shion Takeuchi.
A gigantic disappointment after cliffhanger second season finale that promised intriguing revelations and evolutions in predictable but nonetheless captivating directions.
Despite its untimely demise, however, Inside Job it deserves to be seen, even if only as a digestive after a more demanding TV series. My word.