"I was born with an eccentric heart", wrote Bono, the leader of U2, at the beginning of his autobiography, released last November. The reference was to the heart surgery a few years ago. "For me writing songs is like heart surgery" he says at one point of Bono & The Edge A Sort of Homecoming con David Lettermanavailable at Disney+ from Friday 17 March. Simultaneously, the highly anticipated U2 album, Songs Of Surrender, a collection of 40 essential songs from across the band's catalogue, re-recorded and re-imagined. The Three Operations (autobiography, entitled Surrender: 40 songs one story, albums and films) are related, complementary, but also very different. The book was for Bono a desire to lay bare.
The record is about stripping the songs of their arrangements and U2 trademarks. "What's left when you strip them of everything? What is the strength of these songs if you take away the firepower of a band like U2?he wonders Bono in the film, directed by Academy Award-winning director Morgan Neville and produced by Brian Grazer and Ron Howard. The result is a film that you don't expect, far from the celebrations of the classic rockumentaries, a journey into the U2 songs, within the city of Dublin, which in less than 90 minutes manages to capture the essence of the band, the sense of their success and the relationship with the public and with the city. He manages to grasp the secret of U2 and their songs, of a unique sound and words that have remained in history, even if Bono has decided to change some of them. And it also captures Bono's irony, which David Letterman's sympathy manages to bring out and enhance.
Bono and The Edge invite a special guest: David Letterman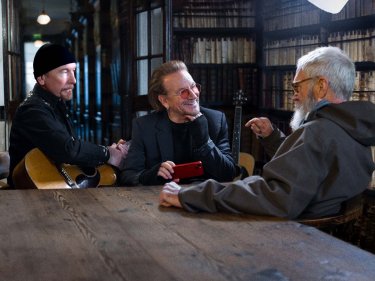 Bono and The Edge invite a special guest, David Lettermanto hear their re-imagined songs, as we will hear them on their new album Songs Of Surrender. There are only the two of them: Larry Mullen Jr. is recovering from the after-effects of the well-known back surgery, and Adam Clayton is busy making an art film. So they invite students, and other musicians, to a historic theater in Dublin, the Ambassador Theatre, which was once a hospital. Bono was born right here. Letterman walks around Dublin, talks to the people of the city and U2, interviews U2 about the meaning of their songs.
Bono & The Edge: A Sort of Homecoming with David Letterman, the review: a journey into the roots of U2
Adam Clayton era Mrs. Burns, Larry Mullen Jr. era The Jam Jar
Bono & The Edge: A Sort of Homecoming With Dave Letterman succeeds in the difficult task of telling U2, to grasp its essence, and also to tell Dublin, in less than an hour and a half. She manages to tell us something more about the early years of the band, which have already been told. The four U2 and other friends had gathered in a sort of art collective, the Lypton Village. And everyone had a stage name that they went by, which was a sort of ironic revolt against the establishment. Some of them still wear them, some don't, and we understand why. Bono (aka Paul Hewson) was Bono Vox Of O'Connel Street (but for a long time it's just Bono, woe to call him Bono Vox), a name taken from a hearing aid shop, Bonavox and David Evans was, and still is, The Edge, for its angular character and for the shape of its head. But what we didn't know is that the other U2s, which today go on stage with their own names, also had their battle names. Adam Clayton was Mrs. Burns, Larry Mullen Jr. was The Jam Jar. That's why they didn't keep the stage names.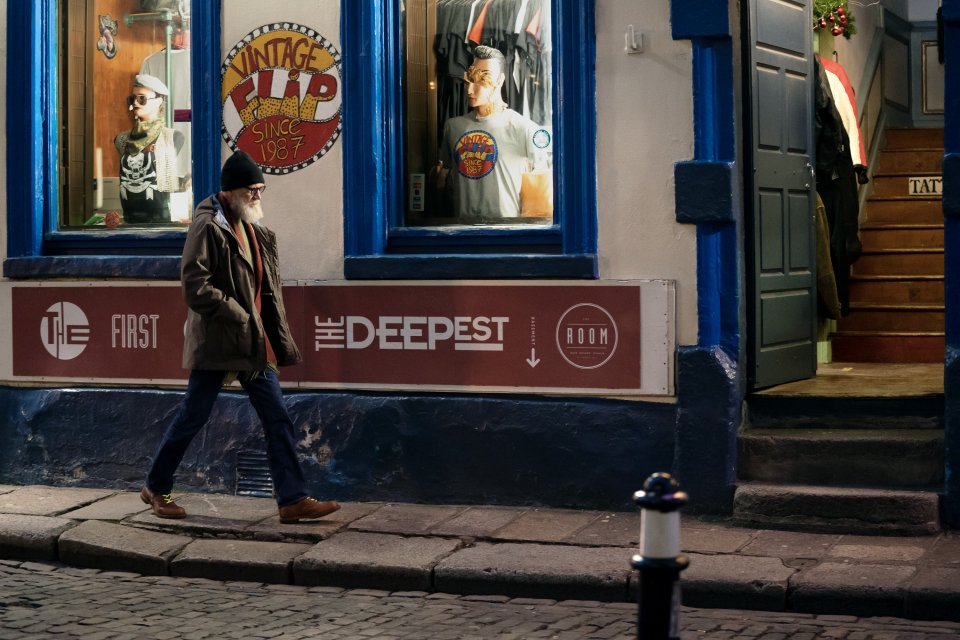 U2 have cleared the decks
Among the protagonists of documentary there is also Glen Hansard, musician and great friend of U2, who many will remember as the protagonist of Once, the film by John Carney that told the life of a musician. Hansard says he went to a Police concert as a 10-year-old in 1982, but was struck by the opening band, U2. "They were Irish, they were from Dublin, We all became obsessed". Writer and journalist Fintan O'Toole gets the gist of U2 just fine."They sounded like no one else, not just in Ireland, but in America and Great Britain as well". But why do people respond to U2 so emotionally?"Each band seemed to show how much they were against something" said O'Toole. "U2 were trying to express something with the force of sincerity". "U2 kind of cleared the decks", explains Hansard. Which, more or less, means "they cleared the bridges". It is an English expression that is used when someone prepares things for a new event, capable of changing things.
Sunday Bloody Sunday: that's why I'm in a band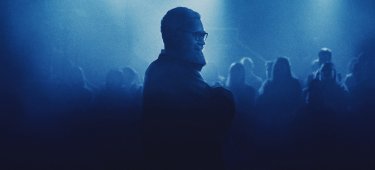 Telling theirs Dublin and their beginnings, also recount the experience of the Christian fundamentalist group they had joined, and which to them had seemed like a commune, like a punk collective, but which turned out to be a sort of rather traditional Church. We know the story: they asked them to stop playing, but U2 chose the band and rock. But Bono wondered how it could be in any way useful to his principles. The answer came in a song that the Edge played, Bono tells us in the documentary. "I stood in front of him and felt his internal anger turn to external. I said to myself that's why I'm in a band". That song was Sunday Bloody Sunday. And it was a way to feel that music had become something beyond itself.
Where The Streets Have No Name: the chemical reaction with the public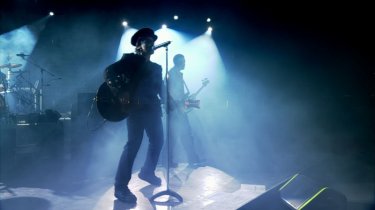 The film captures the essence of U2 as well, in some sketches. Their sonic peculiarity cannot be missing, that sound that has become a trademark and that many have tried to imitate. Where The Streets Have No Name is the signature song of that sound, and the Edge plays it, in an electric version, right in front of Letterman. But how did this song come about? The Edge wondered: "What would I like to hear if I were the audience? What would really drive me crazy?". Bono says the lyrics aren't very rich, "but the suggestion it contains is gigantic: there is a transcendent place where we can go together: do you want to come?". The secret of the is this: a kind of chemical reaction between the audience and the band. What happened at the Superbowl, 6 months after September 11, 2001, is even more symptomatic of all this. During "Streets" the names of the victims of the bombings scrolled on a screen behind the band. "Great shows are made by emotions" says Bono.
Live forever: from U2 to Woodstock, concerts at the cinema
The songs are further reimagined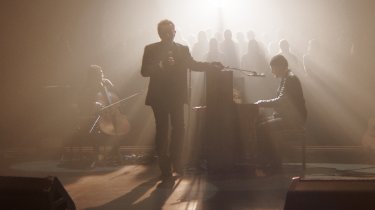 Pay attention to this movie. Watch it before listening to the album, after listening to the album, even without listening to the album. What you'll find here are not the reimagined songs you'll find on the record, but more. Many songs work better here than on record. Why, for U2, the acoustic version, or "stripped down" of their songs has almost always been something extemporaneous, like the first one, from the heart thrown over the obstacle, from chemistry with the public. Fixing this thing on record is less easy. So Beautiful Day live acoustic has more punch, guitar and vocals are more aggressive. Vertigo is rewritten, with the cello playing the bassline as a replacement alongside the guitar. One is based on sparse piano chords. On Bad even a new bridge is added, beautiful, and the acoustic guitar sparkles as if it were an electric one.
The new song: Forty Foot Man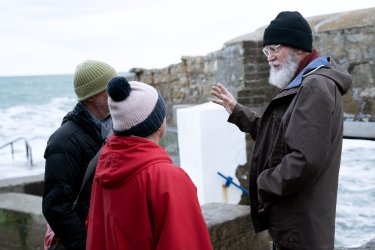 What we like about Bono & The Edge: A Sort of Homecoming With Dave Letterman is that it never has, not for a second, that solemnity of the classic rockumentary, the glorification, the epic. But it has a sort of understatement, a familiarity, a confidence. THE luminous times of the history of U2 can also be told with irony. The incomparable one of Letterman brings out that of Bono, which has always existed. A special moment is when Bono and Edge play Letterman a song written for him, Forty Foot Man (a brilliant, tongue-in-cheek song, seemingly far from their chords), which has to do with a famous Dublin bathing spot. Imagine sitting next to them and listening to a song they wrote just for you, while they smile at you. You will shiver. "People might call you and ask about custom made songs", "custom written songs!", says surprised and amused Letterman.
U2: Ideal soundtracks for cinema and our lives
Bono: U2 support me, but I test their patience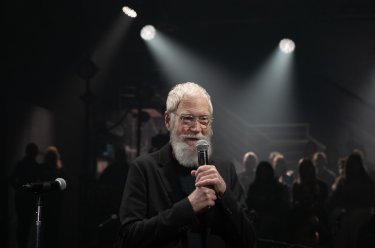 Speaking of Bono, his irony and his motivations, this film can be an opportunity to get to know him. To understand, for example, the question of activism, and of those photos that with the powerful have also brought him unpopularity. But that have brought great results for his campaigns. Hearing it from his voice will probably convince you of the goodness of his intentions. "If you are in a rock'n'roll band you don't want to be in a photo with certain people who seem to be at the antipodes of the values ​​you hold dearHe comments. And so he talks about the time he got Jesse Helms to approve a big grant for Africa. Edge told him never to take him to a U2 show, because he had cut back on a culture program. he did."They support me", says Bono about his band. "But I test their patience". As one of their most famous songs says, One"We're one, but we're not the same. We get to carry each other". "We are one, but we are not the same. We begin to support each other".