Back tonight 13 March on Rai 1 with a new episode Commissioner Ricciardi 2, the series with Lino Guanciale based on the novels by Maurizio De Giovanni: plot, cast and characters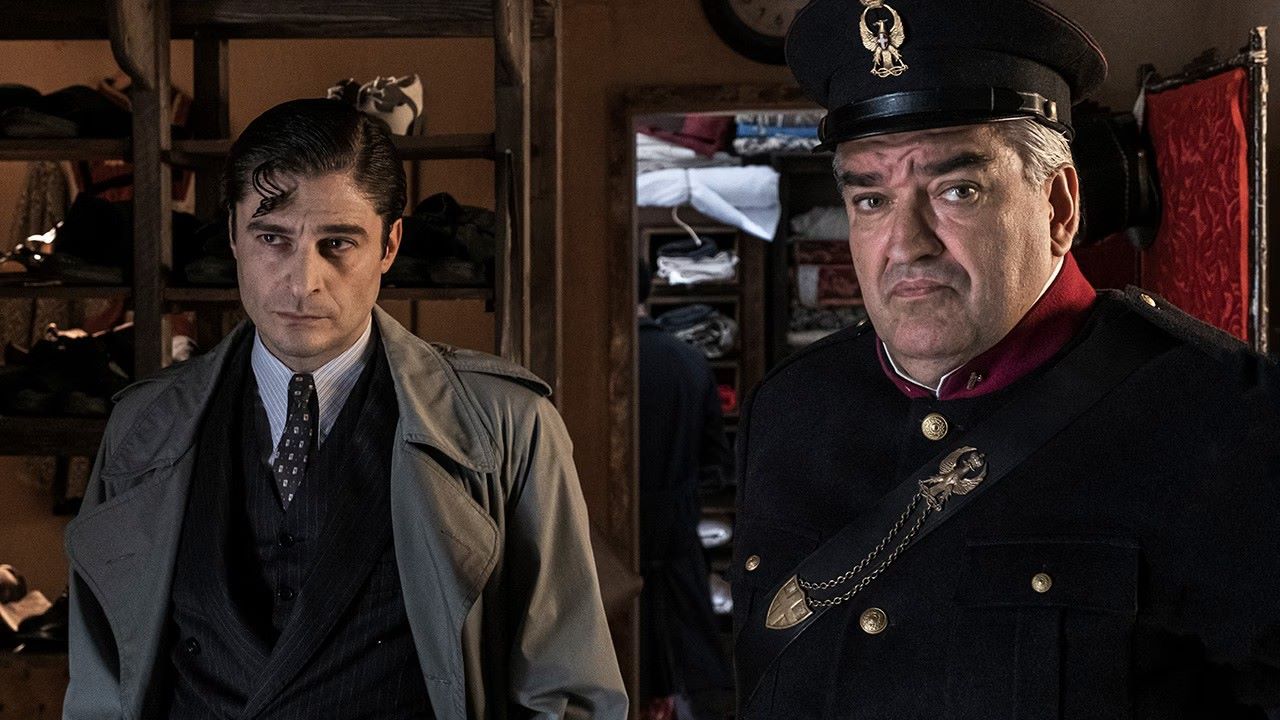 Commissioner Ricciardi 2 come back tonight Rai 1 in prime time with the second episode of the series based on the novels by Maurizio De Giovanni. Lino Guanciale takes up the role of the tormented protagonist. In the episode aired today, March 13, we will meet a new character, the Countess Bianca Palmieri played by Fiorenza D'Antonio.
In this new season Gianpaolo Tescari replaces Alessandro D'Alatri as director. Manfred von Brauchitsch will have the face of Christoph Hülse who takes the place of Martin Gruber. Commissioner Ricciardi 2 will keep us company for four evenings.
Plot of the first episode – Glass souls
Countess Bianca Palmieri asks Ricciardi for help to solve a murder case for which her husband is accused, unjustly in her opinion: that of the lawyer Piro, found lying on the desk in his office. Even if all the evidence does not work in favor of the accused, Ricciardi is persuaded to reopen the investigation, deepening his confidence with the countess. But the commissioner ignores how dangerous the wounded heart of a woman in love can become
Cast and Characters of the second season of Il commissario Ricciardi
Lino Guanciale is Commissioner Luigi Alfredo Ricciardi
Cilentano, Luigi Alfredo Ricciardi is a police commissioner in Naples in the 30s. He has an uncommon investigative ability, based on an understanding of human lives and passions and on a profound empathy. His strange gift (which no one knows and which he calls "The Fact") consists in seeing the last moment of the victims of violent death and listening to their last thought. He lives a solitary life, looked after by the old nanny, Rosa, who loves him as if he were her own son.
Antonio Milo is Brigadier Raffaele Maione
The Brigadier is Ricciardi's trusted shadow. Tall, big, a little awkward, he's a man with a heart of gold and a witty wit. The two men are linked by the death of their eldest son, Luca, a police officer killed in service. A very painful loss that brought silence to the Maione family, because his wife Lucia stopped smiling from that day on. Maione is linked to Ricciardi through admiration and devotion: the Commissioner himself, in fact, tracked down the culprits of his son's death and revealed to him that Luca loved him so much that he dedicated his last thought to him.
Enrico Ianniello is Doctor Bruno Modo
The doctor is a fervent anti-fascist with cynical, ironic and outspoken ways. He is a trusted friend of Ricciardi, whom he deeply respects, even if he doesn't understand why he leads such a secluded life. A lover of wine and beautiful women, he does not disdain to frequent the Neapolitan brothels and is unable to keep his ironic jokes against Mussolini, arousing Ricciardi's concern. As a pathologist, during the investigation he is a valid and trusted ally of the commissioner, who admires humanity and the deep respect with the doctor whose "studies" the dead.
Maria Vera Ratti is Enrica Colombo
The young woman, an inconspicuous and shy beauty, lives in the building opposite Ricciardi's. She falls in love with the Commissioner, even though she only sees him through the window of her apartment. With silent modesty, she awaits the man's first move and, in the meantime, she is faithful to him, as if she were promised to him. Enrica knows that Ricciardi loves her, even if she doesn't understand why she doesn't come forward. Her confidant and her ally is her father, the only one who has sensed the silent love that binds her to the mysterious neighbor.
Serena Iansiti is Livia Lucani
Beautiful, charming soprano who retired from the stage, Livia moved to Naples after meeting Ricciardi during the investigation conducted by the commissioner into the murder of her husband, the famous tenor Arnaldo Vezzi. Livia wants to conquer Ricciardi at any cost and is sure of succeeding because of her overwhelming beauty and her strong-willed character. Well integrated into the Roman jet set, she boasts powerful friendships among the exponents of the fascist regime: she is a woman used to getting everything, but she hides a profound fragility.
Fiorenza D'Antonio is Bianca Palmieri of Roccaspina
In Naples she is known as the most beautiful woman in the city. She is married to Count Romualdo Palmieri – a man ruined by gambling and debt – but their love has long since died out. Bianca meets Ricciardi and is fascinated by him, entering into an emotional harmony with him that pushes them to trust each other. Of her She is courted by the Duke of Marangolo, a man much older than her, willing to put aside her feelings in order to see her happy.
Adriano Falivene is Child
Neapolitan "Femminiello", he is a constant confidant of Brigadier Maione who, for having "pardoned" him during a raid, consults him when necessary during the investigation. Bambinella always knows everything about everyone and, with her gab, she is a mine of information.
Christoph Huelsen and Manfred von Brauchitsch
Major in the Nazi army, he met Enrica during a trip to Ischia. Out of love for the girl, he requests a transfer to Naples, where she will have to carry out a spy mission on behalf of her country.
Mario Pirrello is Angelo Garzo
He is Ricciardi's direct superior. Climber and devoted to the regime, he can hardly bear the incorruptibility of the commissioner when he investigates high society characters, whom Garzo himself fears and respects in an attempt to make a career. At the same time, Garzo appropriates the commissioner's successes to get in sight with the authorities.
Veronica D'Elia is Nelide
She is Rosa's niece, called back from Fortino shortly before the death of Ricciardi's beloved nanny to replace her in the management of the house. She often expresses herself with proverbs from the popular tradition, demonstrating an ancient wisdom despite her very young age. She finds comfort in the advice of Aunt Rosa, who has formed her conscience of her. Just the memory of Rosa will help Nelide to understand more Ricciardi and his bond with Enrica, but also to accept a completely new feeling: the attraction towards the greengrocer Sarracino.