"I hate and I love. Why would I do that, you might ask. I do not know, but I feel it happening and I am tortured."
"I hate you and I love you. You'll wonder how he does it! I don't know, but I feel like this and it's my torture."
So he said Gaius Valerius Catullus, so it happens in most situations in which it is. With feelings you can never be categorical, black or white, inside or out… there's always grey, there's always something in between. Even with TV series.
If you think about it, it often happens: a TV series that didn't appeal to us at the beginning is rediscovered and becomes our favourite. Or a character initially hated, despised, ends up becoming the one without which the TV series, for us, would have no sense. Undoubtedly, the opposite also happens, that is that TV series you love at the beginning, they get lost. Or that great characters end up becoming shadows of their former selves.
Today, however, we will talk about those characters who started with a gigantic "no"" printed on them and they ended up being our joy, ours leitmotif to watch the TV series.
1) Alex Karev (Grey's Anatomy)
One of the longest running TV series of our times is Grey's Anatomy (and it is likely that we will have much more). Perhaps you will find it difficult to remember the Karev of the early days, but that Karev was hateful… it was not for nothing that he was nicknamed Evil Spawn. A brat full of frustrations and anger who promptly unloaded on the wrong people. However, we had the opportunity to notice, from the beginning, that Alex wasn't completely to be thrown away. Did you know that the character of Alex he wasn't destined to become a regular? He must have been a passing intern, a temporary pain in the ass. And instead… instead Shonda saw the potential in him, just as Izzie saw it when no one believed it.
Over the seasons, we began to love Alex and it became clear that we hadn't made a mistake: with the rescue of the Jane Doe, born Ava/Rebecca, we understood what Alex was capable of. His definitive consecration comes in the fifth season, when Izzie falls ill and he becomes the man he dreamed of being, no longer a capricious child. The following seasons have been up and down and have shown those weaker sides that, by now, we had come to love. Then he became the man he was meant to be, the pediatric surgeon that every mother would want for her little one.
2) Damon Salvatore (The Vampire Diaries)
From one of the vampire-themed TV series, we have another character attributable to this category. The entrance onto the scene promised the classic handsome and damned. At first mean, contemptuous and heartless, Damon quickly won us over. His humanity, the one he had decided to set aside to forget all the pain that a secular life had inflicted on him, ended up making him so wonderful in our eyes. There his story with Elena it was the most talked about and appreciated by all the indelible romantic spectators. The fact that then to play him there was the amazing man that he is Ian Somerhalder undoubtedly made everything easier.
3) Sansa Stark (Game of Thrones)

Perhaps there will be those who will object to this choice, but I believe that Sansa's path to redemption was relevant. Ned Stark's raw, insensitive, selfish and naive daughter had to overcome a lot of obstacles to earn this recognition. As far as I'm concerned, Sansa was my least favorite Stark to begin with. She was empty, bland and banal. Then, inevitably, due to a series of events that marked her, she had to take off her role as a princess and had to become a real woman of Winterfell. All this she had to face alone, without ever a minimum of support. She had to deal with the despicable King Joffrey but also with the evil Cersei (from which however he learned a lot). That's probably why Sansa went from being one of the most hated to one of her most loved characters. Sure, we can't say we love her madly, but her growth on the show has been definitely exciting.
4) Steve Harrington (Stranger Things)
He is presented to us as the classic handsome asshole, the one who doesn't look back once his needs are satisfied. It took us a while to realize that it was much, much better than we thought, but it was a great discovery. His sweet love for Nancy made us believe that not everyone is what they seem, that the right people can help bring out the best in her. His bromance con Dustin in the second season he represented one of the funniest moments of the TV series, and his story-non-story with Robin excited us. Her being the nanny of the boys chasing the Demogorgon made us laugh and fear for their lives. Steve Harrington has become one of the most loved of Stranger Thingsthere is no doubt.
5) Nathan Scott (One Tree Hill)
The favorite son, the top player of the team, the one loved by all the girls. You know, there teen comedy americana it always has such an element. In the beginning, in One Tree Hill, for these characteristics of him, he was probably hated and despised by Lucas fans. But we soon realized that Nathan was nothing like described; his kiss in the rain with Haley and the plastic bracelet given to Haley started tearing down all the walls that hid this wonderful boy. His distance from his father and his family showed us a character totally distant from his initial role. And then, Haley and Nathan were one of the most beautiful couples on TV. Always and forever still echoes in our hearts, as we remember his down times and his strength to pick himself up and readjust, with his love for Haley ever present.
6) Eric Northman (True Blood)
When vampire shows were still cool, True Blood from HBO dominated. He? The typical vampire contemptuous of human life, unscrupulous, selfish and the opposite of dear Bill. So why did we end up loving Eric more than Bill? Well, why Eric Northman è Eric Northman. Her relationship with Pam let us know that she wasn't entirely emotionless. His interest in Sookie then led him to evolve, to adapt to new standards and to show himself in all his wonderful glory. Now I don't know if I'm still hazed by the physical prowess that makes Eric Northman (well Alexander Skarsgardseen in Big Little Lies) as close to a Greek Adonis, but Eric will stick my favorite vampire. Stuff that the Cullens and all the rabble eats them for breakfast.
7) Slade Wilson (Arrow)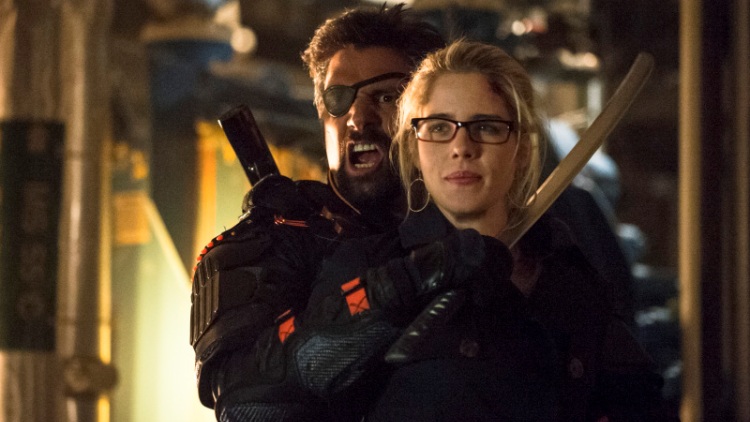 Rude Slade Wilson didn't quite start off as a hated character, but he quickly became one. In Oliver Queen's flashbacks, we see the reasons that fueled Slade's hatred towards Oliver. Taking out the Arrow / Oliver had become his mission and nothing and no one could stop him. In the course of this mad rage, he teams up with the wrong people and hits Oliver the way more ruthless that there may be. However, his redemption, also thanks to Oliver, leads him to redeem himself and to try to erase his negative moments. His is certainly a character who has made an important journey, a journey that has led him to be among the favorites of the public.
8) Jaime Lannister (Game of Thrones)
Mention Sansa and not Jaime from Game of Thrones that would be wrong. Also because the path from hate to love for Jaime was even more evident than that of Sansa. Party like the brother/lover of the wicked Queen, has slowly shown its true nature. The meeting with Brianne di Tarth and the loss of the hand are perhaps the moments in which his evolution it becomes more arrogant. It is in these moments that he takes off his slimy Kingslayer armor, showing how in reality he was the one who saved a people from the madness of the Mad King. The of him is one of the largest growths in the Game of Thrones: Jaime, at the end of the fair, is loved by all.
9) Klaus Mikaelson (The Vampire Diaries/The Originals)
Presented as the Original Vampire, the proponent of violence, death and ruthlessness, has been in this role for some time. His murderous fury and total lack of feelings made him a perfect villain but, as always, the damsel on duty took care of revealing her true essence to us. His eye play and her infatuation with Caroline they showed us how positive it was. In The Vampire Diaries sequel, The Originals, she then got to shine a spotlight on her human side, the best side of her. Her paternity has probably dulled her character, but there is no doubt that Caroline has been the most illuminating beacon on the goodness of Niklaus, for all Klaus.
10) Benjamin Linus (Lost)
Benjamin from Lost is probably the character that best lends itself to getting out of the gray: with him or is it black or white, perfect for this article, basically. Presented as an unscrupulous calculating manipulator, he is noted for his sharp sarcasm and cold shrewdness. The love for him begins to be born, however, when we see him interacting with his daughter and when the developments in their lives upset him categorically. It is from there, from that precise moment, that we understand how his is a constructed mask, a mask that falls and shows us his weaknesses. Once you lose control, indeed, the alleged control, we are placed in front of a better character. A character who agrees to be the number two and not to be the one around whom everything revolves.
These are just 10 clear examples of characters from TV series hated and then loved; in fact, I believe that, around the TV series, there are hundreds of other perfect characters for this list and it could not be otherwise. Suggestions are welcome!