It seems like a lifetime since we last sailed the seas of Black Sails and, if you think about it, it was 2017 when the prequel TV series of LTreasure Island of Stevenson definitively lowered his black flags. Years have therefore passed but if we look back it is symbolic that nothing of the memory of the TV series has been corrupted but, rather, has been embellished over time. Like that Spanish galleon Urca de Lima that our protagonists seek desperately and greedily to satisfy their desires, so, for us too, Black Sails takes on the traits of a priceless treasure that gains value over time.
For many of our readers these introductory words will certainly seem exaggerated but those who have seen, know and those who have know, remember. In short, being part of the fandom of Black Sails it's a bit like being a member of an exclusive cult, without all those unpleasant meanings that usually come to mind when speaking of a cult. Here, let's make it like being a member of an exclusive club and never talk about it again. First of all, because hardly anyone in Italy knows Black Sails and therefore talking about it makes us somewhat of serial connoisseurs of a certain level. Secondly, because in the vast tank full of lazily swimming prequel fish, the Starz show was a shark of ferocity. Last but not least, the TV series created by Jonathan E. Steinberg and Robert Levine has finally given dignity to the pirate genre.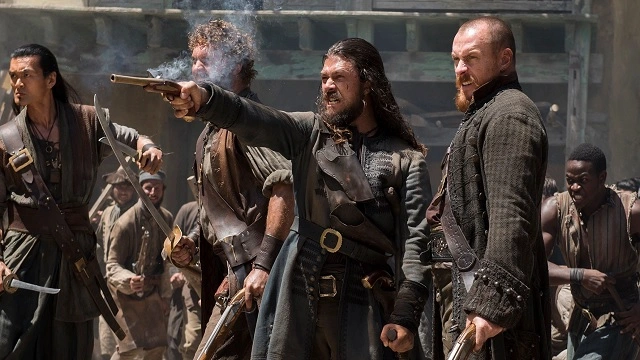 In a Disney-centric era, in which the figure of Jack Sparrow has settled in the collective imagination as that of the "Pirate", Black Sails changes the cards on the table.
Historical reality is inextricably intertwined with the literary imagination of Robert Louis Stevenson's adventure novel. Thus we find Calico Jack and Charles Vane alongside Captain Flint, Long John Silver and Billy Bones but not only, all in pursuit of the same treasure but for different reasons. Reality and fantasy mix and mingle, until we no longer know how to distinguish one from the other but it doesn't matter because, after only two episodes we are already so immersed in the adventure that we don't ask ourselves much the question whether, what we're looking at, whether it's accurate or not. The involvement is total. The story of Black Sails for when unlikely seems absolutely plausible to us, because the protagonists are not sea monsters, legendary creatures and speck buccaneers but pirates, outlaws, bandits and assassins who appear to us more real than ever.
The Urca de Luma is there quest which unites the paths of the characters towards a single direction. In this mass of damned souls, Flint (Toby Stephens) stands out. The character, only mentioned in Stevenson's book, finally has the opportunity to have his say, to tell his story in his own way. And what a way. Over the course of four seasons, the figure of Flint never stops evolving until he assumes the symbolic value of a titan in the fight against the gods. Flint is the remnant of a disappearing world, swallowed up by modernity. A historic moment that actually happened, in which, at a certain point, piracy is annihilated and with it an entire bloody but also, profoundly, free imaginary.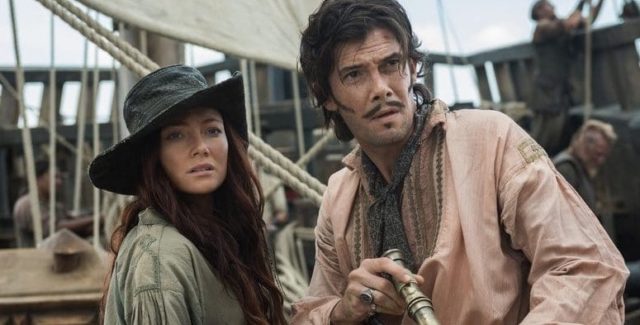 At a superficial glance, Black Sails might appear to you as just another pirate story, but you're dead wrong.
Black Sails it's a symphony of intent (made clear by that creepy opening orchestrated by Bear McCreary), in which every narrative and character building becomes the real treasure to get your hands on. For every vengeful, grief-stricken James Flint, there is an ambitious and ruthless John Silver. For every wild and primal Charles Vance, there is an ingenious and headstrong Calico Jack. So also women are many: lascivious, disturbing, shrewd, sincere, loyal and independent.
Yet, at the end of all these adventures, there is a much deeper moral. We are the stories we become. Self Black Sails is really a prequel to Treasure IslandWhat should we give more credit to? And as if the TV series were telling us "this is the true story, that other one is just fiction". In the light of this interpretation, the characters are demythologized, descend from their pedestals and appear to us in all their vulnerable humanity. It is the stories we tell that pass on the memory of those we have known and, perhaps, loved. Isn't that the case for all of us too? It is the memories, whether spoken or written, that allow an individual to truly live forever.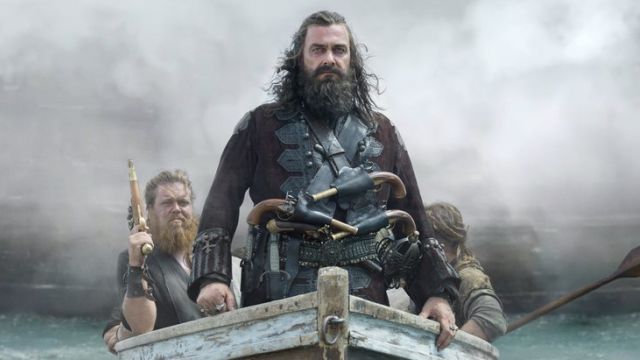 Why then Black Sails remains a precious and priceless black pearl in the serial panorama? For all the reasons already mentioned in the introduction and for much more. Each viewing of the show hides a further key and interpretation and, mind you, if you limit yourself to binge-watching, it is still a triple A TV series. Black Sails she breaks the rules and rewrites the game the way she likes it. So it's not just a prequel but a story with a very distinct identity, it's not just imaginative pirates with eccentric ways but a long forgotten real and dangerous past, it's not just adventures but a journey in the tumultuous human passions.