We have all experienced that unfortunate situation brilliantly told by Zerocalcare in Tear along the edges: who has never spent hours scrolling through films on streaming platforms and not finding anything to see despite having "all the audiovisual in the world" available and thinking " is it possible that they are all shitty movies"? Sure, maybe we've already seen the good stuff, some we're late and some we keep for the right moment – ​​if it arrives. However, we want to avoid ending up in 20th century Polish science fiction in the original language, going to bed frustrated with our conscience in the form of an Armadillo which forces us to question ourselves saying: "Come on, if out of eight thousand films you don't go away well not even one, maybe it's you who's not doing well ". Precisely for this reason the following weekly column was born, broadcast every Monday and addressed both to those who have never seen the film in question and to those who have already seen it and want to know more: in fact, in the first short part we recommend a movie; in the second one we review it, analyze it or focus on a particular aspect. And this week we chose Closer.
PART ONE: Why, then, see Closer? Here is the answer without spoilers.
Available on Netflix (for rent on Prime Video and Apple TV +), Closer it has a plot that is as simple and apparently sparse as it is deeply rich and impregnated with unsuspected plots. In that of London live the ex-stripper Alice, the obituary reporter and aspiring writer Dan, the successful photographer Anna and the dermatologist Larry. Their lives meet and collide, thus generating a chain reaction of relationships, jealousies, lies, flirtations, deceptions, passions, obsessions and betrayals that will lead us to ask ourselves: what is really behind love? Is it good to always be totally honest in a couple? And do some people really want happiness?
Mike Nichols tries to find some answers or, at least, to give us food for thought about it, through his desecrating charge that he has updated without difficulty, just as he has adapted his many beloved couple relationships to modern society, leaving his direct and theatrical style practically intact ( the film on Netflix, in fact, has few scenarios and is almost entirely based on dialogues). It is a work which, while dealing with things already seen, turns out to be terribly innovativealso thanks to those protagonists who are angry, real, full of weaknesses and flaws, neither totally victims nor executioners, played to perfection by a quartet of first-rate stars: Natalie Portman is Alice, Clive Owen is Larry (the two are were nominated for an Oscar and won the Globe), Julia Roberts is Anna and Jude Law is Dan.
Nichols is sharp, hard and somewhat scabrous in themes and words, but never in images. It raises problems and questions that are still current today, sincerely telling the bonds of human beings, always in search of the truth, and revealing the murky side of romantic relationships, closed in a vortex of illusion in which the worst always belongs to those who have given themselves without hesitation. And it is precisely to love and its nuances, to truth and its research, so fundamental and well explored in Closer, that we want to dedicate the deepening in the second part of the piece.
PART TWO: Love and truth in Closer (with spoilers)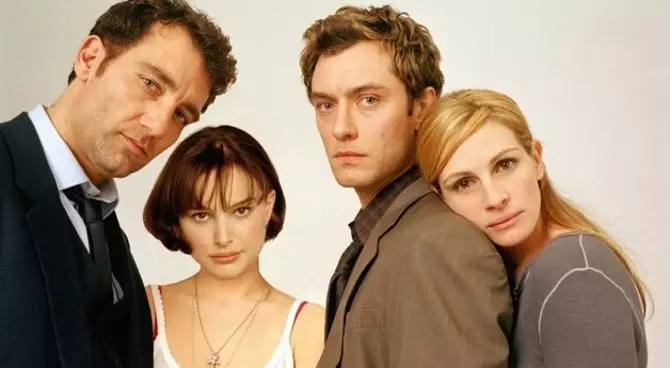 "Those who love at first sight betray at every glance"
This is the accompanying bitter tagline Closer, harsh sentence on how weak and fragile feelings and the human soul can be. It is precisely from the crossing of gazes (and from the intervention of chance) that love at first sight arises between the protagonist couples. But soon we begin to understand that love so flauntedabove all by the exhausting repetition of the "I love you", it's just a beautiful – but not too much – illusion. Because Nichols has no intention of celebrating it, but to vivisect and analyze it, to understand something about the most mysterious of our feelings. Or at least, to try.
First, Dan e Alice they don't really know each other. She, the most enigmatic and controversial character in the Netflix movie, doesn't want to talk about her past and even lies about her name. She seems naive and well-disposed, but she doesn't give herself easily and she wears armor to protect herself from the disappointments of a life in which she feels a prisoner. She ignores Dan's dissatisfaction, who wants to chase a pipe dream since he doesn't have the talent to make it a reality. Difficult to accept for a man who is self-centered, indecisive, who thinks he is special and who is constantly looking for attention. Yet, both pretend because they want that idyllic and non-existent love relationship that makes sense of everything and fills their inner emptiness. But the lies engulf them, the cracks are too much to bear, and their relationship is bound to fall apart.
A look exchanged between Dan and Anna leads to another love at first sight that overwhelms everything.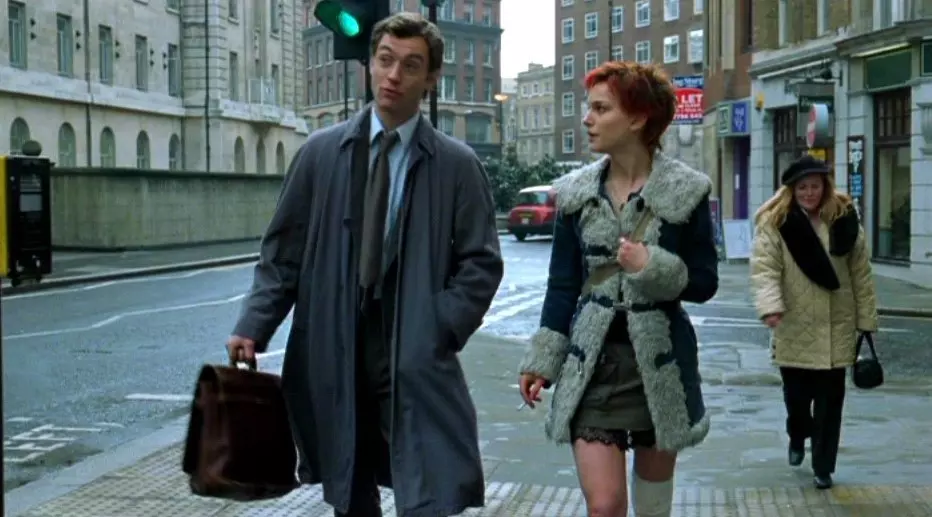 It is thanks to a lie from Dan that romance blossoms between Anna and Larry. But the latter is no fool. He is unscrupulous, instinctive, sanguine, brutal; he observes the "human carnival" around him and nothing escapes his ruthless and cynical analysis. Not even and especially Anna. While others act, she is the only one who reacts as a result of the actions of others. Even when she appears in command (like when she rejects Dan or reveals her betrayal to Larry), she's actually not like that. The character of Julia Roberts revels in her inability to decide, she is always looking for a place to take refuge, eternally frustrated. She fits exactly the definition Larry gives her when Dan asks him to let her go, which is that she is a depressive seeking unhappiness Why:
"Depressants want to be unhappy to confirm depression. If they were happy they could not be depressed. They should go out into the world and live. Which can be depressing."
Here that love is just a mask that hides the total immersion of Julia Roberts' Anna in suffering and guilt. She thus distorts her feelings about her, highlighting one side of human weakness and showing that some people delude themselves that they are seeking a happiness they don't really want. AND if love is so complex, sex is even more so. They must not be treated as opposites: this suggests to us intelligently, outspoken and uninhibited Closer. Indeed, Nichols treats sex respectfully, he never uses it to cause a stir and, if it scandalises, it is only for the way in which he elegantly expresses this concept, without hypocrisy and vulgarity. This is why we can speak of a sensual film, since it shows what desire really is and is permeated by this never exhibitionistic, never useless, but always functional erotic tension to the narration and the characters.
Eroticism is not in the images, but in the words and the soundtrack itself proves it, with that "I can't take my eyes off of you" which once again underlines the importance of the gaze.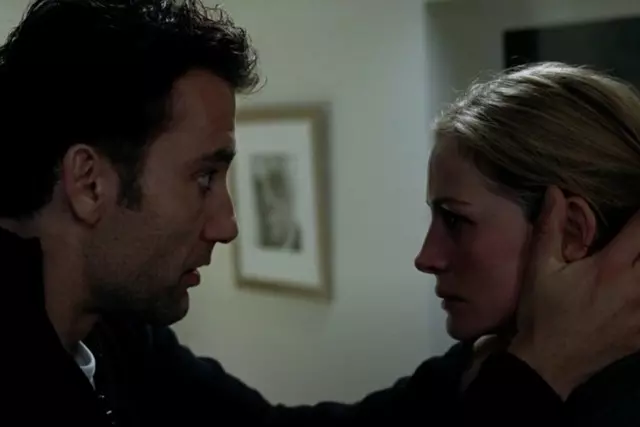 Those words, full of passion, disillusionment, sincerity and lies, make sex something that goes beyond the physicality of the act: in it there is that guilt and cowardice that embody the malaise of the four, becoming almost the best way to say goodbye. AND those same words are then transformed into the vehicle through which the characters reveal themselves and their most hidden desires. After all, Nichols outlines them perfectly with their strengths and weaknesses, putting them so bare in their being fallible dreamers that they seem real. Indeed, they are. He spies on them voyeuristically, stealing moments of life and kidnapping us viewers with a subject we never get tired of, namely love.
And it goes hand in hand with the search for truth.
Indeed, the jealousy that takes over in the relationships of the four is not given by love, but by the desire to discover the partner's sexual past at all costs. Anna and Dan, however, can not handle the truth about the betrayal. Alice, on the other hand, prefers to pretend that everything is fine not because you can't stand honesty but because if something isn't talked about, then it doesn't exist. Larry handles it well, managing to find in it a peace that allows him to forgive and move forward. Even if he suffers first, he gets angry and takes revenge. And his plan to triumph begins in Closer right at the strip club where he meets a rosy Natalie Portman, where she reveals her truth to her:
"Lying is the greatest fun a girl can have without stripping"
It is an anthology scene, one of the most sensual in cinema, in which she exposes herself physically, while Larry does it emotionally. Every time he reveals her weaknesses, he asks Alice to show herself even more extreme, to try to thwart her. Yet, by doing so without shock or disgust or hesitation, she destroys him, especially when she tells him he knows exactly what he's doing. He can't unmask her and the truth he's obsessively looking for seems to slip away from him, not realizing that Alice has just told him. It's a pivotal moment in the Netflix movie, because it reveals that the truth is torment; a need that mirrors the instability of the characters and what they crave. It will in fact be the morbid desire to know what happened with Larry that will lead Dan to ask that fateful question to the character of Natalie Portman. She replies, but is she sincere? Frankly it doesn't matter.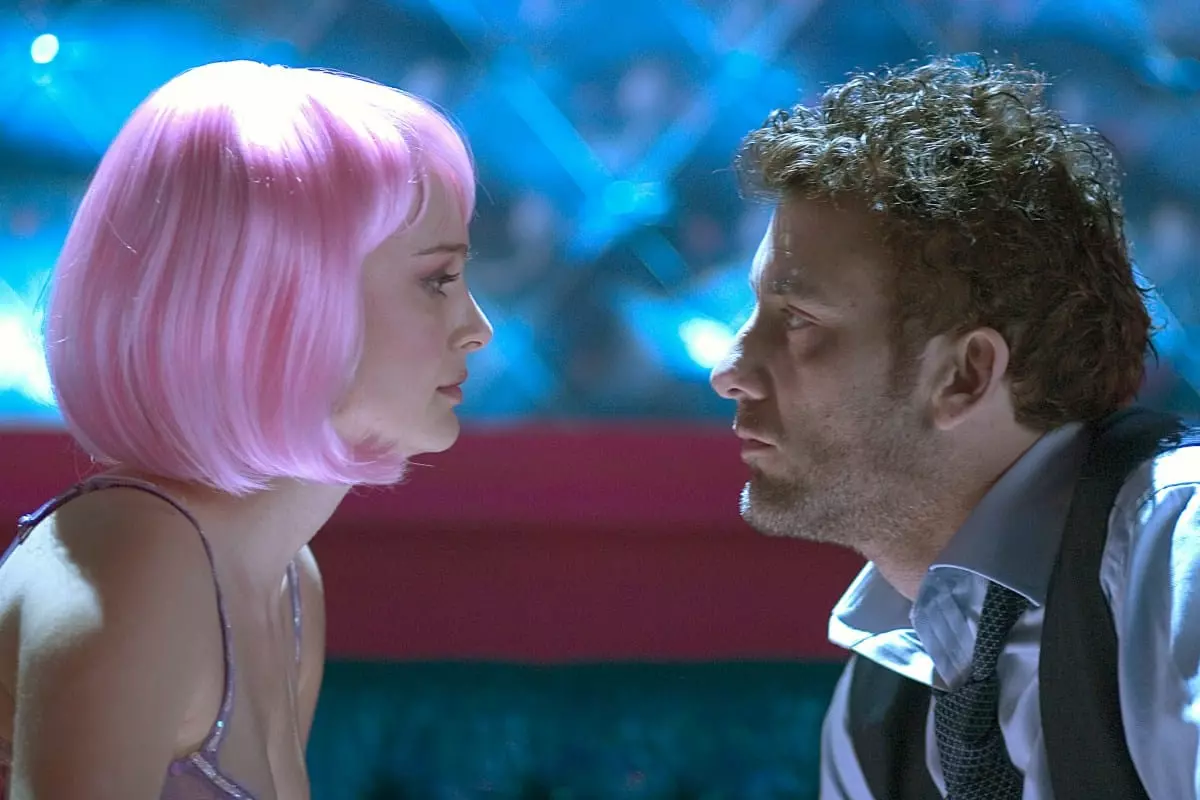 In the end, Larry and Alice, the most aware of the game they have just experienced, get what they want. The man returns with Julia Roberts' Anna, after having manipulated her properly, with the right cards; the woman is free to be someone else, returning to New York to make a fresh start, leaving a Dan discovering his ex-girlfriend's false identity. He will wonder why the Alice of Natalie Portman she lied to him, but the explanation is simple: as we said earlier, in this way she protects herself and preserves her deepest self, hoping one day to meet someone who truly deserves her.
Because Closer tells us that in love you should never expect anything; shows us with unsettling cynicism the difference between falling in love, so easy and spontaneous, and love, so complex and tiring.
While the film on Netflix delves into betrayal, the toxicity of some relationships and the cowardice of those who want to be loved but don't love, Nichols makes us understand that we is just an invention. Because we don't have to annul ourselves in the identity of a couple, but loving means knowing and accepting the partner with his light and his darkness, valuing him and not burying him, compromising. The solution, for the director, is only one and it is called honesty. Sure, it hurts like a slap in the face, but it's always better to see clearly. Or you end up being like those four, obsessed with a truth that eventually engulfs them completely, instead of treating it for what it is: the antidote to their problems. And that is why, for almost twenty years, Closer represents one of the most honest movies we could ever find about love. And we could never thank the late Nichols enough for this brutal, authentic and necessary little gem.
Last week's movie – The Sacrifice of the Sacred Deer