One of the most classic narrative lines for the beginning of any story (whether it's a story, a film, a TV series, etc.) is this: take an external element and insert it into an already consolidated system. The reactions of the system to this input will then form the basis on which to carry on the Red string of the whole story. When it comes to comedy (in this case Friends is the perfect element, but also How I Met Your Mother you're not joking…) very often this element is a character – almost always female– and the system it fits into is a group of friends which already has a story behind it and sees itself "upset" by this new arrival.
For any screenwriter, an insight like this is a godsend because, in discovering the lives of each character, episodes and episodes of a TV series are written. This manna from heaven becomes pure gold if the character to be treated is Barney Stinsona man capable of being reborn every time, of being different for every playbook rule to be adopted, of taking every moment of his past and make it the masterpiece of his present.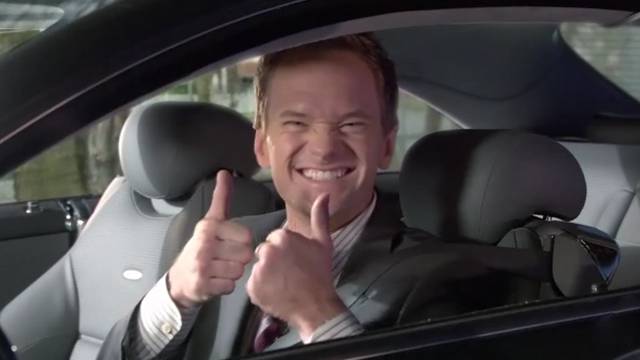 Deliberately Barney Stinson is the last character of our group of friends to be introduced to the public. Pay attention, even just by looking at the first three episodes, we could draw a first identity card for everyoneeven of Robin, thelatest arrival: where they come from, what work they do (in fact we don't know yet that the identity of Barney's work will be yet another masterpiece of our Latin lover), a first picture of their past, what they have chosen for themselves and what they want for the future.
We only know everything about Barney his wants us to know, all the external part: from his love for elegant clothes ("Suit up!" is perhaps the first catchphrase of the series) to his self-centeredness, from outrageous sexuality to his fickleness with women, from his love for his friends to his ability to play down.
But one thing beyond all this we know right away, because we realize it firsthand: in a universe of people who fight (and often lose) against their limits – have you ever noticed? One of the most recurring phrases of the first episodes of How I Met Your Mother is "I can't" – Barney Stinson seems to have no limits and this leads him to assume the most important function of the group: he makes the things happen that move the story forward. A specified mission statement at the end of How I Met Your Mother 1×03:
"In that moment I understood why I was dating Barney: I never got where I thought I wanted to go but I could always tell a good story afterwards."
Whereas all How I Met Your Mother from a certain point of view it is a tribute to the ability to know how to tell, this declaration is the coronation for a character who will drive us crazy in a whirlwind of emotions.
Because of this Barney is not a character like the others and cannot be presented like the others. For him we need a special episode, which is not surprisingly among the best of the entire first season: we are talking about How I Met Your Mother 1×15.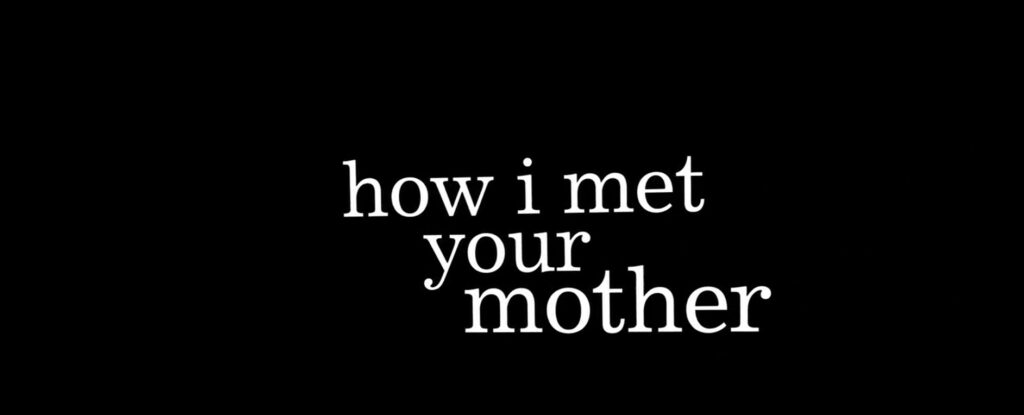 Bet that wants to immediately score a discard and give us a clue: the classic theme song for the presentation of the characters … there isn't! And in the first picture of How I Met Your Mother 1×15 the only one not to appear it's really Barney. In practice it is a find the differences in which the missing element is destined to take center stage and never let go.
It is no coincidence that this is the definitive episode where Barney introduced himself to the world: in How I Met Your Mother 1×14 in fact, the Ted-Robin-Barney love triangle has just begun with the latter unmasking the journalist after she rejected him:
Barney: This has a meaning: we both think that marriage is a burden, we want a relationship without commitment and it is clear that we get along!

Robin: In fact, all of this makes sense! (…) do you mean that Ted doesn't care that you want to flirt with me?

Barney: He doesn't care at all!
The die is cast, part la storyline which will inflame our hearts, but it is good practice that the contenders start as equals. We already know way too much about Ted, Isn't it time to learn a little more about Barney's universe? And our narrator Ted satisfies us.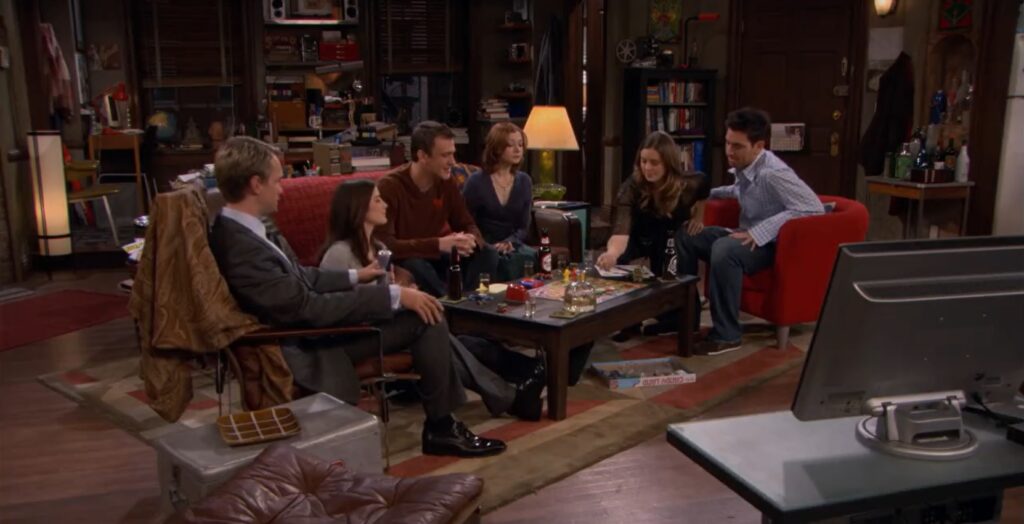 We are in How I Met Your Mother 1×15 and our friends are gathered at Ted's house for a game night hosted by Marshall (hence the episode title, Game Night). At some point, out of nowhere, Lily reveals to Barney that she has met a girl who seems to know him: a certain Sharon.
"Shannon?" our protagonist replies terrified, before feigning indifference, but Lily understands that something is not right. So, after telling Barney to give him a videotape from Shannon, Lily herself takes care to replace the offending video.
The girl's suspicions turn out to be right: Barney, once he receives the videotape, he immediately tears it to pieces, away from prying eyes. Too bad the original video had instead remained in the purse of the shrewd Lily. The game was debunked and Barney is forced to confess: how is it possible that there is a movie where Barney Stinson, dressed as the classic 70s flower child, howls his broken heart in a very sad love song?
After some back and forth, the next night at MacLaren's our hero confesses and tells his friends the most embarrassing part of his past. And there the truth is shown Barney: not in the what (its transformation – starting with the birth of the iconic "Suit up!" – starting from a strong sentimental disappointment) but in the how. The playboy becomes the absolute center of the scene (try to notice his position: he is at the head of the table) and drags everyone into his game, leading them to reveal their most embarrassing moments while he tells his story, dividing everything into small and highly calculated chapters.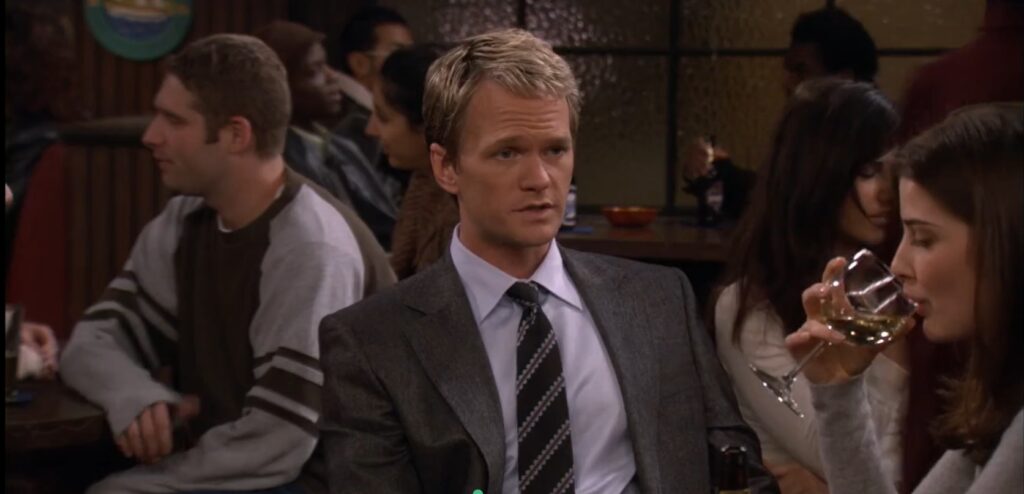 In revealing himself, Barney discovers all others, strikes the first attack on a Ted who had put his heart in two shoes without knowing how to do it and closes with a coup de theatre: revenge on the girl who had broken his heart by betraying our good Samaritan at the time with Greg, a vile businessman. In fact, just before seeing her friends again, he had gone to Shannon, he had confessed to her, he had bedded her and then deluded and thrown away as one of his many conquests.
In the same way he takes the whole gang of friends for a walk, making them believe, with a contrite face and tears ready to fall, that they are truly nostalgic for a past that will never come back:
Here comes the fun part: Shannon has become a mother, she has a son named Max! It's incredible: he could have been my son! And what do I have instead? My life consists of a nest egg in the bank, a few designer clothes in the closet and a lot of occasional stories…
The tension is at its maximum: they are all, indeed we are all, sorry for him (to quote a few seasons of How I Met Your Mother later we would say "Oh, honey…"), we almost feel sorry for that broken heart when the wonder happens:
My life is wonderful! Money, clothes and sex, these are tears of joy! (…) I am free 7 days a week, 365 evenings a year (…) I am more and more convinced that my life is wonderful! Peace to all, men. (parodying the gesture that he himself, as a flower child, made at the cafeteria as a greeting).
Barney in How I Met Your Mother 1×15 has finally revealed itself to all of us. He exposed what are his principles of him, the way he treats his past, the way he manages his present and above all the most important characteristic of him: if it is true as it is true that the narrator of the series is Ted, however the best stories will always be told by him, our playboy.
And exactly as his friends will reveal their most embarrassing secrets in order to have the continuation of the story, in each episode we will give up a piece of our dignity as long as a character, rationally speaking, terrible, us take the heart and do with it exactly what you want.
Over the seasons, Barney's talents are countless, but to close the article I have chosen this
Yeah sure funny scene so what? Simply, to tell the same things, it takes Ted eight years, while Barney only takes a minute.
In practice, if How I Met Your Mother were a game, we'd just have to admit that
It is evident that Barney has won the game!

Marshall Eriksen – How I Met Your Mother 1×15
And he has taken his place among the characters of the most legendary TV series… wait wait…
The sentence, if you have read this article to the end, you can close it yourself.