We were invited by Prime Video to the preview and press conference of the highly anticipated third season of LOL – Whoever laughs is outproduced by Endemol Shine Italywhich will be available on Prime Video (if you are not a member yet, you can subscribe here) starting from Thursday 9 March. We must say that the press conference was in full LOL style, but luckily for us no journalists were booked for laughing, also because the comical moments weren't lacking at all, with a Nino Frassica in extraordinary shape.
Everyone was really there, like a big party, but the real elephant in the room was the unexpected and unjustified absence of what we can now consider the captain of the LOL boat – Laughing is out: Fedez.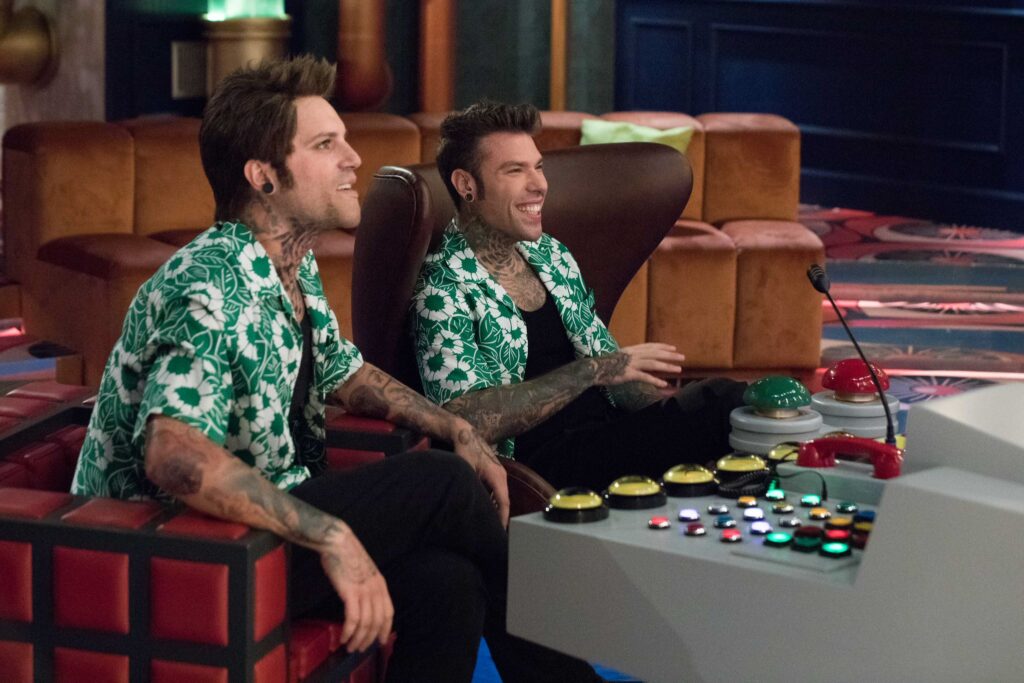 After the controversy in Sanremo, the rapper and entrepreneur has disappeared from the scene and, above all, from social networks, on which he posts much less content than before. This complete absence of him at the press conference worries us a little.
Fedez aside, this year's cast gives us hope for what we will see on Thursday, with many comedians who come from years and years of experience in theaters throughout Italy, an aspect that also emerged during this morning's press conference, in which we have witnessed some hilarious gagswith a splendid Serena Dandini moderating the press conference.
Fedez and Frank Matano are once again the hosts of the program, while in the cast we find Fabio Balsamo, Herbert Ballerina, Luca Bizzarri, Cristiano Caccamo, Paolo Cevoli, Marta Filippi, Nino Frassica, Paolo Kessisoglu, Brenda Lodigiani and Marina Massironi. Maccio Capatonda, winner of the last edition of LOL: whoever laughs is out.
As always, there will be catchphrases, stage costumes and repertoire characters. Speaking of costumes, I think I won't be able to get the image of Luke and Paul dressed up as twins Shiningand maybe not even them.
"We peed our pants laughing during the costume fitting," she said Paolo Kessisoglu.
LOL – whoever laughs is out 3 is improvisation, genius, madness, but also a lot of psychophysical preparation that helps the competitors to hold back their laughter even in the most improbable moments. There are those who eat and drink all the time like Paul Cevoli, who does the math operations in mind like Herbert Ballerina, and who does their homework like Paolo Kessisoglu.
"I was leaving fast, one thing I did as a warm up was look at previous editions of LOL, I've seen both of them five times. I watched television for two days trying not to laugh, but with little success"
"I had two systems: stay away from Nino Frassica, I was always seven/eight meters away from Nino Frassica, because Nino said them in a low voice. When you passed by him he would hit you. Then, however, I vented on her Marta because being a bully inside her every time he made me laugh I went to her and tried to torment her. Like real cowards I chose the weakest prey and threw myself on it"- he revealed Luca Bizzarri, ironically adding "Fedez will be happy because I represent his ideals".
Obviously, the point of view of Frank Matano could not be missing, which has now become a fixed point of LOL – whoever laughs is out.
"In my opinion, the beauty of LOL is that it is to all intents and purposes a social experiment with comedians: you don't see it, however, apart from the fun, it is effective proof of the hierarchical game they play with each other. There's a continuous sense of inadequacy because you compare yourself with comedians you admire so much and sometimes you can be afraid to speak, other times you take courage. Living it as a comedian, being among the funniest people in Italy for six hours is truly a physical, mental and psychological test." – said the co-host of Fedez.
"For me it was a bit like going back to the school of the Teatro Stabile, in the sense that for some parts, perhaps most of the time, the game that is played is very similar to the improvisations that are done in the theatre. I felt like I was going back to doing those things that I hadn't done in a very long time. There the real game is not to laugh, after 6 hours it's pretty tough, Frank is right to say that it's a social and psychoanalytic experiment" – he confirmed Paolo Kessisoglu his first experience as a competitor.
Among the ranks of the Teatro Eliseo there was also someone posing as a journalist, but who turned out to be Maccio Capatonda. The comedian returns in great shape, offering us the Superhero sequel to Posaman: Rest man. Whose super power is the desire not to do shit. A pivotal hero after 6 hours cooped up in a room full of comedians, where laughter is forbidden.
We also talked about what is prepared in advance, and how much is the real improvisational share in a program like LOL, whoever laughs is out.
"Usually you talk to the authors for preparation because within LOL repertoire gags don't necessarily work, but they work on stage where there is a gap with the audience. There the gag must work in the impromptu, at least there could be the illusion of the impromptu. It's improvisation in the reaction of others, who don't know what the thing is that you have prepared. In this sense it is improvised"" – he clarified Frank Matano.
On the other hand LOL – whoever laughs is out it's also a way to bring back great characters and gags from the past, like the Cousins ​​Shit by Luca&Paolo who, apparently, will have a fashionable costume and will throw little shit around. Marina Massiroliin fact, he revealed to us that he brought one home as a souvenir of his experience on the Prime Video comedy show, produced by Endemol Shine Italy.
In short, between music band, Brazilian dancers, Maccio Capatonda posing as a journalist, at the press conference of LOL – whoever laughs is out we've seen all sorts of things, and this bodes well for what we'll see on Prime Video next Thursday.