Ant-Man and the Wasp: Quantumania director Peyton Reed has revealed how the post-credits scene for the three Kang films was taken from the pages of Avengers #267.
Il director Of Ant-Man and the Wasp: QuantumaniaPeyton Reed, personally wanted to clarify the origin and meaning of the scene of the three Kangone of the two scene post-credits of the film.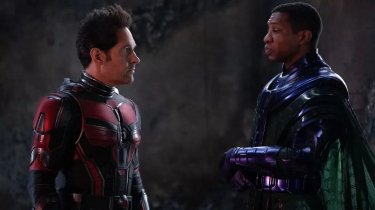 In an interview with ComicBook.com, Peyton Reed confirmed that the Council of Kang scene was borrowed directly from the pages of Avengers #267 from 1986. Drawn by John Buscema and Tom Palmer and written by Roger Stern, Avengers #267 is where the Council first appeared in Marvel comics. "The first scene shows the Council of Kangs"has explained. "It's part of a very famous comic where you see Kang's Council and all these variations. We definitely wanted to recreate it and give Jonathan Majors a starting point to address the topic, 'Who do we introduce variations?' There's Rama Tut and there's a character based on Scarlet Centurion and of course Immortus. We wanted Kurasawa Ran to be complete and we wanted to make him really melodramatic.".
The same post-credits scene, which teased the future of the Multiverse Saga, also recreated another iconic moment from Marvel Comics. In particular, an illustration of Avengers #292 from 1988, The Dragon In The Sea!written by Walter Simonson with art by Buscema and Palmer.
Ant-Man 3, Evangeline Lilly: "I told Michael Douglas that he is a GILF in front of the kids"
Kang's variants
In the same interview, Peyton Reed praised Jonathan Major's performance as Kang the Conqueror and how he was able to play different versions of the character in the finale of Ant-Man and the Wasp: Quantumania.
"There are a few different Kangs, it all came really fast"Reed said. "We sat down with Jonathan and executive producer Stephen Broussard and we were like, 'This could feel like this Kang and this other Kang.' But what we really wanted to show was just the entirety of this moment, how many variations there could have been. With Jonathan, obviously, that's the sweet spot of him, playing all these different versions of Kang.".