Released in 1997, the Disney classic Hercules is the eighth animated film from the House of Mickey Mouse.
Directed by John Musker e Ron Clements, this animated film was dubbed by great Italian artists including Raoul Bova (Hercules), Giancarlo Magalli (Philoctetes), Veronica Pivetti (Megara), the great Alex Baroni who gave his voice to Hercules as a teenager. While it wasn't the financial success Disney expected, it still remains a great animated film today. Enriched with good music, Hercules is a film with Greek traits and every single character, despite being a cartoon, manages to have excellent expressiveness and character. However, there is more than meets the eye of viewers. Observant fans may find that for a Disney film, Hercules manages to have quite a few jokes and pop culture references, which may go unnoticed by younger audiences.
Of course, those who are younger and see this animated film for the first time will not be interested in understanding, for example, if Disney has been faithful to the myth or if there are false references in the story, but those who are older will certainly find interesting these 5 elements.
1) History does not equal myth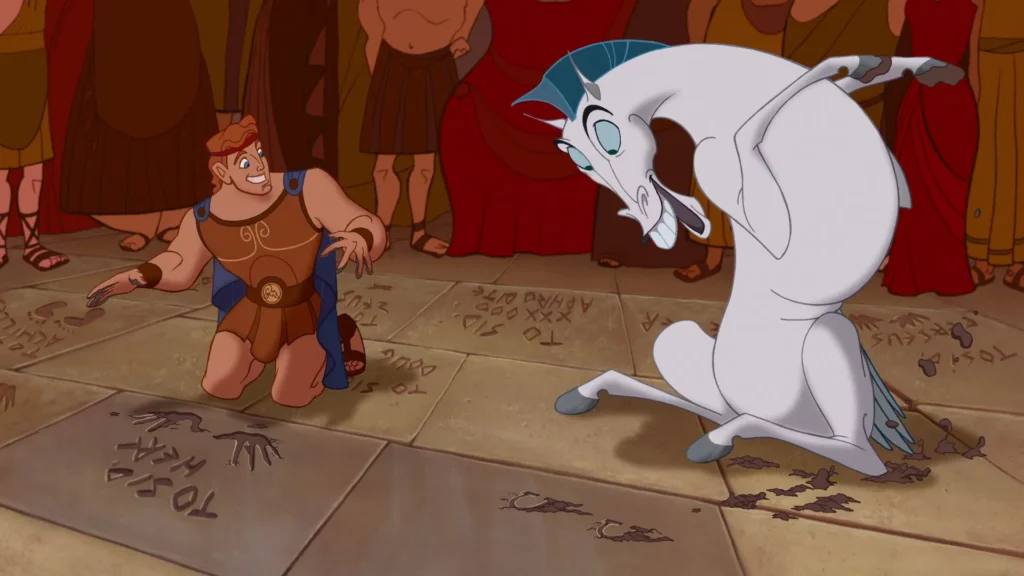 Mythology is not exactly suitable for children. There is a lot of death, despair, a series of terrifying monsters that would give nightmares. Wait, even in most Disney movies there are: mothers, fathers, enemies die, not to mention monsters and despair (Bambi's mom!). Ok, let's leave this point alone. Let's say, though, that the film has taken liberties with the original myth. The film shows Zeus and Hera as having a healthy and loving relationship. This is obviously not true: Zeus indeed has a reputation for cheating on his wife with a long list of women, a fact of which Hera is well aware and cannot stand her husband. Of course Disney can't show a Zeus, a father, like this. Also, contrary to myth, Hercules isn't even Hera's son. In fact he was not born of two divine parents, instead he is the son of Zeus and the mortal Alcmene. The main reason for this change in the film is probably because Hera is the reason behind Hercules' difficulties in the original story, as she wants to see Hercules dead.
2) The Nemean Lion is Scar from The Lion King
While Hercules poses to be portrayed on an amphora, wears a lion skin. For many viewers this should come as no surprise, especially since it's a nod to the Nemean Lion, the first of the 12 labors that Hercules had to face in the original mythology.
Seasoned Disney fans may notice one particular feature about the feline. In addition to the black mane and brown fur, there is a scar under the eye. The lion looks exactly like Star from The Lion King. While this is undoubtedly a clever nod to another popular Disney classic, it's rather macabre to think that Scar was killed and then skinned for its fur and used to pose for a portrait.
3) Megara (Meg) is a different kind of bridesmaid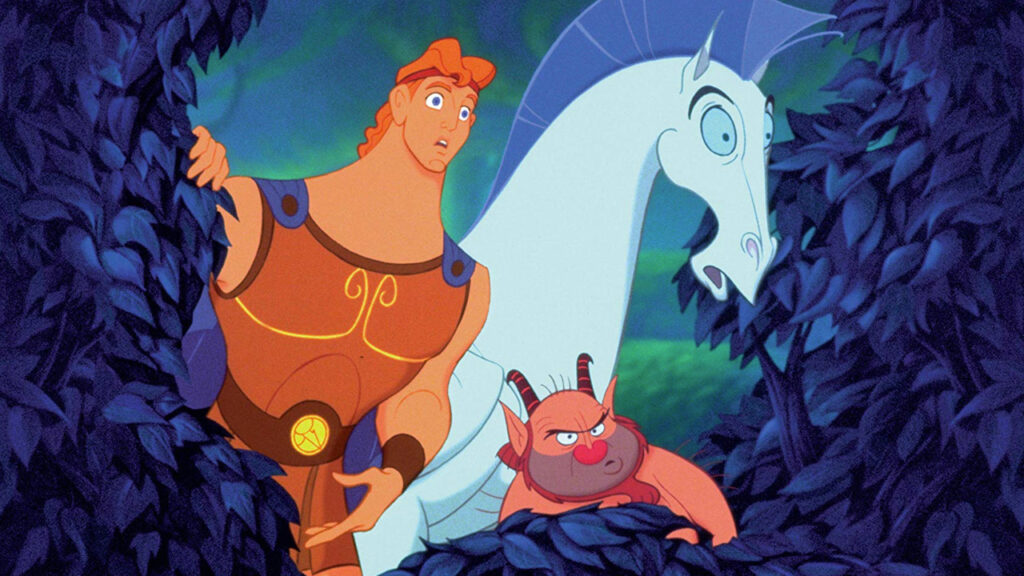 Meg has a sassy attitude and speaks differently than the other Disney protagonists. Many Disney characters have an optimistic and slightly naïve view of love. Also, prior to their love interest in each other's film, it seems we've never even dated. Meg, on the other hand, has not only dated other men before Hercules, but she was betrayed by the man she loved after giving up her soul for him. As a result, Meg has a more realistic view of love and men. Her words in front of Hercules are "Men think no means yes and yes means take me, I'm yours". For a Disney protagonist, Megara is undoubtedly far from the typical doe-eyed adventuress and ready to be rescued by the hero of the moment.
4) "Control" between Nesso's legs
Part of Hades' grand plan to overthrow the power of Zeus, is to recruit monsters. This also concerns the guardian of the river Nesso. He is a centaur, a terrifying creature. The half-man, half-horse is first seen holding Meg against her will, after his mission, in the name of Hades, goes awry. Hercules rushes to save her, but realizes he's not entirely sure how to approach the guardian. Hercules isn't sure whether he's a lord or a lady and for this he nods, as if to look between his legs.
5) References to modern times
The allusions to modern life in Hercules are numerous and this is used by Disney for make the story more modern, closest to the viewer. For example, when a new soul enters the kingdom of Hades, there is a number counter that says "over 5,000,000,001 served", mimicking McDonald's, which proudly advertised "over 99 billion burgers sold". Later in the story, when Pena and Panico are pretending to be children trapped under a boulder, one of them yells for someone to "call IX-II", a reference to 911, the number of emergencies in America.
The best moment to find modern references is during Philoctetes' song "Last Hope", in which we see Hercules, Philoctetes and Pegasus standing on pillars training in front of a sunset. This is a clear reference to Master Miyagi's training regimen in Karate Kid.
Other references are found in the song "Yesterday was zero", in which we see two shops located on both sides of a building, which are called Aphrodite's Secret and Column and Barrel, alluding respectively to Victoria's Secret and Carte and Barrel. Or the Grecian Express credit card, the Air-Herc sandals and the Herculade drink.