By now we have become accustomed to the trend of Netflix to cancel TV series. The streaming platform has made a massacre of hearts – as usual – and obviously not in a good way. But what we still can't accept is to see other products (not so magnificent) continue their life peacefully. An example is Emily in Paris, which apart from some fortuitous comic moments, is giving away many confusing moments. Indeed, here five moments in which we really didn't understand where Emily in Paris was going with this.
The emblem of these moments is particularly concentrated in the third season Of Emily in Paris. We could break a spear in favor of the show Of Lily Collins saying this is just due to a series of unfortunate events. But the truth is that the character of Emily she does nothing but dig herself a deeper grave from episode to episode, with bad decisions that lead her from the stars to the rags.
WARNING SEASON THREE SPOILERS FOLLOW of Emily in Paris
1. What's it all about Alfie?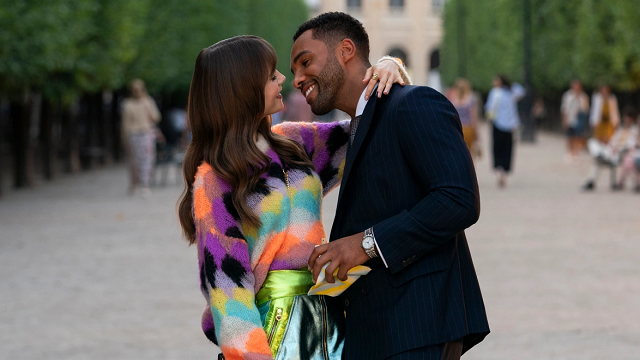 It is the first episode of the third season and Emily he has already made a thousand messes, the most serious of all is letting go of that great piece of English beef…I mean Alfie (Lucien Laviscount). Let's say fans of Emily in Paris have few certainties in life, but one of them is that the most interesting part of show it is actually the love life of the protagonist. The career of Emily in fact, it is not the only part of its existence to have been distorted by the new French climate. Added to this was the arrival of a charming man chef French, who happens to live just one floor below the apartment Emily. We have been following the dramas of the love triangle closely Gabrielle-Camille-Emily and then move on to that Gabrielle-Emily-Alfie (on which the entire second season is centered). We waited forever in front of that screen Netflix released the third season to find out if he won the #TeamAlfie where he #TeamGabrielle. And when we finally got our answer, Emily in Paris he decided to shatter our dreams before anyone had time to yell: "Nerdy!". This poor wonderful boy who was willing to try a long distance relationship is ignored and abused from the first episode, complete with a dedicated song. Leaving Emily and above all we disappointed and confused spectators. We can only say that you deserved better.
2. The devil wears… Emily in Paris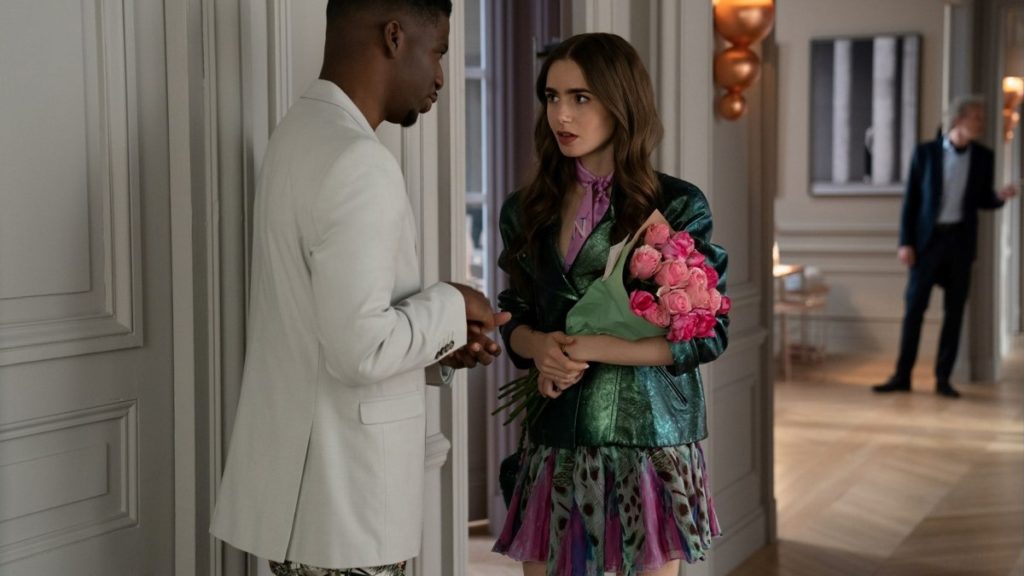 Around the latest episodes of Emily in Paris peeps totally out of nowhere a strong resentment on the part of Julien (Samuel Arnold) towards Emily. We know well that the character of Lily Collins he was never particularly well liked by the Parisian team. Yes, there have been banters and stern French name-calling in the past, mostly regarding the quality of his 'fresh American point of view', but he never mentioned any hostile internal competition. It's come a long way since the first season so this Civil War is pretty out of place and pointless at this point. In particular if we consider that until the eighth episode of the third season the characters got along very well, respecting each other's work without trying to sabotage each other like capricious children.
3. But how long has Madeline been pregnant?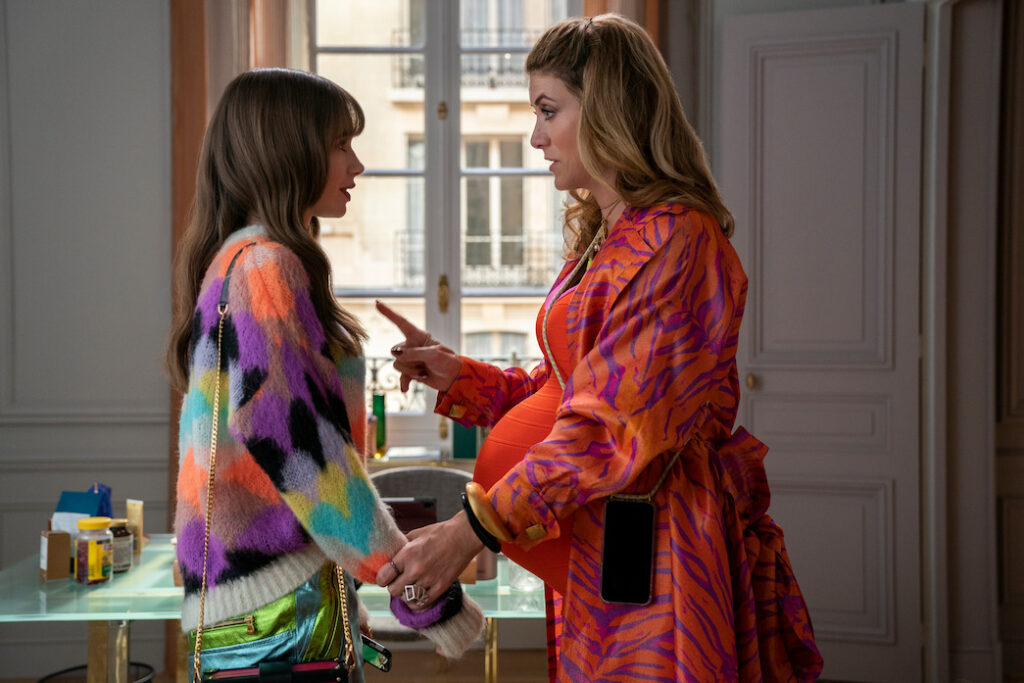 Among the various details no-sense of Emily in Paris a place is definitely reserved for the character of Madeline, the boss of Emily a Chicago. Perhaps it is due to the distribution mode of Netflix that makes almost a year pass between seasons, but this woman looks like she's been pregnant for ages. In the third season Madeline (played by Kate Walsh), wonderfully irritating lands overwhelmingly in Paris. The arrival of this overblown Aunt Sam blows up all the hard work that Emily he did to earn the sympathy and respect of his peers, taking the whole series off the rails. Then, when she finally gives birth to this miracle baby, instead of taking his well-deserved maternity leave, he continues to work with breast pumps in the office and diaper changes at meetings. All we viewers have to do is stare at the screen confused as to what we're really watching and why.
4. Is love in the air? And we close the windows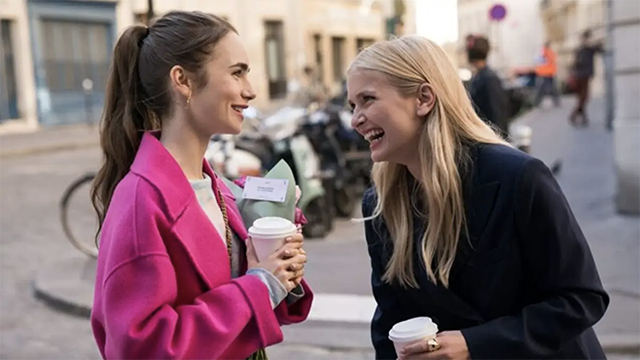 We could have easily taken the side of Camille after the betrayal of Gabrielle ed Emily. We would have forgiven her even the soap opera subterfuges to get her man back because she did it with style. But we can't turn a blind eye to his betrayal, even if it happened beyond French borders. A bad slip for the character of Camille Razatwho went from being one of the most beloved characters to being the most self-righteous and inconsistent. I don't see the need to ruin such a beautiful character. The variant on her sexuality could have been introduced much more proudly without following the stereotype of the French as passionate lovers. Instead it was decided to hit rock bottom with the indecent (but smart) little theater that Camille he staged at the altar rather than admit he changed his mind. Instead, it was preferred to place the blame for a legitimate choice on Emilydestroying two pairs in one hit.
5. Politically Correct… but not too much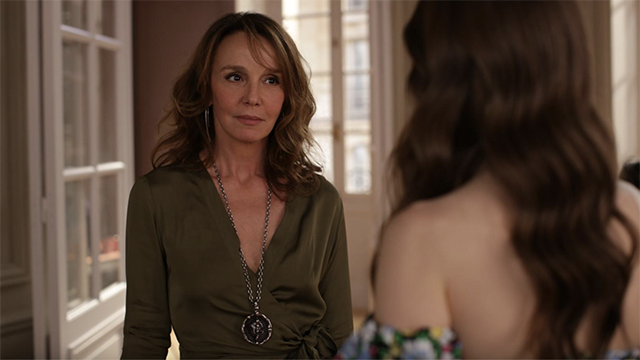 Let's talk about Sylvia and its love story. From the very first episode we recognized the professionalism and talent of Sylvie Grateau like its real counterpart Philippine Leroy-Beaulieu. She who immediately carved out her place on the screen, playing Emily's bossy boss, in an original French version that pays homage to Miranda Priestly (from the film The Devil Wears Prada). With her quintessential French personality, sharp sarcasm and a cigarette out of her fingers, Sylvie's character is perhaps the only one who raises the bar a bit of Emily in Paris. A fashion icon and an embodiment of the libertine French spirit, founded on passion, Sylvie also stands out for her love life. In episode 2 of the second season, we meet her husband for the first time, Laurent G., who owns a trendy club in St. Tropez. The two have been together for 20 years but are essentially in an open marriage: Laurent lives in St. Tropez to manage his club while the career of Sylvia is based in Paris. In particular, the two see no point in embracing traditional marital roles and in fact we know that in his busy schedule of duties, Sylvia also finds space for some pastime in Paris. One photographer in particular becomes a fixture for the woman in season two. Overturning once again the traditional values ​​of the company, Sylvia she had fearlessly and elegantly defended her relationship with this younger man. But we see that the character of Lily Collins and the authors of Emily in Paris they share this sense of continuous indecision which leads them to make hasty (and wrong in most cases) decisions. Emily in Paris once again contradicts itself. On the one hand, it shows itself to be progressive, adding a color of the LGBTQ+ flag to the plot. On the other hand, however, the innovative theme of the open marriage which is still not covered much on television. In fact, even this relationship is destroyed in favor of a flashback, unsolicited and somewhat banal. Not being familiar with the traditional and "normal" we have who knows what expectation for the fate of this story. Bets open.
In general unfortunately this third season of Emily in Paris it's almost completely useless. With the exception of the last two episodes, nothing new is added to the plot. The few twists that there are, in fact, arrive at the last second and in a not too striking way, the more hurried and neglected.
5 Original Netflix TV series that are constantly victims of prejudice