There are those who understood the enormous potential of The White Lotus and those who only realized it in the second season. It doesn't matter, this TV series, written and directed by the talented Mike White, is one of the best serials currently available on Sky Italia (here you can find the best from HBO).
Its particularity, in addition to an impeccably written plot, it is the characterization of his characters, totally absurd but at the same time more intriguing than ever. Having to choose only 10, I selected those that, in my opinion, have enjoyed the best construction and evolution, while taking into account that others such as Alby, Daphne and Ethan from the second season and again Mark, Nicole and Paula from the first season, have played a fundamental role .
Here are the top 10 characters from The White Lotus
10) Olivia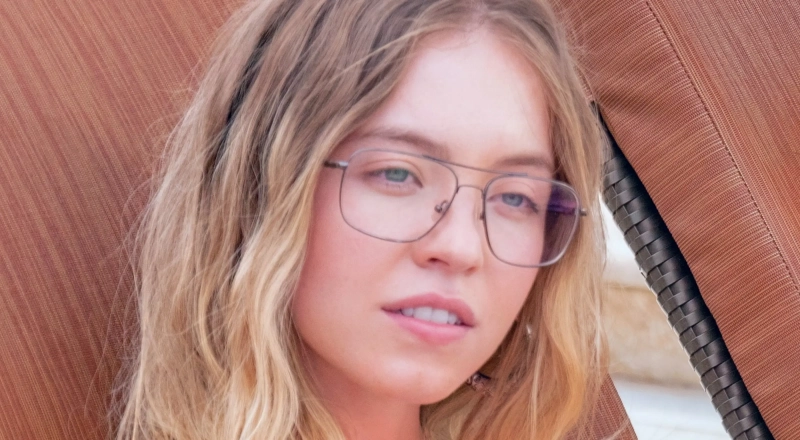 Played by Sydney Sweeney, Olivia is the cheeky and profiteering daughter of Mark and Nicole. A spoiled and manipulative sophomore in college. Olivia does whatever she wants, she says what she wants and her life has meaning until her best friend is found. one step behind her.
Olivia is outspoken, irreverent, and confident. She makes rude comments to her parents and brother, and she doesn't seem to have much regard for the personal either the common people of the island and clearly has a problem with drug abuse. Despite this, I find the construction of this character to be excellent and that it is impossible to love her at the same time, she is in fact one of the most annoying but necessary characters in the TV series.
9) Jack and Portia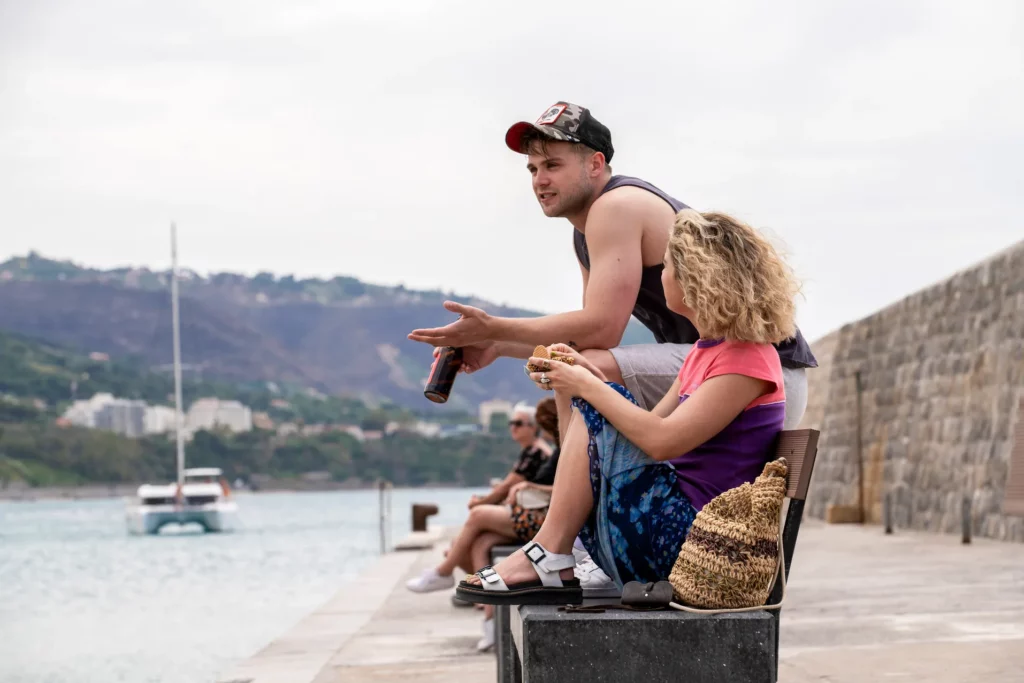 I decided to combine these two characters because their story is based on their relationship. Jack and Portia, straight from the warm Sicily of the second season, are two very interesting characters and that, albeit with a fairly superficial characterization, they managed to keep the ranks of the spaces dedicated to their stories.
Jack played by Leo Woodall, we are initially introduced as a cheeky and charismatic young man from Essex traveling with his uncle, we only discover later that he is a chaperone, paid to satisfy Quentin's sexual cravings and keep Portia away from Tanya .
Portia at the same time is that poor character who finds himself having to deal with the weird but crazy Tanya, finding himself one step away from giving up his life.
8) Rachel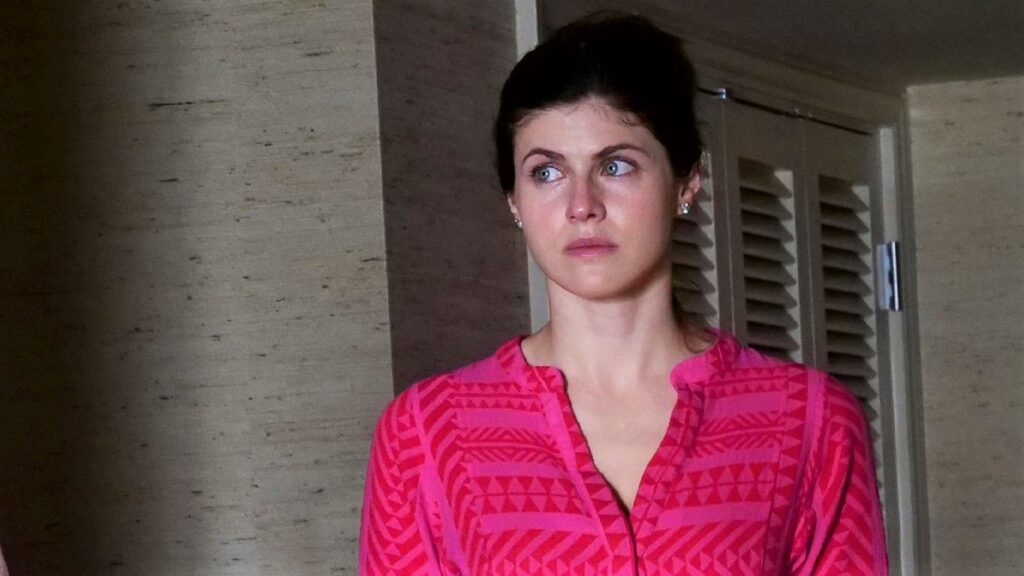 Played by Alexandra Daddario, Rachel Patton is one of the main characters of the first season. In fact, she is on her honeymoon with her husband, the odious (but more on that later) Shane, a narcissistic real estate agent.
Rachel aspires to become a journalist, but at the same time finds herself stuck in a relationship with a man with strong patriarchal values ​​who won't allow her to work. At the same time Rachel it is fought between having to work out the deck to emerge and basking in the comfort that that crazy husband offers her.
The construction of her character is excellent and I'm sure many have tried to identify with her situation as a "trophy wife". The interesting part is though the endwhen we realize that no change has occurred in her.
7) Cameron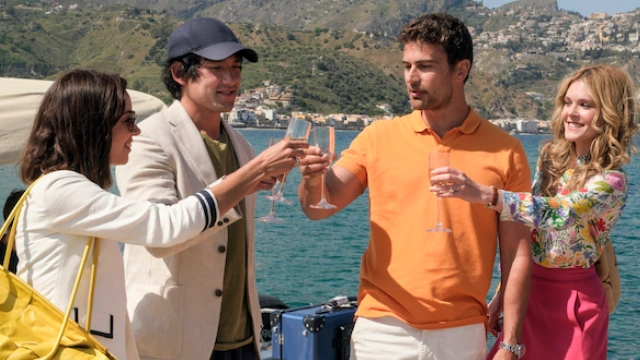 I could say that Cameron is played by Theo James and I would have already given a good reason to include him in this list, but for the more fussy I will also provide some more information.
Cameron represents the classic example of a libertine man, who with his self-confident man always manages, somehow, to get what he wants. He steals college girls from his friend Ethan, gets him into a lot of trouble but eventually comes clean.
I found Cameron's character really well characterizedwith that aura of mystery that we need to keep us glued to the screen until the end without knowing what really happened between him and Harper.
6) Armond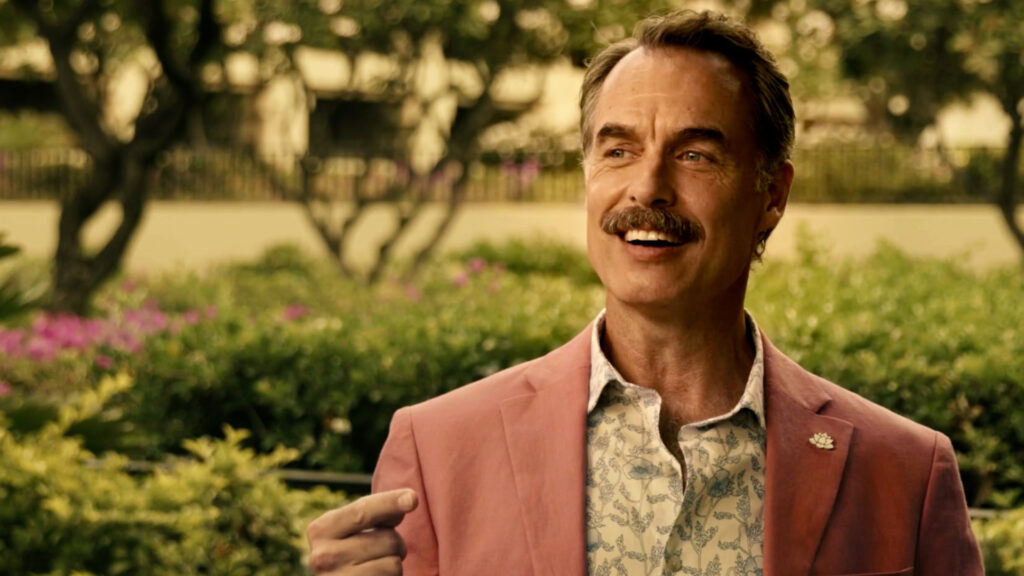 The star of the first season of The White Lotus
Absolutely among the best characters of the first seasonArmond, played by an excellent Murray Bartlett, is the manager of the hotel.
His battle of ego with petulant Shane Patton (Jake Lacy) was one of the highlights more pungent and appreciated of serial productions of 2021. He struggled with drug addiction, indulged in his sexual fantasies and eventually bled to death in the bathtub.
Armond is definitely thenot of the best characters built by Mike White. The scenes in which, despite growing frustration, we saw him with a fake forced smile on his face were some of the best ever.
5) Shane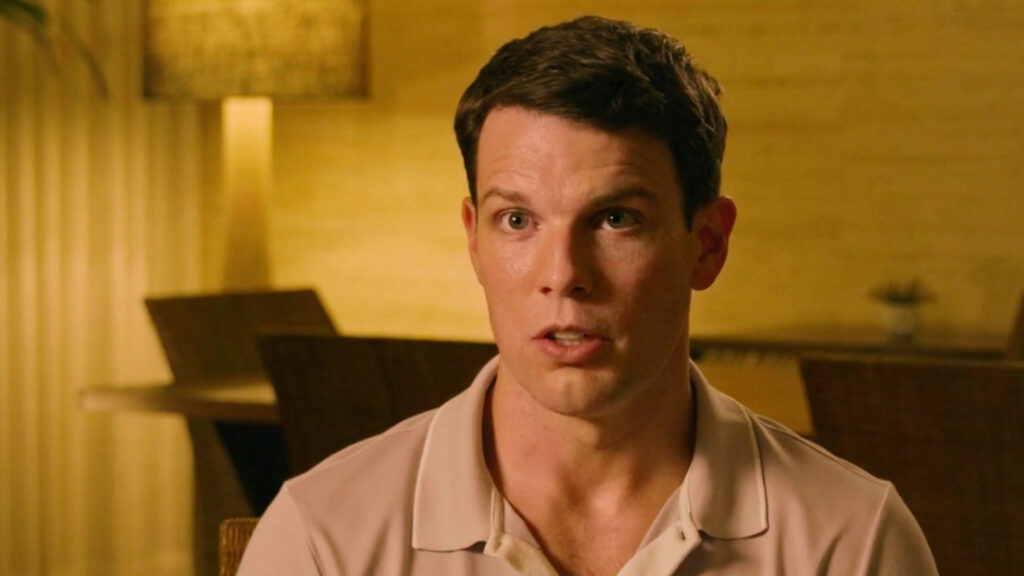 The most hated of The White Lotus
Shane is one of my favorite characters. I know, obnoxious to the highest degree and I myself would have liked to shut him up in like every scene, but in hindsight I think he is one of the best characterized characters of the two seasons. Shane is obnoxious, petulant, self-absorbed, narcissistic and I could go on and on.
However, as I said earlier his great battle with Armond in season 1 he made the whole series another level. I personally was looking forward to the scenes he was involved in.
Not to mention the scenes with the mother. Shane represents everything a man in a healthy relationship shouldn't be.
4) Lucia and Mia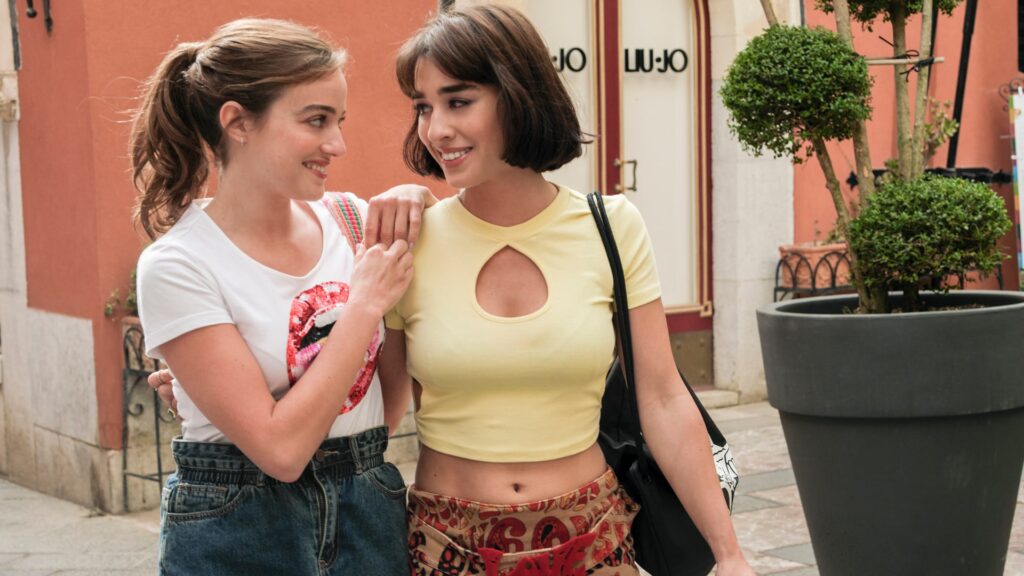 Lucia and Mia are two other characters that I have decided to enclose in a single issue due to the fact that they work excellently together. Italian discovery of this second season are two examples of characterization of really excellent characters.
Lucia is a prostitute who until the end manages to deceive poor Alby, even if at a certain point we realized before him what was happening. Mine at the same time represents cunning and naivetyas good as she is profiteering, she manages in a short time to get exactly what she wants, to sing at the hotel she has sneaked into.
These two are definitely the discovery of the second season.
2) Valentina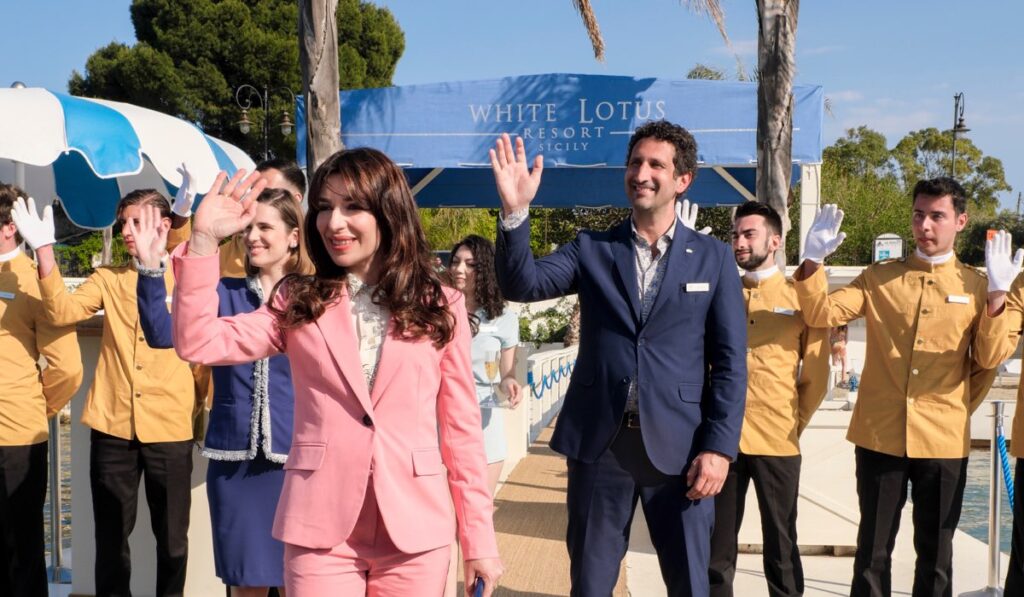 The discovery of The White Lotus
Impacciatore's Valentina in The White Lotus 2 has become a cult all over the world, think that even her first season is set in Hawaii, he hadn't even seen her.
Valentina is a character that seems simple but it is actually very complex. Confident but totally insecure, independent but incredibly lonely. The facets of this character are truly incredible and coexist precisely and flawlessly. About her. Her character has one of the most important evolutions in the tv series and that's probably also why it was praised so much.
The Italian acting is perfect for the scenes that portray it, deliberately comical, full of discomfort, absurd.
3) Harper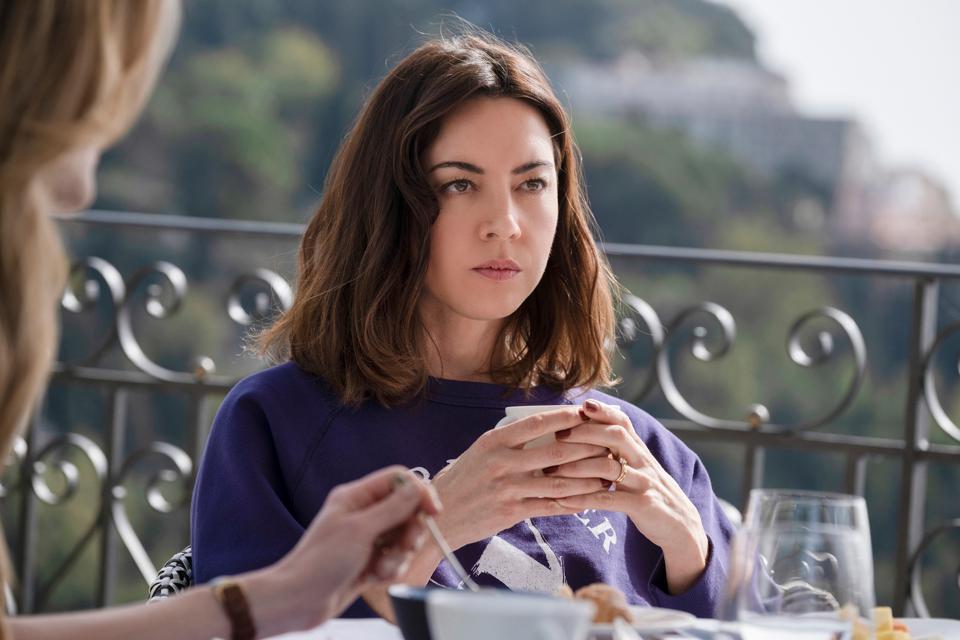 Harper (Aubrey Plaza) is that character you either hate or love, there is no middle ground. I personally adored her. Even the character of Harper in the series has a great evolution, succubus of monotony and unable to deal with her relationship with Ethan waiting for time to pass and maybe he takes the first step.
Something inside her, however, snaps, and it's not just about the simple competition with the opposing pair, but perhaps feeling alive for the first time. That something that could have happened with Cameron (and which in my opinion happened and similarly happened between Daphne and Ethan) rekindled the flame in her.
With a few words and an encyclopedia of facial expressions, Harper couldn't deserve a better place than this.
1) Tanya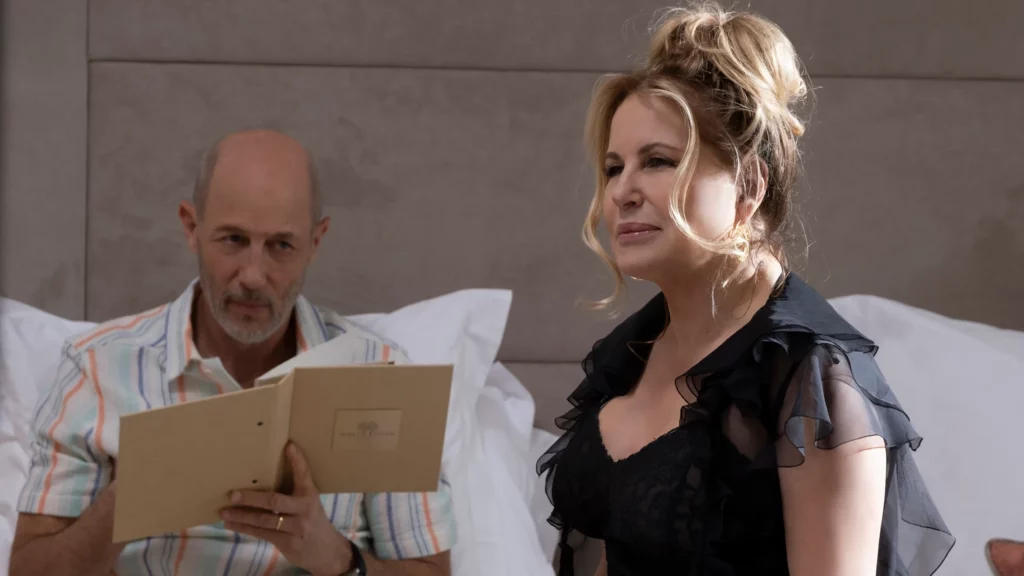 La queen di The White Lotus
We conclude this list with the star of this series, Tanya, played by wonderful Jennifer Coolidge (known to all as Stifler's mom).
Tanya is simply a iconic character. All agree that his character is similar to that of a caricature, underlining the satirical elements that are excellently represented in The White Lotus.
This season, compared to the first in which she was nothing short of great, he really gave his best and most of the scenes that I have in my memory as the most beautiful see her involved.
Unfortunately, as we all know, he won't be back in a third season and this is a real blow to the heart.