Probably the producers of cinema and TV series, especially those of Paramountthey see in Taylor Sheridan the goose that lays the golden eggs. And they don't want to let it get away. Critics would call it a Re What. Fans of his works limit themselves to thanking the right deities for having him on Earth, dispensing his creativity, wishing him long life and prosperity. Because everything he touches turns to gold.
Taylor Sheridan, while aware of the enormous success derived from his creations, reaches his own as soon as he can ranchTexas, pulls on his boots and puts on his hat cowboy and observe. Observe that world made of a few trees, lots of bushes, armadillos and bugs. Annoying flies and suffocating dust. And pastures that stretch out as far as the eye can see, towards the horizon ablaze with the sun. A world that he has known since he was a child and that he loves more than anything else. The only place where you really feel at home and where his creative vein is rechargedready to be vented on a PC keyboard.
Taylor Sheridan's biography is interesting but above all important because the actor, director and screenwriter continually takes inspiration from it. Yellowstonefor example, the highly successful, already iconic series that tells the story of the greatest ranch of the Montana, with protagonist Kevin Costner, was born from a family affair, the sale of the maternal family's ranch. A dramatic story which, according to the screenwriter, has it deeply marked and that he tried to exorcise right in the creation of the neo western television. Not only that: the character played by Jeff Bridges in Hell or High Watera film that earned Sheridan a nomination for theOscar for the best screenplayis based on his uncle, US Marshall retired and later elected sheriff in a Texas county.
"To have a good screenplay you must always start from what you know", is Taylor Sheridan's winning recipe. "I am very autobiographical in this. Sure, then the ideas have to be developed because the public doesn't care about my boring life. This is how I work, starting from myself, from my memories, and I work on it".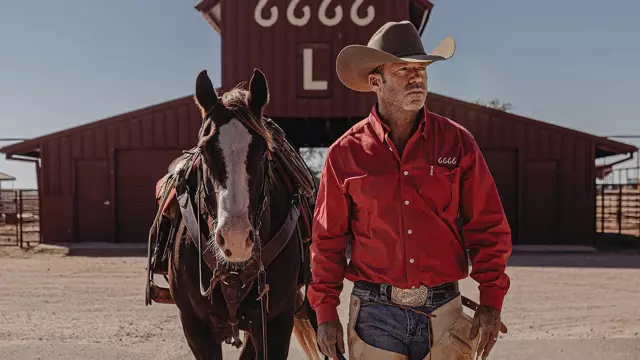 In reality, the career of the Texan with the cold eyes and the square jaw start as an actor. A few parts here and there in the usual episodic TV series, up to having the role of Danny Boyd in Veronica Marsbetween 2005 and 2007. Then between 2008 and 2010 is David Hale in the wonderful and iconic Sons of Anarchy. His experience as an actor, especially on the set of SOA is essential to get to that of screenwriter: "I read so many bad scripts that I knew what was wrong". Beyond the jokes during the filming of Sons of Anarchy Sheridan proposed his vision of the character to the authors who responded positively to the idea which was then inserted into the story. The possibility of inserting one's own idea and seeing it developed intrigued Taylor Sheridan who was thus able to study the gears, the behind the scenes of a live TV show. And a few years later, in 2015produced the screenplay by Sicarioil thriller drama directed by Denis Villeneuve with protagonists Emily Blunt, Josh Brolin e Benicio Del Toro. A debut with a bang considering that the film was nominated for three Oscarand BAFTAand Golden Globe and returned to the five films for the Palm d'Or a Cannes.
After Sicario Sheridan wrote Hell or High Water (2016), Wind River Secrets (2017) e Soldier (2018), sequel to Sicariothis time directed by Stefano Sollima. Four very intense films that have allowed the screenwriter to tell out-of-the-ordinary stories where good guys and bad guys mix, leaving the viewer's judgment suspended.
Finished work with Soldier the writer heard the need to tell something different. Of him, personal. And so she was born Yellowstonea series in which Taylor Sheridan was able to tell about himself, his passions, his love for the life of cowboy (about it he created a reality show by title The Last Cowboy) and for his ranch. Feelings that are very noticeable in the script, full of well-described and well-characterized characters a timeless show that explores ever-current themes. Yellowstone it is an incredible story that plunges into the fascinating tensions and rivalries of the modern American frontier and, among other things, it was the first series produced by the newborn channel Paramount Network. A winning choice made by Keith Coxthen network manager: "I was obsessed with Taylor Sheridan. Her early films are among my favourites. I did everything for her to become part of our big family". A mutual esteem that has yielded to the series a Golden Globe a Kevin Costner come best leading actor it's a nomination in 2022 to the Screen Actors Guild Awards in the category Outstanding Ensemble for a Drama Series.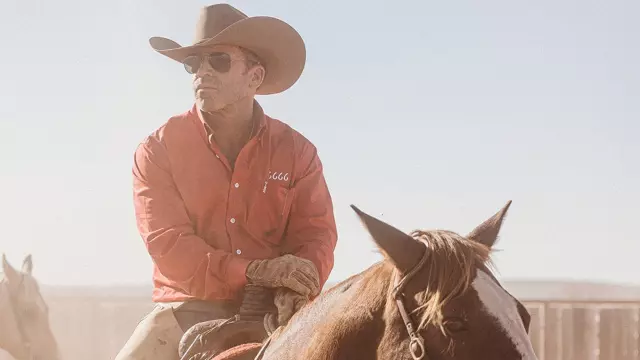 Defined by insiders as a visionary creative whose work reinvented genres il golden boy of the screenplay has the peculiarity of working on several fronts, simultaneously. During the first phase of the COVID19 pandemic Taylor Sheridan managed to produce the subjects and screenplays of nine show televisions, all branded Paramount+. Some of which already aired, such as 1883 e 1923due prequel Of Yellowstone; or Mayor of Kingstown with Jeremy Renner; or again Tulsa King, with Sylvester Stallone here in his first starring role in a television series. Others, however, that will see the light in the coming years, some of which are still dedicated to the universe of Yellowstone eh cowboy in general.
A frenetic, unsustainable pace that led him to entrust certain projects, such as Tulsa Kingto others showrunner (Terence Winter, who recently resigned due to differences of opinion). It is Sheridan himself who admits it: "I certainly could not work with this constancy throughout my life. But now that the pace has slowed down due to the pandemic and I'm more at home, I've decided to carry on with my work". A job always outstanding, top quality who crowned him among the Kings of the screenplay. And it doesn't matter that his stories have plot holes as big as those present in a form of Emmental. Stories hold up perfectly because they are backed by wonderful characters, difficult, dirty, cursed heroeswhich audiences are fed up with seeing good and bad separated by invisible barriers.
From Sheridan's series, in fact, it is clear what interests him: making his characters believable, real, real. The plot is usually not very complex or in any case does not have those plots that are difficult to follow. The characters, on the other hand, are epic, complex, nuanced. Particularly the feminine ones, so realistic and articulateusually interpreted by great actresses who have always found themselves comfortable in those roles, even considering them the most complex roles they have faced so far.
A little over fifty Taylor Sheridan is considered one of the most important and influential screenwriters in the American television and film universe. Intent on retiring in a short time, he had to postpone his dream of giving himself up to breeding (the horses that appear in Yellowstone) for financial reasons. The purchase of his ranch, in fact, "forces" him to continue working for some time. Not that we mind, frankly speaking. If the quality of his writing will remain the same and the creative vein will not run out we can be sure that we will still see some good ones.
Meanwhile, the screenwriter he's honing the art of directing. After directing three films (Vile, Wind River Secrets e Those who want me dead) has dedicated himself to several episodes of the series he created and wrote. Directing is the logical consequence of his workstarted as an actor and continued as a screenwriter even if it doesn't seem to attract him particularly.
In a world where everyone dreams of doing i cowboy someone needs to tell as realistically as possible what this life is like. And who better than a real one cowboy He can do it? Who better than him to tell, through time, the origins and evolution of his own country? That's what Taylor Sheridan is here for. To tell different stories that travel towards horizons ablaze with the sun. Stories that surpass the usual cliché without losing, however, in poetry. That tell the ambiguity of a country, the US, not without criticism. In constant struggle between the desire to write and to ride it is clear that the actor, screenwriter and director still has many things to tell (also because the Paramount keeps renewing his contract to keep him close given the sensational results). But the balance on which he walks is constantly precarious and he leans a little here, towards the writing, a little there, towards the mount. A bit like his characters, moreover, who often find themselves on a razor's edge always having to choose between the lesser evil.