Most of us know that it's not time that makes the difference in lovebut the substance. Those small but infinite details that characterized the story we took part in, that correspondence between us and whoever was occupying the seat on the other side. Love is not the sum of time, because it is something capable of stopping it. We have always been told that we have no weapons against the passage of time, and it is true, but it is equally true to know that, in reality, we do have a small weapon. Love, in a way that we struggle to understand, manages to intensify the minutes making them infinite, manages to fix in our minds something that we have lived for too little time, but of which in reality we will always carry the burden. Whether this is fortunate or not, we cannot know. They say sometimes it is, and other times it isn't at all. In any way you put it, time will still have wasted finding love in your adversary, someone capable of fighting him, of making it difficult for him to run by turning his back on us. We know it well, and the TV series know it well. Many of these, in fact, have expressed themselves in this sense, reminding us how important it is not the time spent with someone, but what has happened in the meantime. From Fleabag until you get to Lost: here are the relationships that are most anchored in our hearts, despite the fact that they lasted very little.
But be careful: we remember the last point well, but not for these reasons. Good or bad, the important thing is that we talk about it, right? Well, this couple is absolutely the concrete example of this concept. And we are sure of it: you have not forgotten them either.
1) Hannah e Clay – Thirteen Reasons Why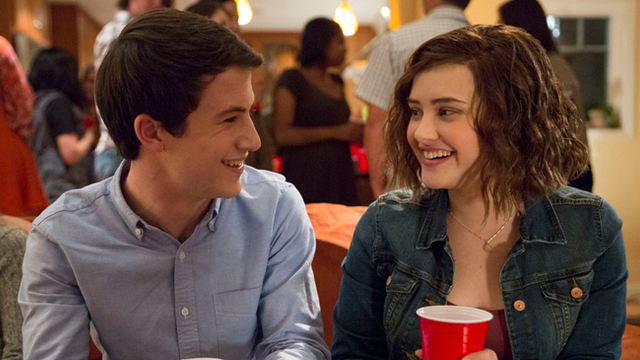 Hannah e Clay were the beginning of Thirteen Reasons Why, the only part that has really managed to stay anchored on us. Because they are the real protagonists of the series, the only ones really able to bring out something better from the other. Everything else has never helped them but, rather, has led them in the opposite direction. We all know that the official reason for their separation is due to the dramatic gesture of Hannahbut in reality we are also aware that the two were already lost. They were lost because everything around them appeared to be much bigger than themand – so fragile and vulnerable – they failed to find that necessary strength which, perhaps, could have saved not only their relationship, but also Hannah. It was a moment, but that moment – ​​still today – we remember it well.
2) Dawson e Gretchen – Dawson's Creek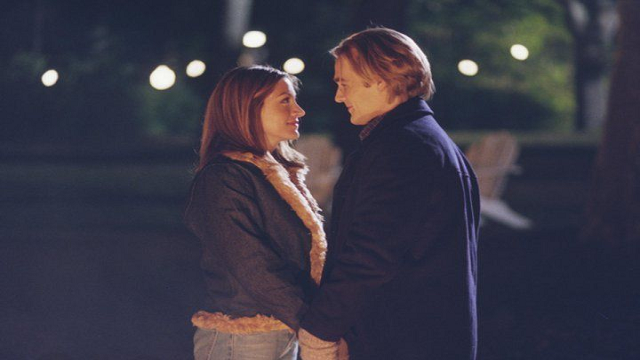 Dawson e Gretchen represent the typical cliché of reports: the right people, but at the wrong time. Both victims of a decidedly complicated period, they begin to approach each other by finding a necessary point of reference. Part of us, and perhaps part of them too, thought they might be more than two passing lovers, but they didn't. The reasons are probably related to the difficulty of Dawson to completely close the door through which she could have re-entered Joeyand wait for someone – whatever they say – it is an operation that involves an occupation. And yet, weDawson and Gretchen we have never forgotten themand this because they represented the hope of being able to find, even in the dark, someone who is gently able to turn on the light, even if we are destined to lose him.
3) Fleabag and the priest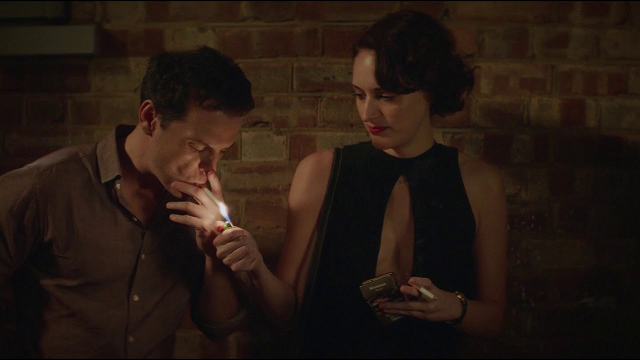 If there's one story we've learned so much from, it's definitely that of Fleabag. His sarcastic face was able to tell us about a relationship in which you don't win and you don't lose, we just separate. This is what happened to her and the priest she fell in love with, despite awareness of the consequences. Yet, despite everything, the two still allowed themselves a moment of respite, a moment of their own that could never have ended, even if they did. The two protagonists played against time, even managing to cancel it. There are stories that don't need any future because they manage to give themselves everything in that tiny, very limited time. Fleabag and his priest have succeeded in this, showing us that – sometimes – risking is the best thing to do. Despite it all.
"I love you" – "You will get over it"
4) Ruby e Otis – Sex Education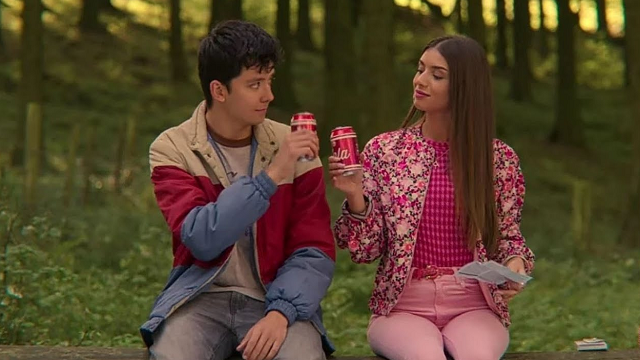 Ruby from Otis I was a parenthesis, an interlude, a curve within a road full of curves, a relationship like any other. Yet despite their very short time together, the two managed to teach each other a lot, discovering something they never could have thought of discovering. They never made big promises, and they never let us think their story could go beyond that juncture, on the other hand, we knew what Otis really wanted: Maeve. It's always been her. And yet, even though we were all aware of the reality, Ruby managed to give him something that only she could give: lightness. Otis knew nothing of this condition, he almost didn't know it. With her he managed to perform this magic, and it doesn't matter if she was shattered, some things must be let go by giving them the opportunity not to be ruined. And this is not a detail to be underestimated.
5) Violet e Tate – American Horror Story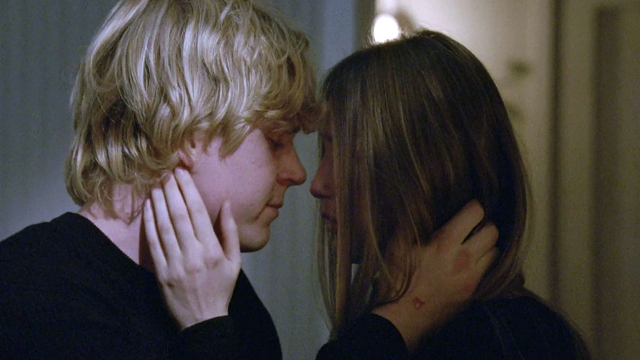 Violet e Tate they are one of the most iconic TV series couples ever, despite their very short duration. They've never been lucky to keep and given their dysfunctional relationship it was certainly for the best. Yet, during that very short time, the two managed to win our attention with their silences, with their shy and defiant ways at the same time, with their contradictions, follies and vulnerabilities. Because what is certain is that Violet and Tate are two extremely fragile people with no prospects. They don't know what they will do the next day, they don't know who they will be or want to become. They just know what they don't want to do, what they don't want to be. For this reason, despite everything, their couple remains one of those who have managed to remain impressed in our minds because of everything they have done. They were crazy, alive. They have been wrong, they have given rise to actions beyond any logic, even leading us to hate them at times. We don't know what really tied them together, or if it wasn't just obsession, but whatever was between them remained eternal.
6) Jesse e Jane – Breaking Bad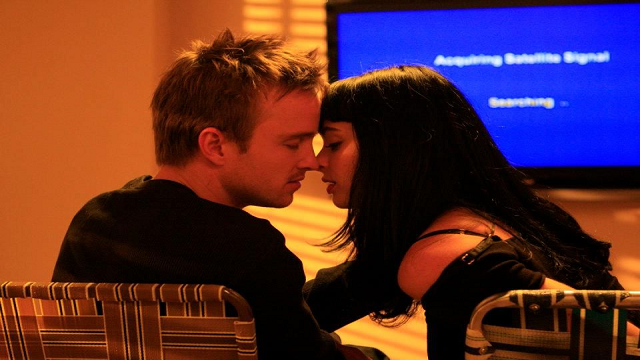 Jesse e Jane have been something that could never have known a middle ground: either they were saved, or they were destroyed. Their end was dramatic, and didn't give them the chance to save themselves or, at least, protect themselves. They had the ability to maximize their self-destructionand this – as in the case di Tate e Violet – has always been their greatest condemnation, the symbol of their history. And yet, before discovering that he also knows how to destroy himself, Jesse and Jane gave themselves, the one that before that moment they thought they had only destroyed. For this reason, despite everything, their relationship has become one that we can never forget, one of those who did us first good, and then so much harm. But it doesn't matter: we will remember them like this, with one of their most iconic images, one in which peace makes room, leaving out all their wars.
7) Sawyer e Kate – Lost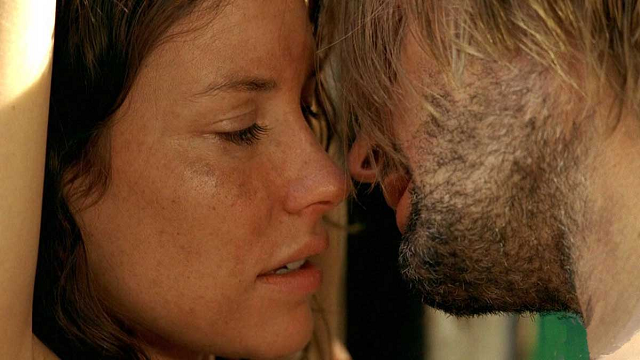 Sawyer and Kate are the answer to the question what happens when two volcanoes meet? It happens that, sometimes, they break up. They leave for pride, not to risk, to keep themselves safe. This, on the other hand, was Kate's definitive choice, trapped in a situation in which understanding which moment she wins and which moment she loses is practically impossible. On the one hand she had Jack, a secure, selfless, constant person. On the other Sawyerthe unpredictable, the typical person who should stamp the clock every day to confirm that it's still there. Kate knew this well, and let things end, knowing they would end anyway. For this reason we have always lived with the knowledge that there would never be any future between them. And yet, despite everything, what happened was able to be remembered, despite all the cons.
8) Dexter e Lila – Dexter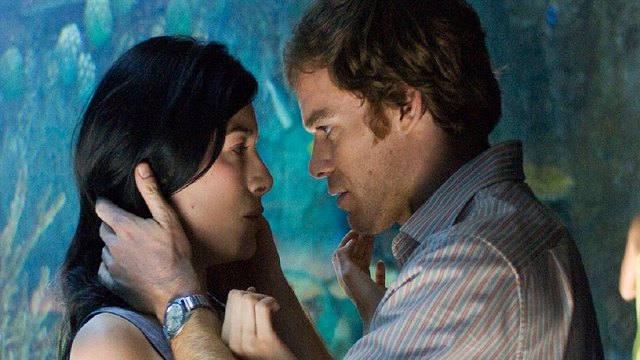 Dexter and Lila will always be remembered, but in this case in a different way. We will remember them because of the obsession, because of the madness they gave birth to together. We hated the two characters together, and we got quite scared when Lila managed to make her way into Dexter's heart despite everything, and we're not kidding. Together they terrorized us, even if Lila did it even more ferociously alone. Their relationship was one of the most hated, as was the character of the woman who, slowly, we discovered was also an arsonist (among many other things). If until now we have fantasized and regretted couples that didn't last too long, in this case we're just happy that it's over, and if we haven't forgotten her it's only because of the traumas she left behind.
We weren't able to get past it. What a fright to think about it.