The first evening of Sanremo 2023 christens Chiara Ferragni's debut at the Ariston. Amadeus confirms himself as an excellent host.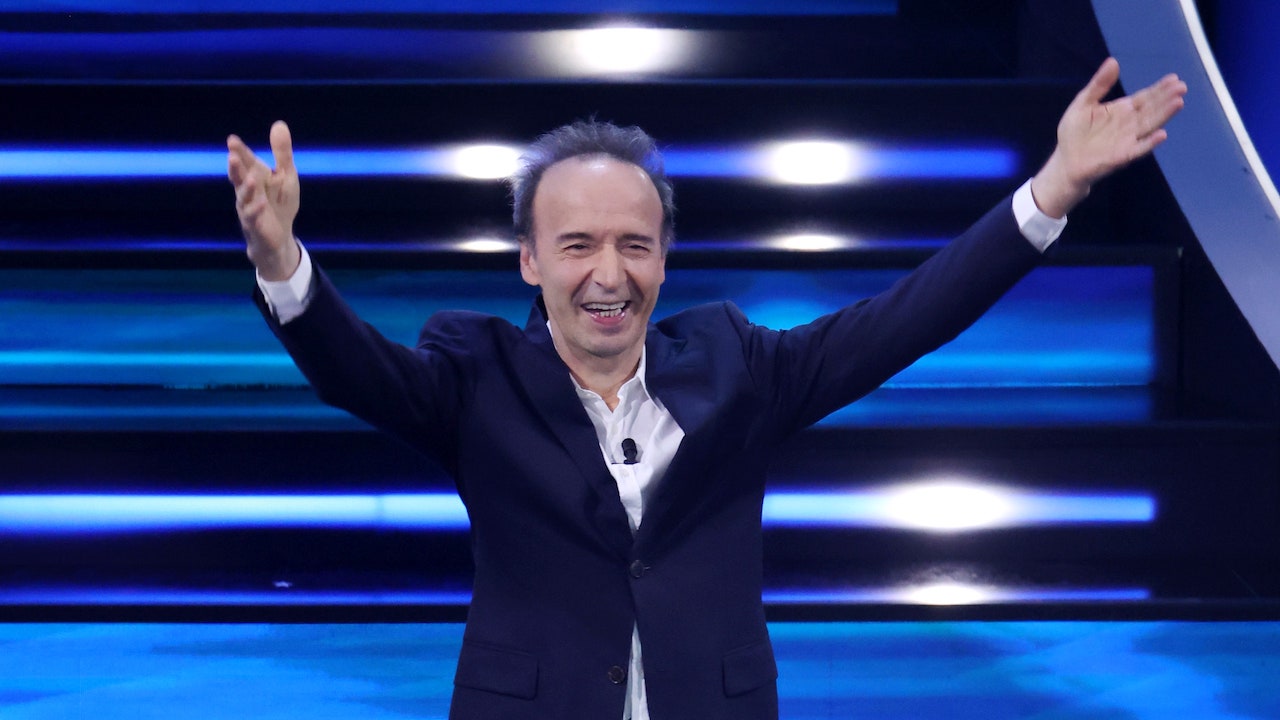 A gigantic immense selfie by the co-host Chiara Ferragni, a "debomerized" Amadeus and finally with an Instagram profile and a President of the Republic for the first time at the Festival, complete with a standing ovation and Mameli's anthem sung by Gianni Morandi. The opening night of the 73rd edition of the Sanremo Festivalconducted for the fourth time by Amadeuscould be summarized like this. With Sergio Mattarella who attends the inauguration from the side box and then leaves the room shortly after, with Roberto Benigni celebrating the seventy-fifth birthday of the Constitution and an absence, that of Fiorello, which will weigh at least until the end of the evening when he appears in connection from Glass in via Asiago in Rome, where his show Viva Rai 2 until February 10 will be exceptionally transformed into the after-festival.
Benigni's hymn to the Constitution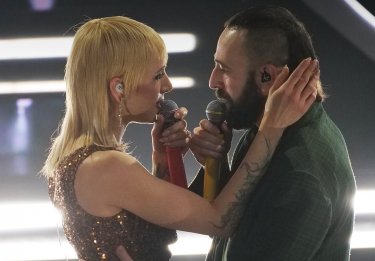 "Awareness Festival", the network director Stefano Coletta renamed him, but at first glance it would seem to be the edition of tiredness, certainly physiological, after three years in which Amadeus was able to restore vitality by deservedly winning the title of "scrapper". Roberto Benigni and his speech on Constitution it is the best thing that has been seen this evening; breaks into stage of the Ariston with his lanky gait and spares no one, not even the President: "You are in your second term, Amadeus is already in his fourth and has booked his fifth, but is it constitutional?", he jokes in the initial exchange with the artistic director of the festival. Then he unleashes his showman skills and reminds us that "light music has an enormous place in the sentimental history of humanity" and that basically the Constitution is closely linked to art, indeed "it is a work of art that sings. It sings of freedom and the dignity of man. Every word releases an evocative and revolutionary force just like works of art, because it is a slap to all power and tells us that a better world is possible".
Sanremo 2023: Roberto Benigni opens the festival, but there is controversy over the fee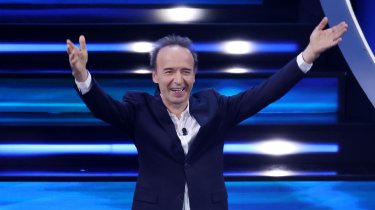 "The Constitution – continues – it is a dream fabricated by awake men. And it can only happen once in the history of a people. We must have the courage to face the future with joy, this is what the founding fathers taught us"which defines gods "visionaries"united by a single desire: "being able to write the most beautiful constitution you could have". A river in flood, overflowing as always, even when he remembers his favorite article, so simple and beautiful that "seems written by a child". It is a hymn to freedom of thought because, he says, Article 21 "it is the architrave of all human freedoms, it is the simplest and the strongest. It says 'Everyone has the right to freely express their thoughts'. It seems trivial, but if they wrote it, you can see that there are 'was necessary. He freed us from the obligation to be afraid". The final call is a "read it, live it and implement it every day". The final applause seals what in all likelihood is destined to be one of the highest moments of a prime time that comes alive with the first songs in the competition, fourteen in all, without particular love at first sight.
Operation nostalgia: the Poohs pay homage to Stefano D'Orazio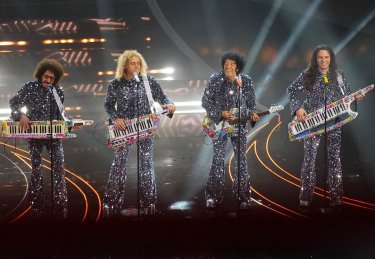 Sincerity Award Like Things that with The farewell, a ballad that recounts their crisis as a couple, bring the truest moment of these early hours of the festival to the Ariston. The price to pay shortly thereafter will be the exhumation of the Pooh: Roby Facchinetti, Dodi Battaglia, Red Canzian e Richard Sheets perform a medley and pay homage to the band's drummer who passed away in 2020, Stephen D'Orazio, which materializes on stage through a video. A moving exhibition with a national-popular taste, after all we are in Sanremo, but not exactly impeccable and someone on social media is ironic: "They invented italics". The show continues between one more or less successful curtain and another, but with a much slower pace than in previous years: Morandi makes fun of his ugly songs, Amadeus leaves the theater and if last year he had to pick up the Maneskin aboard a small train, this time escorting Piero Pelù to the external stage set up for the occasion, who repeats the gag of three years ago and steals a handbag from the audience, then waving it during the performance.
Why is Sanremo Sanremo?
Chiara Ferragni's monologue and Blanco's fury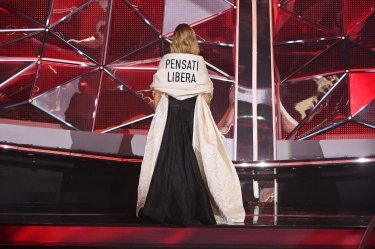 What happened to Chiara Ferragni, co-host of the first and last evening of the event, in all this? Here she is at her baptism of fire, while she has her back to the top of the dreaded Ariston staircase, wrapped in a shawl with the inscription "think free", a warning to all women. Then with a casual gait he reaches Amadeus and Gianni Morandi: "I've been exercising and climbing the stairs of my apartment building for months", he says and immediately thinks what kind of condominium he lives in! Visibly tense, with a trembling voice and imperfect diction, the first card goes away; the emotion denounces a certain sincerity even in the monologue in which he is the protagonist, a pity that however it is resolved in a tremendously self-referential curtain complete with family photos in tow. No one in Sanremo escapes the monologue, hers is a letter that Ferragni writes to herself as a child "that Chiara wrote all by herself"specifies Amadeus at the end of a very long speech on women's self-determination, on sexism, on feeling never enough. " The body of us women must not generate hatred and shame. – he begins – Every time I think of you I feel like crying, I don't even know why, maybe because I miss you, I would like to show you what my life is today. It's a great feeling to be liked by millions of people, but the most important thing is that I think I finally like myself. But there's one thing that makes me feel bad at any stage of my life: not feeling enough. I want to tell you that you are enough and always have been. All those times you didn't feel beautiful or smart enough, you were. It will happen again other times, this is one of those moments, it's normal for it to be. The most important challenges are always with ourselves. As a woman you will have to face many battles: from having to work twice as hard as a man to be taken seriously to not being able to live freely in your body because if you hide it you're a nun, if you show it you're a slut.".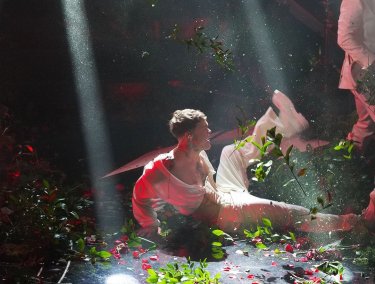 There is also room for reflection on motherhood and feeling "almost wrong to have other dreams than family" Why "Our society has taught us that when you become a mother you have a new identity that is already pre-established and identified: you are just a mother. How many times does society make women feel guilty because they stay away from their children? Always. And how many times does it happen with men ? Never. We women are used to making ourselves small in front of insecure men and someone who even accepted that someone took credit for inventing it tells you ". Emotion, applause and the way towards the unscheduled event destined to become the cult moment of this festival, with Blanco who during the performance does not hear the voice in the headphones and vents his anger on the Ariston planters, destroying them amid the boos of the audience. The result is a Morandi with a broom in hand to help the insiders clean up the stage in a hurry. Chapeau to Amadeus who manages to manage the situation and come out with a "It's been since Bugo and Morgan that something like this hasn't happened…". All in all, the evening was saved.
The standings of the first evening
1) Marco Mengoni with Two lives
2) Elodie with Due
3) Coma_Things with The farewell
4) Last con Alba
5) Leo Gassmann con Third heart
6) Mara Sattei con Two thousand minutes
7) Glue Uncle with I do not feel like
8) Country Cousins ​​with Letter 22
9) Mr. Rain con Super heroes
10) Gianluca Grignani with When you're out of breath
11) Aries with Sea of ​​trouble
12) gIANMARIA with Monster
13) Olly con Dust
14) Anna Oxa con Sali