Pete Davidson, Jon Hamm and Brie Larson are the protagonists of a new and funny commercial filmed on the occasion of the Super Bowl 2023.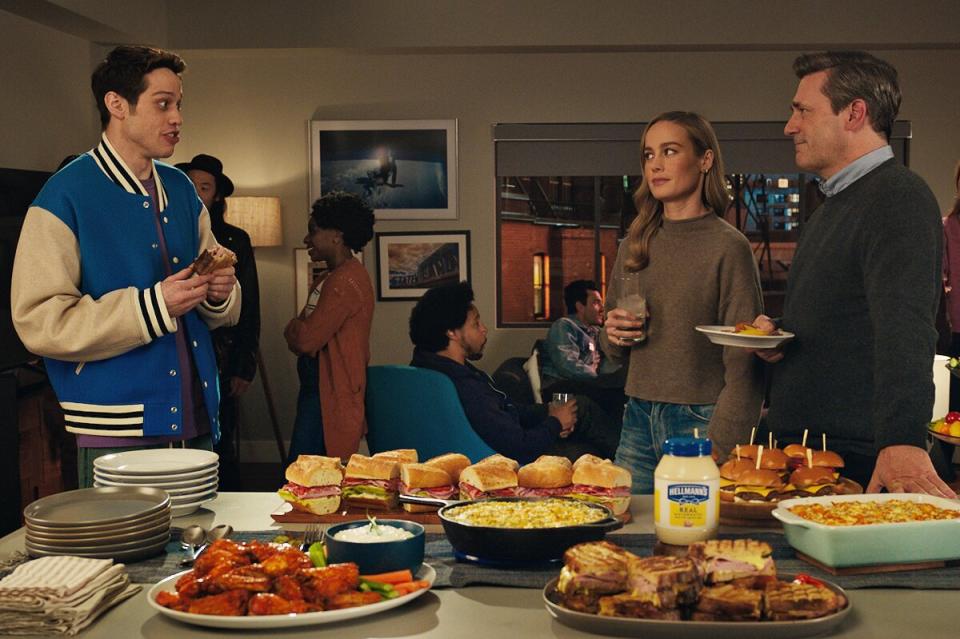 Pete Davidson, Jon Hamm e Brie Larson are the protagonists of an amusing advertisement made on the occasion of Super Bowl 2023. Per Hellmann's, these three stars participated in a skit that plays with the gluttony of the first and the names/surnames of the other two. However, the only real winner was mayonnaise, proving to be an extremely versatile ingredient.
The commercial opens with Jon Hamm and Brie Larson inside an unfamiliar refrigerator. They don't know why they are there but they recognize each other immediately. The first to find a key to the situation is Larson, who understands that their two surnames are the perfect ingredients for a sandwich: "Ham and Brie" (ham and cheese, in this case French).
The anxiety of being eaten for dinner together with the jar of mayonnaise next to them is inevitable, becoming a certainty when Pete Davidson opens the fridge intending to make them a nice sandwich. "You guys are really delicious", he says after preparing it. At that point, however, the shot shows the other two outside the refrigerator while they look at him confused: "That's weird", says Hamm at the end. By encouraging the culinary creativity of consumers, the commercial underlines how the mayonnaise in question can be perfectly combined with what is on hand.
Emily Ratajkowski and Pete Davidson, according to gossip they would be dating
We remind you that the commercial will be aired on the occasion of Super Bowl 2023, expected for February 12th.