Next February 19 Massimo Troisi would have turned seventy: to celebrate this anniversary on February 17, Rai presents the documentary Happy birthday Massimo at 21.25 on Rai 3.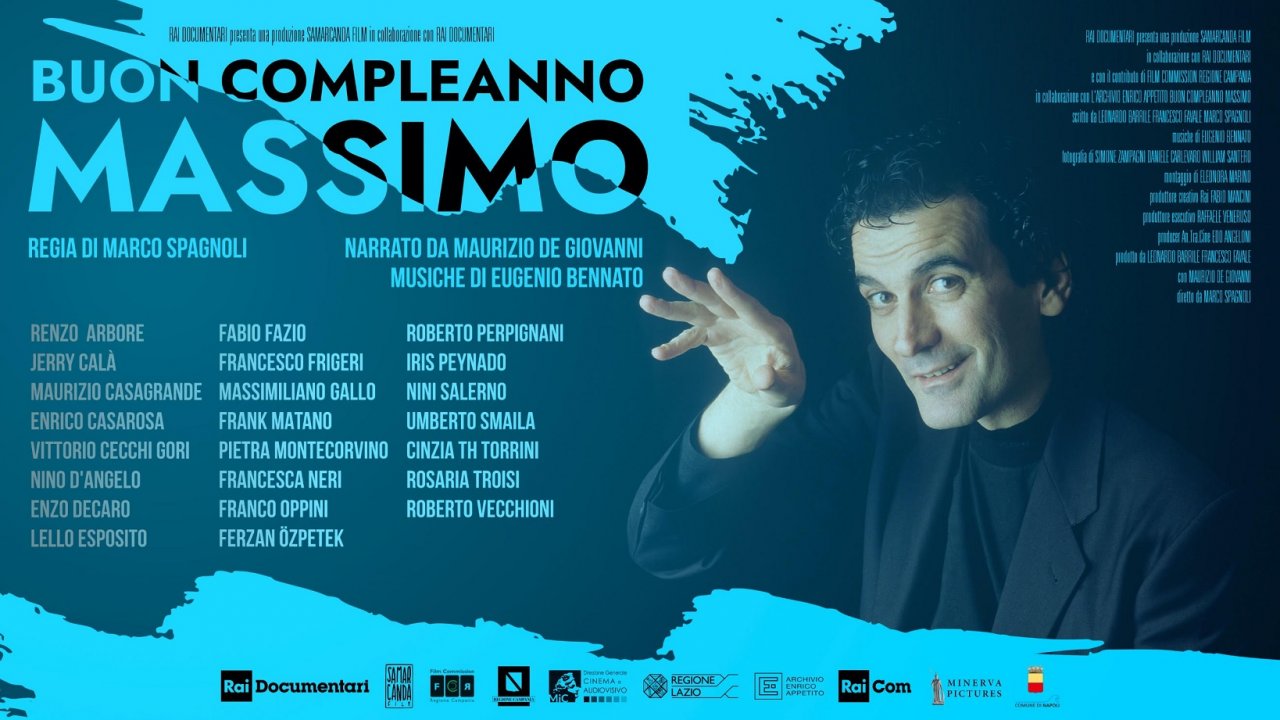 Next February 19 Massimo Troisi he would have turned seventy. To celebrate this important anniversary, on Friday 17 February, Rai Documentari will premiere at 21.25 on Rai Tre the film documentary by title Happy birthday Max by Marco Spagnoli.
A Samarcanda Film production, in collaboration with Rai Documentari, with the Campania Region Film Commission, with the Cinema Office of the Municipality of Naples, which will then be available on RaiPlay starting from 19 February 2023. The film stars (in alphabetical order): Renzo Arbore, Eugenio Bennato, Jerry Calà, Maurizio Casagrande, Enrico Casarosa, Vittorio Cecchi Gori, Nino D'Angelo, Enzo De Caro, Maurizio De Giovanni Lello Esposito, Fabio Fazio, Francesco Frigeri, Massimiliano Gallo, Frank Matano, Pietra Montecorvino, Francesca Neri, Franco Oppini, Ferzan Özpetek, Iris Peynado, Roberto Perpignani, Nini Salerno, Umberto Smaila, Cinzia TH Torrini, Rosaria Troisi, Roberto Vecchioni.
Happy birthday Massimo tells the life, work, genius and gaze of Massimo Troisi through unpublished and engaging testimonies and retraces the most important moments of a "unique" life and career. Massimo Troisi's life is remembered by his own family, friends, collaborators and by those who got to know him in the many aspects of his personality. The rich repertoire materials, mixed with an intense and exciting story, will lead the viewer on a journey to discover the artist beyond the unforgettable, profound man, with great irony and humanity. A story about the physical but also metaphorical heart of one of the greatest Italian artists of the twentieth century, about his relationship with Naples, about his calm and sincere gaze on life and the world, but also on the injustices and meanness of existence, which he he fully repudiated.
Massimo Troisi is remembered by many direct witnesses, some probably unexpected, who tell of his work and his personal commitment as a man and as an artist: the anecdotes of his friends and colleagues (I Gatti di Vicolo Miracoli, Nino D'Angelo, Francesca Neri , etc.) are mixed with the memories of all those who worked systematically with the artist from San Giorgio a Cremano in different contexts, such as Renzo Arbore. Finally, there will be interviews of today's artists who are more or less directly inspired by Troisi, such as Frank Matano for example.
In this story, Maurizio De Giovanni, one of the leading Italian writers and also one of the most influential Neapolitan authors of his generation, guides the viewer to discover the life of Massimo Troisi and his importance in the collective imagination of Naples and Italy. De Giovanni, a great admirer of Massimo Troisi, belongs to the same generation as the deceased director from whom less than five years separated him: born in 1958 in Naples, De Giovanni remembers very well the impact of Massimo Troisi's cinema (1953) and the his charismatic figure, not to mention the beneficial influence on the Neapolitan city of which he himself is a narrator, albeit from a different point of view.
"Remembering Massimo Troisi in the days when he would have turned seventy is a source of great satisfaction for me and for Rai, which is joined by sincere affection for an extraordinary character who, by leaving too soon, has left us with the feeling of having lost a friend before being one of the greatest post-war actors and directors" declared Fabrizio Zappi, Director of Rai Documentari. "This documentary, which manages to portray his most authentic humanity as well as his extraordinary artistic talent, was also born with the ambition of soothing this collective wound, giving us back a more vivid memory of Massimo than ever".