February 2, 2022. Planet Earth. Pam & Tommy arrives on the Disney+ platform with the force of a hurricane, a story at times fictionalized, manipulated and made even more captivating, of a scandal that marked the 1990s like that of the sex tape by Pamela Anderson and Tommy Lee. Those were the years of pirated videotapes and slow-motion rides on Californian beaches. If on the one hand that scandal has emphasized the rock star image of the Mötley Crüe drummer, on the other it has slowed down the career of Anderson, an actress with curves and little talent. Critically, Pam & Tommy the result is a cohesive product, a gallery of moments larger than life which show Anderson not only a victim of events, but a defender of her own rights, because behind that shapely body there is not a thoughtless doll, but a woman with a functioning head and a beating heart.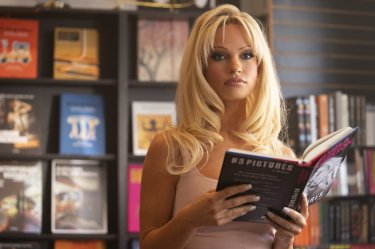 But for those who have experienced that scandal on their own skin, seeing those images on the screen – albeit dramatized ones – must be as annoying as a pebble in a shoe, and as painful as salt on a wound. As we will point out in this review of Pamela, A Love Story (available at Netflix), it is perhaps also as a response, or even just to ride the media wave of the series also directed by Craig Gillespie, that the iconic actress of the nineties stands in front of the camera undressing, no longer physically, but from an emotional point of view to tell your story. By emptying the drawers of her memory with the same lightness with which she leafs through pages of carefully kept diaries over the years, Pamela Anderson restores and recovers her own humanity that has been lost beneath the surface of an exacerbated, exploited, displayed corporality. A claim that makes use of private revelations with a strong emotional impact, but not always accompanied by accurate investigations, which make this documentary a ship floating only on the surface of a rough sea, but not in a storm.
Pamela, A Love Story: the plot
That they grew up on bread and Baywatch, or are part of generation "Z", everyone knows the name of Pamela Anderson. A reputation, hers, preceded by an image. Because Pamela Anderson's success lies above all on the physical and iconic substance. Determined to overturn this celebration, Pamela Anderson gets involved in front of Ryan White's camera. What results is Pamela, A Love Storyan intimate and humanizing portrait of one of the most fascinating and famous women in the world, between life and career of a provincial girl destined to rise to international sex symbol, actress, activist and loving mother.
Pam & Tommy, the review: chronicle of a love story … for sale
Shocking confessions for little investigated stories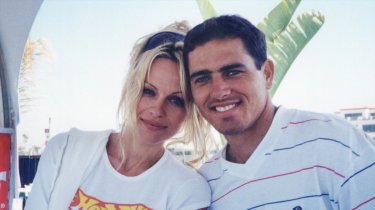 He wants to shake Pamela, A Love Story; wants to excite; wants to open a gap between the private and inaccessible sphere of Pamela Anderson, and that of its viewers. And although at times, Ryan White's documentary often achieves these goals, thanks to the traumatic significance of certain confessions by its protagonist (think of the abuses suffered, or the little-exorcised violence). But what comes out of a smiling Anderson outside, and fragile inside, are shocking news that leave the time they find; they are words that are thrown out of the pure desire to strike the viewer without ever being developed. What follows is a hybrid born from the meeting of a pure exegetical story in total favor of its protagonist, and the unveiling of past pains that find glimmers of cathartic confessions in the documentary story.
The (re)construction of a myth
Apprehensive mother; wife of many unions; sentimental result of parental mistakes and emotional shortcomings; actress imprisoned in the ranks of pre-set schemes and stereotyped roles born from the image of her (and by her) (de)sold and from the media paintings inspired by her. Is this the patchwork powered by Pamela, A Love Story. Yet, although the story allows the viewer to get closer to the intimate sphere of a Pamela Anderson without filters – and for this immortalized without make-up and totally natural, with baggy clothes that prevent the eye from seeing those curves that have given her so much keys to success – after an hour and fifty it is as if this new knowledge still verges on the elementary state of things; a basic superficiality that does not allow the construction of a new fortress with which to replace the image built on Pamela Anderson, cover after cover, scandal after scandal.
Baywatch, Pamela Anderson: 'Producers pestered me to make me a cameo for free'
Icons without filters for decorated frames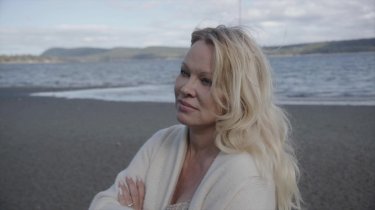 A sense of injustice and incomprehension hovers over the work; a sense of guilt arises and grows within the spectator for not having understood certain discomforts, for having laughed at certain jokes or for limiting himself more to the body than to human substance; these are the emotions that the documentary asks its audience – especially men – to feel during the viewing; a reaction that is well suited to the objectives set by White and Anderson, and which certainly responds positively to its realization. Nonetheless, the all too disproportionate and unjustified use of filters that attempt to give the sequences a vintage feel, with super 8-like edges, cloak Anderson's intimate, personal memory of something distorted, all too aesthetic and externalizing. Where her protagonist tries to appear natural, without frills and excesses, the image that immortalizes her is cloaked in useless decorations that jeopardize the ultimate meaning of the project.
Pamela Anderson: the ex-husband with whom she was only 12 days leaves 10 million dollars
The search for darkness in the limelight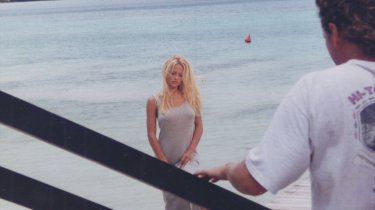 Montage of archive footage, unpublished interviews and private documents, after an hour and a half the star image established in Pamela Anderson's collective memory will perhaps not be completely stripped, or overturned; yet with Pamela, A Love Story new nuances are added to that icon, covering it with new colors, because they are more intimate, more shady, less blinding than the limelight to which Anderson herself was attracted. That's why, in addition to the scandal of the sex tape, there was the need to plunge into the darkness of other pains, other broken hearts, other specular reflections of a need for affection sought in bad boys dressed as princes charming. For a woman burned by the illusory light of the media spectrum, it is the power of darkness that returns her to the universe of humans. Yes, because for a world like that of Pamela Anderson, where everything is overexposed and nothing is left to the imagination, the rehashing of the myth passes through the emptying of her figures.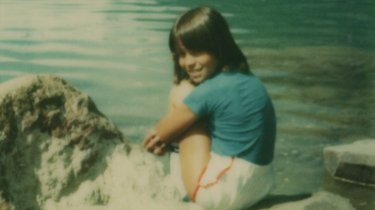 Separated from the formal and aesthetic shell that protects them, it is in their fragility, and in their imperfection, that characters like Anderson's manage to rehabilitate themselves by allowing themselves to be understood, understood, appreciated. An attempt begun, suggested, but not entirely concluded with Pamela, A Love Story, where the apologetic sense of this character continues to predominate between the palate and the mouth, the mind and the thought, reducing what should have been a more strong, courageous and combative of Pamela Anderson in pure victim.
Conclusions
We conclude this review of Pamela, A Love Story by emphasizing how the documentary released on Netflix, although it gives the possibility of discovering something of Pamela Anderson's past, re-establishing a humanity for too long hidden under pure iconic and physical aesthetics, does not stand out much from the pure hagiographic story. And so, the failure to investigate certain important pieces of Anderson's life are only touched upon, leaving the story at a superficial level of development.
Because we like it
Anderson's account of certain painful and intimate events.
The choice to appear natural and without make-up.
The right choice of archive material to be included.
What's wrong
The filters used for the shots that make everything too aesthetic and distorted.
The choice not to go to the bottom of certain issues that would certainly have helped to overturn the image of Pamela Anderson.
A sense of elegiac story that pervades the vision.