Caution!!! The following article contains spoilers for the third episode of The Last of Us
Love doesn't flinch in the face of fear. She bears noise like the sweetest mother and heals wounds, even the most painful ones. She is not vulnerable because even in the darkest moments she opts for resistance, fighting until she drops. Love gives birth to strawberries on mud carpets and sunflowers among soulless corpses. He doesn't promise anything but he is willing to give everything like a lighted window that gives light in a dark and lonely night.
In The Last of Us it seems to be the only escape. While battling invisible enemies and heavily armed soldiers, love stands helpless as if immune to global disaster. Basically it is like this, feelings are not stained by atrocities and evil. His cry resides only in hope and resounds loudly in the tired and empty squares, left to die together with people's dreams. In the third episode of The Last of Us he completes his ascent and demonstrates all his courage: will heal every piece of soul, every bloody laceration.
The Last of Us 1×03 – New characters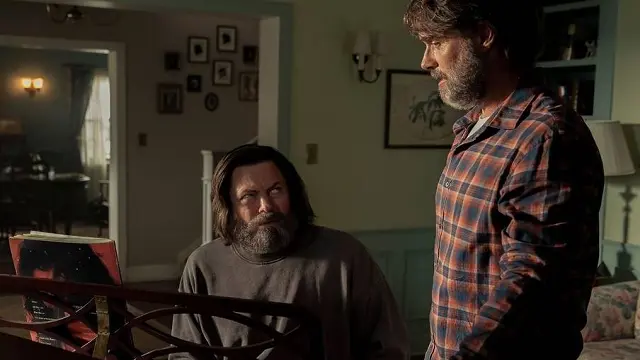 The Last of Us 1×03 is a heartbreaking love letter. Leaving aside the friction of actions and the journey of Joel and Ellie for a moment, the focus of the narrative lies in the introduction of new characters: Bill and Frank. The story, slipping away from the main theme, amazes for the emotional charge with which it is outlined and for a not indifferent communicative component. Beyond a bittersweet tone that undermines the old balance of the plot, the couple gives this episode a revolutionary introspective plot for themes and dialogues. The intimate attitude with which Bill and Frank are shown does not leave us indifferent and offers a perspective with which to look at life to rediscover the value of some of our actions. Of some of our intentions.
Bill is a middle-aged man who has isolated himself from the rest of the world after the outbreak of the pandemic. He managed to live away from infected and soldiers for years with a single conviction: to survive the Cordyceps fungus he must keep away from everyone and everything. But his existence is turned upside down by the arrival of Frank, a hungry man who has been on the run for weeks in search of shelter. A beautiful love story will be born between the two, a delicate story that puts the center of attention married life in a shattered worldthe. Feeling loved in such a place makes one feel privileged, safe from the nightmares in which one can end up outside the quarantine zones. The Last of Us relies on these characters to explore an everyday life lost for many years, all those moments of life buried by the pandemic, like the soft sound of a piano that dissolves sadness or a strawberry plant that appears as a wreck of a world that no longer exists.
Bill and Frank try to build a little corner of paradise in which humanity returns to resurrect after a life strangled. With the production of love, the two protagonists manage to lead a healthy life in which emotions flood the soul like sugar. If so far the two men were only surviving, with the advent of love they come back to life, to believe again that it's worth getting up in the morning – that it is worth rolling your eyes. Through continuous time jumps, the story of the couple is shown to us step by step, up to old age, in addition to the years in which Frank fell ill and constantly needs assistance. The situation is dramatic and pushes men to commit suicide with a cocktail of pills only after getting married in an empty and desolate church. This narrative choice gives romance an invaluable value, almost as if that story had become a beautiful poem to remember forever. Bill and Frank probably don't know much about life, maybe they've never seen the important things, but they love each other. That's the only thing that matters. The only thing they need to know: love conquers death.
A less faithful but more emotional adaptation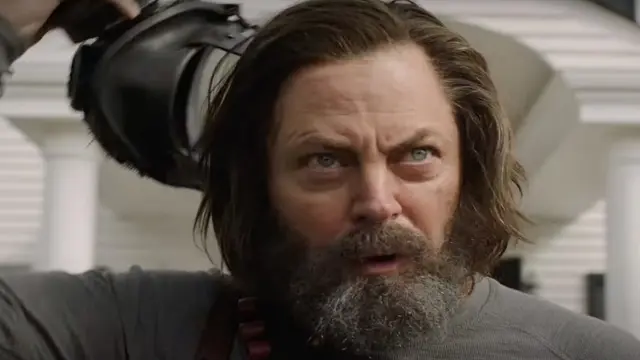 In The Last of Us game we know Bill while Joel tries to recover a car to head to Pittsburgh. Frank's story is given to us only as a reflection and we are unaware of the sentimental trajectory with which he grew up over the years. This regime change does not disturb but enhances the underlying themes of a narrative that directly addresses the fear and fragility that make up human existence. Pain processing becomes an integral part of an intimate masterpiece in which the tragic background of the pandemic gives way to the dream of pure normality. We often take our monotony for granted but sometimes it takes very little to ambush it, destroy it through unpredictable and unexpressed parables.
Linda Rondstadt's song frames the whole episode with a tragicomic melody, a song that reveals the incredible delicacy of a life hanging by a razor's edge. The television adaptation carries a pathos never seen before – clear demonstration of a story designed to be much more than a simple transposition. This is a brilliant and unexpected episode which, through a slow and delicate construction, raises our expectations soaring.
Meanwhile, Joel and Ellie continue their journey through dead bodies and desolate streets. At the end of the episode they arrive at Bill and Frank's home where, in addition to a hot shower, there is a letter addressed to Joel. On the page flooded with ink, Bill says he is similar to Joel because life has entrusted both of them with the same mission: to save others through love. Love can hurt, sometimes hurt, but it's all we have. Joel ha Ellie e Ellie ha Joel. It doesn't matter if there's only the walking dead and fears that pierce the bones.
Love will save us.