Amadeus showed the new scenography of Sanremo to Viva Rai 2: the Festival will begin in fourteen days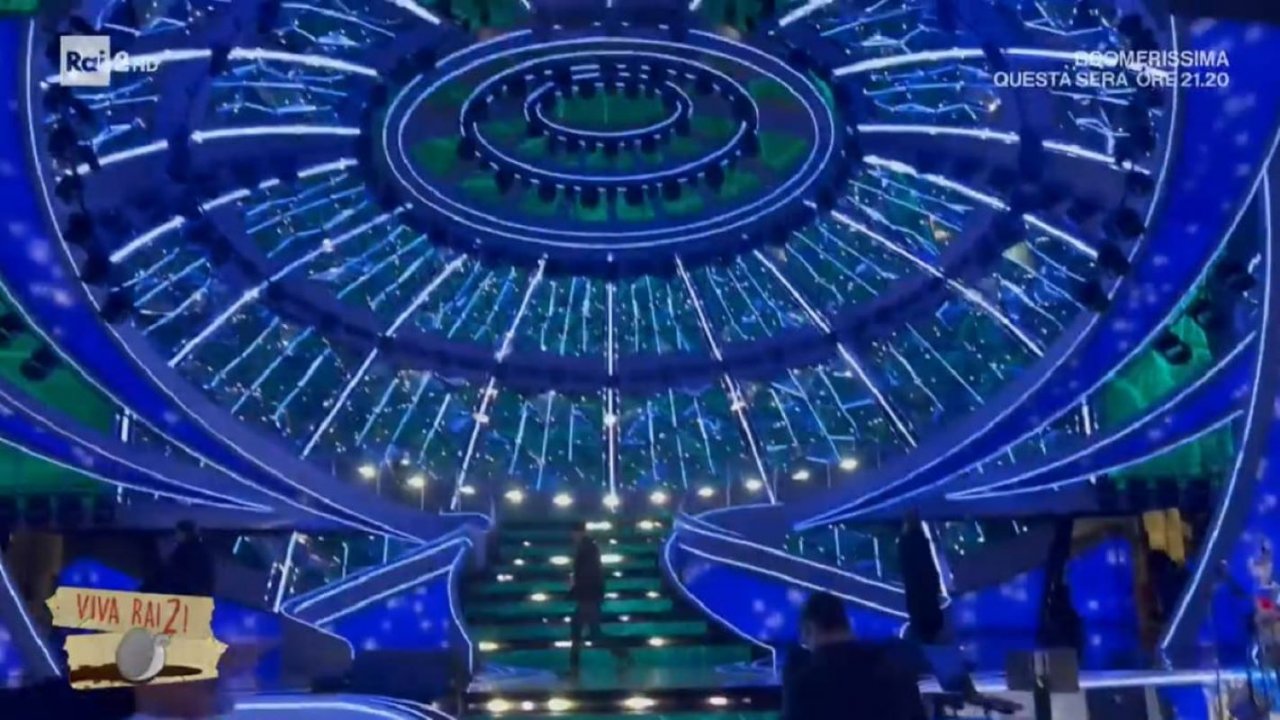 Today January 24, Amadeus presented in exclusive to Viva Rai 2 the new scenography Of San Remo 2023, prepared by Gaetano Castelli and his daughter Maria Chiara. The artist also designed the staging of the three previous editions of the singing festival conducted by Amadeus. There are only fourteen days left until the festival begins.
The scenography set up by the Roman painter includes a sort of illuminated dome inside which there are three circles. The dome envelops the stage which seems bigger than the previous one. On the sides, as always, the two sections of the orchestra, the rhythm section on one side, and the one dedicated to the strings and the choir on the other. The scale seems smaller than that faced by the artists of the 72nd edition.
The Sanremo Festival will start on February 7, Amadeus that evening will be joined by Gianni Morandi and Chiara Ferragni, who will also be present during the final of the singing festival. The other three female presenters are Francesca Fagnani, Paola Egonu and Chiara Francini. The Black Eyed Peas will be the international guests and will perform during the second evening. The Poohs will also go up on the Ariston stage, for a reunion with Riccardo Fogli and Albano and Massimo Ranieri, who will sing alongside Gianni Morandi.
Other guests, who will perform on the stage of the sponsoring cruise ship of the program, or from Piazza Colombo, are Salmo, Guè, Fedez and Takagi & Ketra, Annalisa, the Lista Representative, Achille Lauro, Piero Pelù, Francesco Renga and Nek.
There are 28 artists in the competition, from this year there are five finalist songs.
Here are the artists and songs in the competition:
Anna Oxa – "Sali (Song of the Soul)"
Aries – "Sea of ​​Troubles"
Article 31 – "A nice trip"
Colapesce Dimartino – "Splash"
Colla Zio – "I don't like it"
Coma_Cose – "The farewell"
Elodie – "Two"
Gianluca Grignani – "When you are out of breath"
Gianmaria – "Monster"
Giorgia – "Words said badly"
The Country Cousins ​​- "Letter 22"
Lazza – "Ash"
LDA – "If then tomorrow"
Leo Gassmann – "Third Heart"
Lift – "Alive"
Madame – "The good in the bad"
Mara Sattei – "Two thousand minutes"
Marco Mengoni – "Two Lives"
Mode – "Leave me"
Mr. Rain – "Supereroi"
Olly – "Polvere"
Paola & Chiara – "Furore"
Rosa Chemical – "Made in Italy"
Sethu – "Cause perse"
Shari – "Of Egos"
Tananai – "Take"
Last – "Dawn"
Will – "Stupido"