The characters of two sitcom, Friends e New Girl, they meet in a bar. No, that's not the beginning of a joke (maybe).
The characters of Friends organize a trip out of town, among the streets of the sunny The Angels. On their first night in the city of angels they decide to go for a drink in a bar called The Princein the district of China Town. As the wedding approaches between Ross (David Schwimmer-Friends) e Emily (Helen Baxendale-Friends), Monica (Courteney Cox-Friends) begins to reflect on his love life. Joey (Matt LeBlanc-Friends) he decides to cheer her up with a game he saw in a TV series.
So, in the middle of the conversation he turns and turning to the first stranger in front of him he says: "Laaaa do you know Monica?".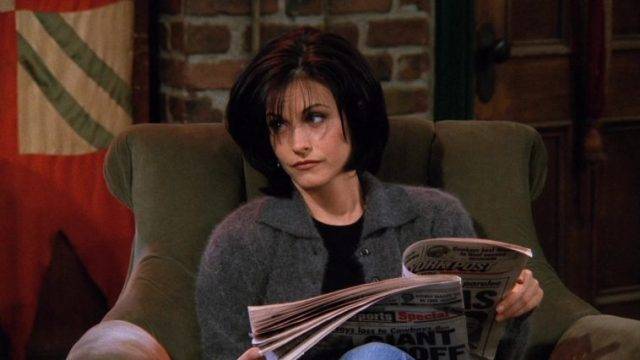 Joey (Matt LeBlanc-Friends) he runs away, leaving the two in the hands of fate. Schmidt Of New Girl he's sitting in front of her with a slightly confused but amused expression. He smiles at her and introduces himself. Monica immediately melts in front of the handsome boy with hazel eyes. Dressed in one of his best designer suits, Schmidt (Max Greenfield-New Girl) runs a hand through her already perfectly combed hair and introduces herself. The two start talking about this and that, but gradually they open up more and more. Monica she tells him about her recent bad luck with men and her fear of not being able to meet the right person. Tell a Schmidt how she's always been there mother hen of her group of friends: she cleans, tidies up and cooks. She has always been a control freak, she likes things to be done right, her self and is also quite good at taking care of the people she loves.
Each of his friends is part of his family: Ross (David Schwimmer-Friends) his actual brother, Joey, Chandler (Matthew Perry-Friends), Phoebe (Lisa Kudrow-Friends) and the latest arrival Rachel (Jennifer Aniston-Friends), with which he was together with the collegeAnd. None, more than Schmidt can understand it in this sense. Schmidt shares a loft in the city with three other roommates: his best friends and ex-boyfriends college Nick (Jake Johnson) e Winston (Lamorne Morris)and a weird girl from Portland which was recently added, Jessica Day (Zooey Deschanel). Schmidt he has a passion and obsession with order and cleanliness (another thing they have in common). Her friends often take advantage of it. And even if it's not a big deal for him, he'd like to be able to let go a little and enjoy the moment, like the one they were having together. Monica she can't help but blush for that sweet last sentence. Just then, a woman enters the room, attracting the boy's attention. The mysterious girl with the body of a model and the features of Princess Jasmine approaches the counter where they are sitting. Her name is Cece Parekh (Hannah Simone), has joined the group, with the arrival of Jess. Nevertheless, Schmidt he looks at her in a different way than how one looks at a friend. In her eyes there was like a spark when Cece she approached. And when she put her hand on his shoulder, Monica could swear he could feel the heart of Schmidt increase heartbeats.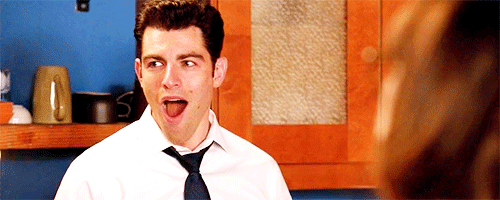 After some chat, Cece he greets them both with a gentle smile and leaves them alone again.
"She's beautiful, isn't she?" she says Schmidtsighing with heart eyes again. Monica she nods, and though she's a little disappointed to find out that Schmidt is engaged, compliments on the beautiful couple that they are.
Schmidt he starts waving his hands hastily and clarifies to her it is a misunderstanding. The two are just friends. However, neither of us buy this lie. Then comes the turn of Schmidt to open up to her. They had slept together a few times, but she denies there is any attraction beyond sex. He on the other hand had fallen in love with her from the first moment he saw her in her apartment. At first he thought it was just because of her "blowing body" and that's what everyone thought, but it was more than that. Schmidt he has suffered from an eating disorder ever since his father abandoned him and his mother. He was bullied for his obesity for much of his childhood up until college. After he shed all the extra pounds and got fitter, girls (who had never figured it out) started taking notice. This led him to get a little crazy and make silly jokes. To the point that his friends have created a jar that he has to put money in every time he spews some bullshit. TO Monica a giggle escapes at the appointment of the "Douchebag Jar" and thinks to himself that this idea could help some of his friends too.
However, the truth is that even though many believe that she is a superficial idiot, Schmidt he is a sweet and sensitive boy. He has suffered so much in the past that he is afraid to let go and be left heartbroken. For this he does not find the courage to declare a Cece his true feelings. For him Cece is the most beautiful woman in the world, but she is also kind, stubborn and brilliant. By now Schmidt has stood up and with one foot on the stool has left with a saccharine and theatrical monologue about how much she is in love with Cece. Monica he doesn't feel like interrupting him. So she enjoys the scene in silence, wishing she had put on mascara water-proof that morning. Schmidt he takes out of his wallet an old banknote which he always carries with him and holding it between two fingers he says: «I swore it on this banknote. One day I will marry that girl.' Monica applauds as at the end of a theatrical performance. Schmidt he looks around and embarrassed apologizes for being so emotional.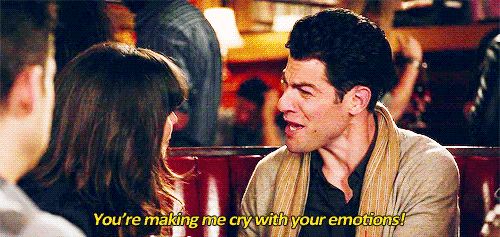 Monica she smiles at him, underlining how sometimes it's good to let go of emotions. Schmidt he places his hand on hers and in a deeply serious voice tells her to trust him.
You should never stop believing in love because it will always find a way to reach you whether you want it to or not. Often the person to have yours with happily ever after it's closer than it seems, maybe it's even already part of your life it could. Monica thanks him for the advice and for the pleasant evening. Then, she takes a bill out of her wallet. As he sets her down on the counter, he looks at the now not-so-so-unknown stranger one last time. She wishes him good luck with Cece, saying that she will be a very lucky woman in the future and says goodbye to him until the next drink. Who would have thought that a stupid game would do all this. A special friendship born by pure chance between two kindred souls from two different manufacturers (NBC per Friends e la Fox per New Girl).
10 moments in our lives where it would be useful to be Nick Miller