To launch from the stars, the new Netflix film directed by Andrea Jublin and based on the novel by Chiara Parenti, arrives in streaming from today 5 October 2022.
To launch from the starsthe new movie Netflix directed by Andrea Jublin and based on the novel by Chiara Parenti, lands in streaming starting today 5 October 2022 for all users subscribed to the service.
The film tells the story of Sole Santoro, an almost 25-year-old girl born and raised in Conversano, in Puglia, an idyllic dimension that, however, begins to feel tight to her. But it is not easy to make the decision to change your life and move elsewhere, because Sole has always suffered from anxiety disorders: for her, making any gesture, even an insignificant one, can become a titanic undertaking.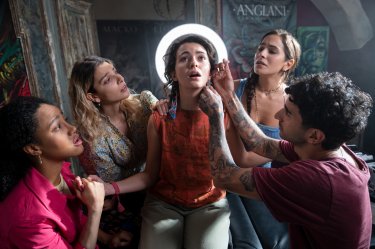 To launch from the stars: Federica Torchetti in a photo
The only one able to understand and help her has always been Emma, ​​her best friend, but now she is gone. She was the latter who wrote the letter that she only manages to read a few days before she turns twenty-five. It is an exhortation to have an impulse of recklessness: Sole will have to draw up a list of the small and large fears that paralyze her and then face them one by one.
After much hesitation, also thanks to the support and encouragement of a new group of friends, Sole accepts. And from that moment her journey becomes a journey of self-discovery that will lead her to destinations that, as often happens, she could never have imagined.