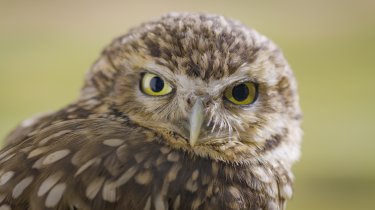 America the Beautiful: a scene from the docuseries
America as you have never seen it. And, believe us, it's not a cliché. America The Beautifulthe series available in streaming on Disney + starting September 28, it takes viewers on an epic journey through the most spectacular regions of North America, in what is the most diverse land in the world. From the award-winning BAFTA and Emmy Award-winning team of Vanessa Berlowitz And Mark Linfield (Planet Earth) by Wildstar Films, America the Beautiful is the first natural history series to use cameras on fighter jets, taking viewers on a jaw-dropping journey through some of the most awe-inspiring landscapes on Earth. Cameras mounted aboard the fighters show how American landscapes fit together and shape each other. But this aerial system has also proven successful for shooting during inclement weather, allowing supercells and tornadoes to be filmed from close range. On the other hand, a new range of remote cameras and gyro-stabilized cameras were used to capture the behaviors of elusive and never-before-seen animals.
Telling animals in a different way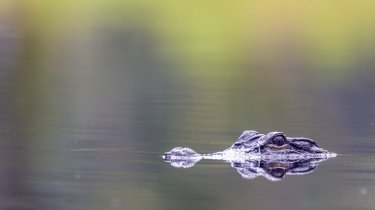 America the Beautiful: an image of the docuseries
We interviewed Vanessa Berlowitz and Mark Linfield, the producers of America the Beautiful. Is it really an America never seen? "On the one hand we try to show the public some of the most iconic animals, such as Grizzly bears," Linfield told us. "But, above all, we try to bring to light the little stories, the ones that people can't see when they go for a walk, because they don't know they're there. People might say: I already know American nature, they have chains mountains, they have bears. But we tried to tell the most obvious animals differently. As for the bears, we showed things that people haven't seen. In the Everglades, a wetland, bears are inside trees and , when the water reaches the trees, they start swimming. They are still the bears, but they are seen in a different way. I don't think many grizzlies that hunt Caribou in Alaska have seen them. So we tell the best known animals, but in a less familiar way ".
America The Beautiful, the review: American nature as you've never seen it before
Filming from jets, like in Top Gun: Maverick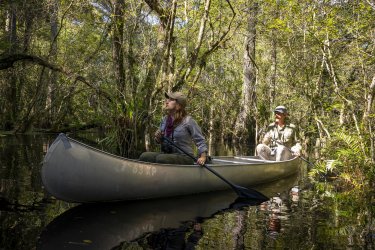 America the Beautiful: a moment of the docuseries
Most importantly, the America The Beautiful team managed to show landscapes in a new way. "We were able to show the mountains from above, filming them from a jet," Linfield tells us. "It's something that gives the sense of a panoramic vision. We were able to film the clouds, when the mountains block the weather, and on the other side we find the desert. We were able to show that the Mojave desert is like this thanks to the Sierra mountains. We can see how all the landscapes are interconnected. And that's something you can't see from the usual helicopter shots. The audience will see these landscapes as they've never seen them before. " One of the keys was to find a way to show the epic dimension of American landscapes. "North America has every kind of habitat you can find in the world. It has a polar area, it has mountains, it has desert. How do you show all this?" reflects Vanessa Berlowitz. "Each version of a landscape is the greatest: we don't have the Canyon, but the Grand Canyon. So we used new technologies: we hung a camera on an airplane, but it took us hours to fly along the Grand Canyon, which is huge! So we used a jet, a fighter which is what they did for Top Gun: Maverick. It's a technology that allows you to fly close to the sound barrier, And that way you can visualize the Grand Canyon in a one shot, and the audience can understand how gigantic that landscape is. We flew across some desert areas in America, like Utah, as big as a nation. We flew over four national parks in a single shot. "
Top Gun: Maverick: 5 Reasons Why Tom Cruise's Sequel Improved the Original Movie
Finding new stories by talking to people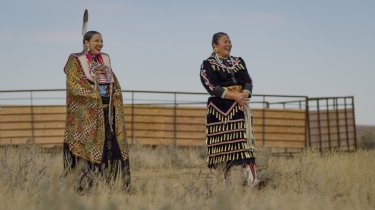 America the Beautiful: a moment in the series
America The Beautiful moves from the infinitely large to the infinitely small. And, if for large spaces the challenge was in technology, for small stories it presented other problems. "In telling the smaller stories," Linfield explained, "the challenge is in research. But luckily there are many good naturalists in North America, and thanks to the internet and social media, it's easier than ever to find. these stories ". "To find stories like these, you have to talk to a lot of people in America, and then you have to bring these stories to light through a series of micro equipment that brings you into that world," adds Vanessa Berlowitz. "But the real challenge is to find something new in a country where a lot of people live, but we did it." "And another big challenge was Covid," she adds. "Because the series was shot during the pandemic. Imagine doing aerial shots with a group of people when you are not expected to meet anyone due to the pandemic."
Scenes that you cannot organize in a storyboard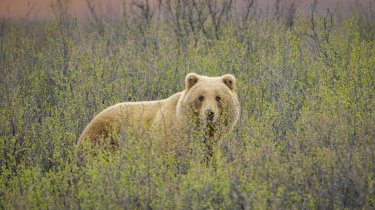 America the Beautiful: A picture from the series
America The Beautiful has made us realize that, in the era when we see photorealistic animated animals that seem real to us in Disney's live action movies, real animals are much more interesting. And the creators of the docu-series are great at creating stories that are so interesting they seem written. "There are some Hollywood animals that everyone loves," explains Vanessa Berlowitz. "That they've been in every Disney movie, and people know everything about them. For example, we wanted to film some Grizzly bears. So we found a new story, in Alaska, where they hunt the Caribou. find new stories, take risks ". "The characters in animated films come from nature, they are inspired by real animals," she continues. "Every time we shoot we ask ourselves: What can we do better? What can we show that hasn't been seen before? We worked hard to find new angles to see the story from. And I think the opening sequence is a really good example. . There is a fight between a squirrel and a bear. And you can't organize it in a storyboard like in a Disney movie. It really happened: it's completely wild, natural. "
25 films and documentaries on the environment to see
Filming animals: what are the secrets?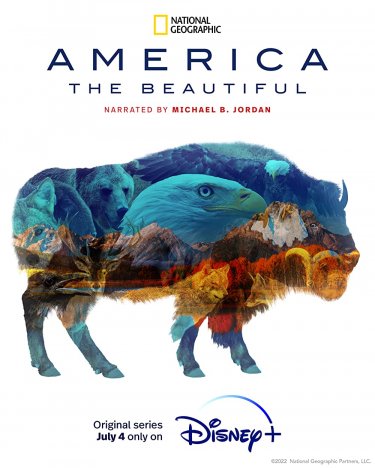 America the Beautiful poster
But what are the secrets to shooting a scene like this? "We used innovative remote cameras to shoot it," explains Vanessa Berlowitz. "We had to work hard to get these characters out of the way. It's about taking any person out of that situation and letting the animals be themselves. And so you see their particular behaviors. If we had a person nearby to shoot, even if hidden, we would never have been able to see that squirrel stand up to that bear. I've never seen any smiley faces and it was possible to catch it with these cameras remotely. " But there is more than a secret to shooting such scenes. "One of them is working with very experienced scientists who can help you protect animal behavior," Linfield explains. "The other secret is to have a lot of time: spend as much time as possible. If you take a walk in the Grand Canyon in an afternoon you probably won't be able to see these things. But if you spend months, months and months in those places, you will. We were very budget-conscious, doing frugal things, but investing a large part of the budget over time. We had small crews for big periods. In normal movies, you have big crews for small periods. You know, talents like Tom Cruise cost a lot, so we try to shoot as much as possible in the shortest possible time. We are the opposite: we have no control over our movie stars, the animals, and so we need a lot of time. Most of the sequences are filmed by a crew of one or two people. in many many months ".
Michael B. Jordan: an American hero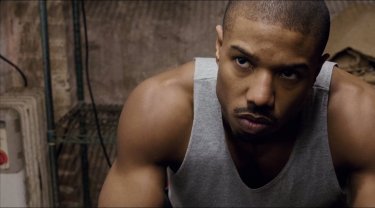 Creed – Born to Fight: Michael B. Jordan in a scene from the film
In the original version, the story is told by Michael B. Jordan, the actor of Creed and Black Panther. "We wanted a voice that was contemporary, and that was inclusive, that represented modern America," Berlowitz explained. "The idea behind the series is that it was to represent the heroes, the heroes of natural heritage conservation, all of those amazing characters who saved nature and demonstrated extraordinary resilience and courage. Michael B. Jordan always plays this role. Ed he is really such a person in everyday life. He has a passion for representing a different America. He loves playing characters who are outsiders, who have great challenges to face. That's why he is the right voice. "
The music
The evocative soundtrack evokes the pride, but also the heterogeneity of America and was composed by Joseph Trapanese. Some of the music in the series is performed by powwow singer Ojibwe Joe Rainey Sr. "A powwow singer from a group of singers, called the jump group" explained to us, "The powwow singer is a kind of spiritual guide, he's someone who invite others to enjoy the company of others, meet new friends, enjoy food. The role of the singer powwow is to sing for the different types of dance. So you have to know the different dances and the different songs. Even if I sing and record music. for a long time, I still consider myself a student. I still have so much to learn. "
Learn from Richard Attenborough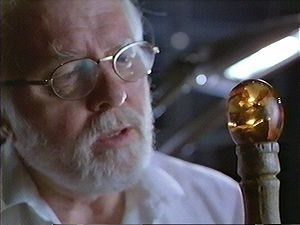 Richard Attenborough in a scene from Jurassic Park
Speaking of learning, Vanessa Berlowitz worked with Richard Attenborough, who has always been synonymous with quality documentary. "I was very lucky to work on the BBC" she explained to us. "He taught me, and I learned everything from him, I learned how to bring nature into stories to tell on TV. The biggest lesson he has ever told me is about bringing the personality of animals into stories for the screen. It is your responsibility to accurately portray that story. And your filmmaker ego has to be put aside. Thinking from the point of view of animals brings a sense of reality to your work. " In Mark Linfield's curriculum, however, there are years of work in South Africa studying monkeys. What is different about working in Africa and working in America? "America has very different landscapes in it," she replies. "When I film on Florida I can be covered in mosquitoes, and be in an inhospitable environment like an African jungle. I feel like I'm in Africa. If I'm in North America, it's like I'm filming in the North Pole. And then there is. everything in between ".