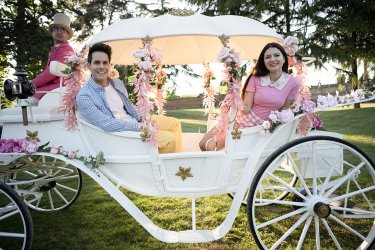 Me Against You – The Royal Family: Image from the series
THE Me against You are the new Duran Duran. In the Hotel Palazzo Naiadi, in Rome, where we met them on the occasion of the launch of the new one series Me Against You – The Royal Familystreaming on Prime Video from September 30, fans were constantly arriving to meet them, ask for autographs, take a photo. And the same thing had happened before, at Cinema The Space Moderno. A real LuieSofìmania. A bit like Simon Le Bon's band, only the fans there were teenagers, here they are children. Not even time to joke about Duran Duran, e Luì and Sofì, aka Luigi Calagna and Sofia Scalia, tell us that they too will do concerts, a real tour in the palaces of Italy (the departure is November 5th from Vigevano). Luì and Sofì are like that, they don't stop for a moment, they don't try any way that can't be tried. And they succeed well in everything. Getting to know your children's idols up close is really interesting and full of surprises. The impression is to have in front of people who first of all have the talent of always being in tune with their audience (to whom they care a lot), that is, children, because after all they are a bit children too, they are managed to stay that way. And that's no small feat in a world where young stars (see Stranger Things' Millie Bobby Brown) grow up too fast. And in which by now the one who has more malice becomes an influencer. Here, they do not have malice, and they manage to talk to children with a simplicity that is difficult to find. The presentation of Me Against You – The royal family was an opportunity to get to know them better and try to understand who He and Sofì really are. And to find the secret of their success.
YouTube, cinema and TV series: different languages ​​and styles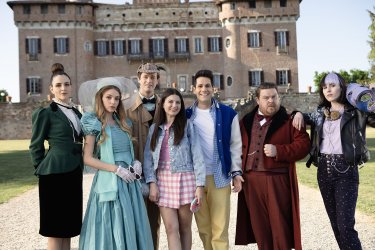 Me Against You – The Royal Family: The cast in a promotional photo
And it's not easy to find that ability to move across multiple media either. In communication it seems that Luì and Sofì are multichannel. But they don't decline the same content on different channels, they are good at choosing the right content for the medium they are on. "We wanted to share the contents we create, in order to be clearer with those who follow us" explains Luigi Calagna. "On YouTube we play games at home, challenges, we get dirty with slime. At the cinema we have adventures, with a dose of mystery and even fights. In the series we wanted to tell about human relationships, we wanted to put Luì and Sofì with new ones. characters". Luì also explains how different the work on each product is. "In our videos on YouyTube we do a homemade job, it's me and Sofì with our mobile phones, we improvise and record" he tells us. "In the movies we clash with special effects, we have stuntmen, choreography, dancing, we get hung up, dirty. While in the series we clashed with dialogue, we tried to make the series as comical as possible." "Shooting a series is quite complex, behind there is a studio for the scenes, for the lights" explains Gianluca Leuzzi, in effect the third Me Against You, the director who follows them from their first film. "There are no songs and special effects in the series, because we tried to diversify. The series is focused on the characters and not on the story, and so we need more space to tell them." To find the actors to work alongside Luì and Sofì, a very accurate casting is done every time. And in the end the three of them, Luì, Sofì and the director decide, often after discussions in their WhatsApp group: the three are practically always in agreement. Speaking of cinema: the fourth film will be made, very little is missing. The target, as we have told you, is that of children. But in Me against you – The royal family, try to enlarge it. "The series is more teen" explains Luì. "There is a strong Kids component, but we wanted to give more interpretations within the series. In fact there are characters like Emma, ​​the rebellious daughter, Tronaldo, the noble son, Divina, the most snobbish, who all teenagers can find in their class, among their friends ".
Me Against You – The Royal Family, the review: A children's party that comes to life on the screen
How is a Me Contro Te song born?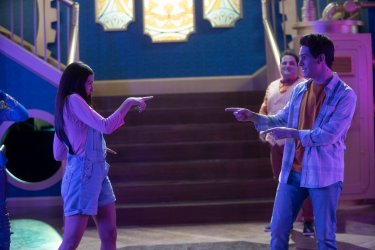 Me Against You The Film – Lost in time: Luigi Calagna and Sofia Scalia in an image
Conquered YouTube, cinema and now streaming platforms, Me Against You lacked live concerts, and this goal was also achieved. "After the videos on YouTube, the series, the cinema, now we want to sing live in our concerts" enthusiastically tells us Sofia Scalia. If, with your children, you have seen the Me Against You movies you will have heard their songs, which are enjoyable and quite well constructed. But how does a Me Contro Te song come about? "Our songs are born in this way" explains Sofì. "Maybe we think of a theme, and we begin to write down the words. But we have a team that helps us in the writing of the words and also of the music". But the thing we didn't know is that Luì knows how to play. "You must know that Luì has a past as a guitarist" Sofì reveals to us. "As a young man he had a band. He is passionate about music, and he knows instruments. So we are the ones helping the team." Among the many fields in which Me Contro Te are active, music is the one that amuses them the most, that makes them feel freer.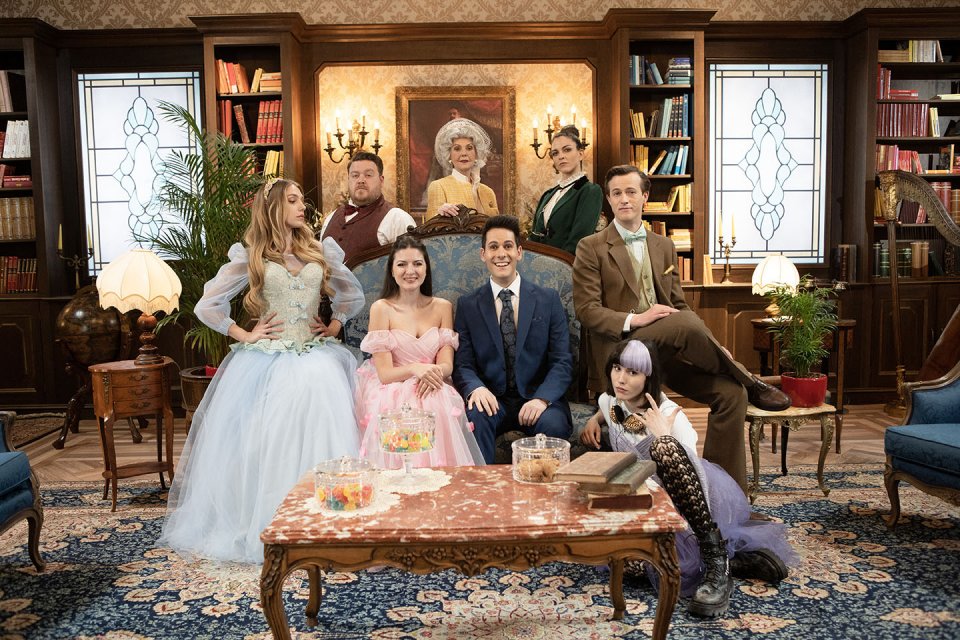 Me Against You – The Royal Family: A promotional image from the series
Afraid that success may end? No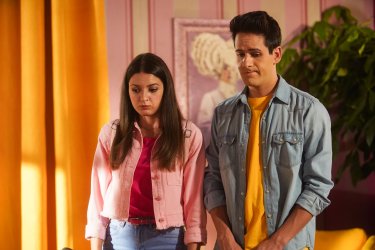 Me Against You The Film – The mystery of the Enchanted School: Sofia Scalia and Luigi Calagna in an image
Luigi and Sofia are two guys who have seen success unexpectedly, at least in this dimension, and who are working hard to keep it. They work very hard. They have won many awards, the David di Donatello, the Golden Ticket, with their films, and now they no longer feel the pressure, they don't feel they have to prove anything. And they want to do what they enjoy. But what relationship do they have with success? "We are not afraid that success may end" explains Luì. "We never had a great ambition for success, but it came by itself. We welcomed it, we tried to do our best. We feel more responsible for what we do. We influence a lot of children and therefore we try to measure what we do" .
Me Against You The film – Lost in time, Luì and Sofì: "We like children because we are spontaneous"
Palermo, Milan and marriage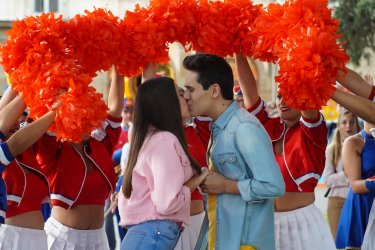 Me Against You The Film – The mystery of the Enchanted School: Sofia Scalia and Luigi Calagna in a sequence
The more you talk to them, the more you want to get to know them. For example, what do they do in their free time? "We have little, we always work" replies Sofì. "But when we have it we like to be with family, with our friends, listen to music, watch TV, travel. We are normal kids". The two lived a few years ago in Milan, for a logistical fact. Palermo, for every commitment, required flights and overnight stays outside. In Sicily, however, their great fanbase has remained. Luì and Sofì, companions in life and work, have been a couple for 10 years, and they are engaged. Everyone, then, is waiting for this wedding. "Marriage is something we have planned," they tell us. "The fact is that organizing a wedding trying to please our audience takes time, which is not there right now. All the projects are stuck one after the other."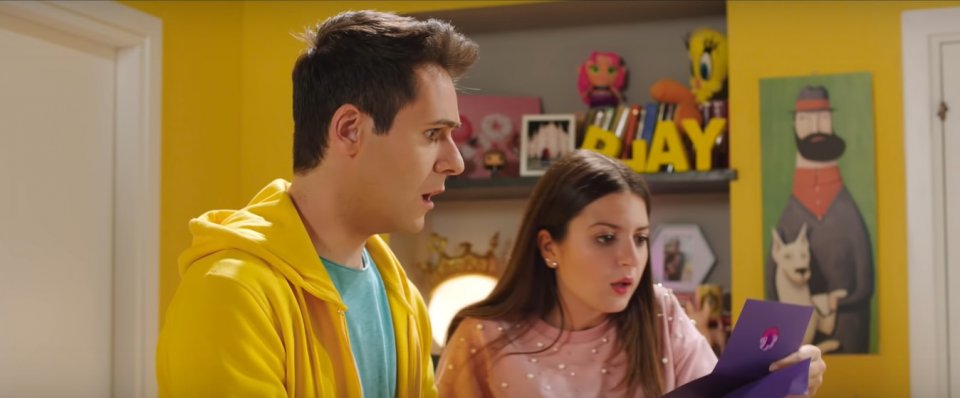 Me against You The Film – The Revenge of Mr. S: a moment of the film with Luì and Sofì
The secret of success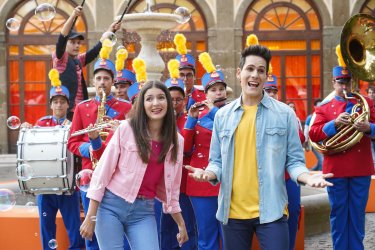 Me Against You The Film – The mystery of the Enchanted School: Sofia Scalia and Luigi Calagna in a moment of the film
The two boys also have some wisdom. To those who ask them how they react to rudeness, Sofì replies "We do not react to rudeness. We ignore it, and perhaps it is the best thing: you cannot change people". But how can Me Against You explain their sensational success? "We haven't explained it yet" replies Sofì candidly. "We still don't have an answer to that. But we believe it is because of our spontaneity. Our audience perceives that we are as they see us, and maybe we like us for that."