Good and evil merge and merge in The Lord of the Rings – The Rings of Power 1 × 05. They unite and separate without the possibility of understanding what came first, where one or the other comes from. In Tolkien the two forces that animate and contend the world are always present, always covertly in action as much outside as in the interior of each character. Good and evil almost seem to need each other to find strength and reason in themselves. Eru is also aware of this, inserting the evil just given birth by Melkor in one unitary symphony which gives life to the universe, Eä, and above all to the world of Arda.
In this condition of struggle and overlap, contrast and fusion of good and evil all the protagonists converge of the Amazon Prime Video TV series called to difficult choices in which the best thing does not always appear the clearest and most obvious. Like this Halbrand he wonders about his role in the world and in the impending war. He must choose whether to bear upon himself the burden of king of the men of the South, of an uncertain, fragile people and always ready to be corrupted. He himself feels on himself, within himself, the weight of corruption, of that evil that in the past he won it and convinced to be faithful to the Dark Lord.
Halbrand had renounced his humanity, the open fight against evil: he had done so out of fear but perhaps also out of desperation.
In the face of too widespread ailment it really makes sense to try useless resistance or it is preferable give in and embrace that evil? This is the question that also arises Bronwyn, despite himself, leader of a fearful and hunted people. If at first holding on seems to her the only possible choice, when hope fails, with the defection of half the population, her choice also fails: perhaps a saved life is worth more than a stubborn and deadly resistance. "We are destined for darkness, that's how we survive," she admits disconsolately.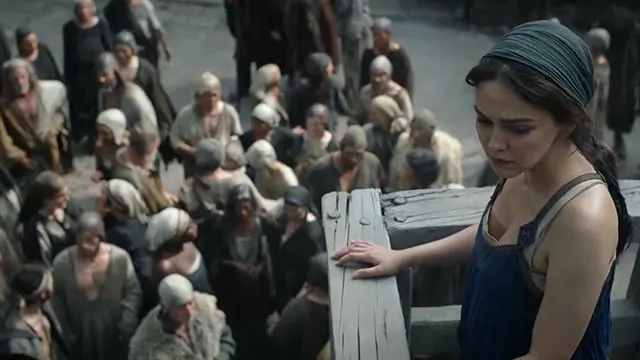 Bronwyn (640 × 360)
And this the doubt who agitates and confuses men, who asks them to embrace evil so as not to perish for good. What is the right choice? What to do? Halbrand and Bronwyn are discouraged and disillusioned, they know they are emblems of a race prone to evil, which perhaps inevitably tends and will always tend towards this darkness. In this heavy and distressing doubt, she also found herself passing by Galadriel who, however, was able to choose. His was an apparent renunciation of good, of Valinor, of the holy place par excellence, to plunge back into the dark eddies of the sea and its storms.
But this is what she was called to do, renounce the light and embrace the darkness: only through that darkness can new light be born. "Sometimes to find the light we have to touch the darkness," Galadriel confides to Halbrand and her admission is the admission of every living being who finds himself fighting his inner war in Arda. Good and bad, melted and confused, they feed each other, and sometimes it is necessary to look the deepest darkness in the face to feed new light. Halbrand has hit that bottom, he has seen her nature worse, but now he finally chooses to redeem himself.
He understands that even if he has embraced evil this does not mean that good cannot be rekindled in him.
He chooses the fighting fight, he chooses as a split and unsure hero take charge of that people who represent them so well, also fragile and predisposed to the attractions of evil but also proud and ready to redeem themselves. Bronwyn will also have to find this strength, the same strength as his beloved Arondir and his son Theo. The latter, although touched by evil, by the sign of Sauron, chooses to resist him. It does not follow Waldreg and those men who decide once again to bow to evil and corrupt themselves in that evil, but remain at the side of the mother and Arondir. It will be up to them to prevent Adar from gaining possession of the sword of Sauron which perhaps contains part of a dark, immense and destructive power.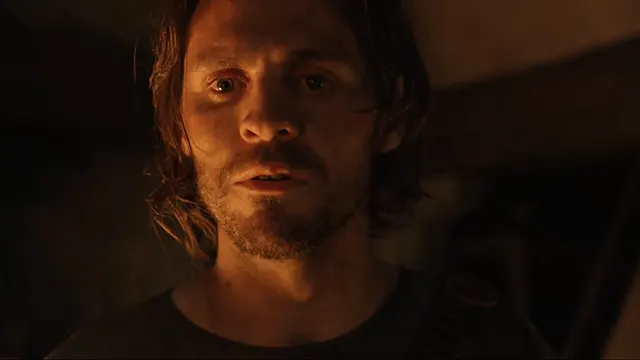 Halbrand (640 × 360)
Adar he does not yet reveal his nature, he seems almost annoyed by Waldreg who recognizes him as Sauron, the Dark Lord who in the past he was ready to venerate. Yet if not him who could he possibly be? Hidden under another name Sauron probably wants to prevent the forces of good from identifying him now that it seems still weak and "incarnate". As a mortal he feels the warmth of the day on himself and looks with a nostalgic perspective that feeling so human and carnal that when he is a god, rising to a nature that does not allow emotions and sensations, he will no longer be able to try.
Tolkien's Sauron during the Second Era, following a period of inactivity and flight, reappears in a pleasing form as Annatar, similar to an elf. Adar himself in the Amazon Prime Video TV series has this aspect under which he wants to hide his true evil: his material form is the necessary tool for sneak between men and elves waiting to regain its power, that power that could be concentrated precisely in the hilt possessed by Theo.
In Adar charm and wickedness, elven traits and plagues of a dark nature blend and mingle restlessly.
At the appearance of the noble features he contrasts the sadism that leads him to require total submission to men. Waldreg is called to completely deny, through the gratuitous murder of an innocent, his human nature: only in this way, says Adar, a [vedi citazione]. And Waldreg, in all likelihood, gives in, puts himself totally back to evil with an act of pure evil: he represents man in his most profound ugliness, a being capable of the most cruel atrocities. This is how Eru created it, taking it away from Ainur's music, shaping it personally and giving it to it the most complete freedom to embrace deep evil like shining light.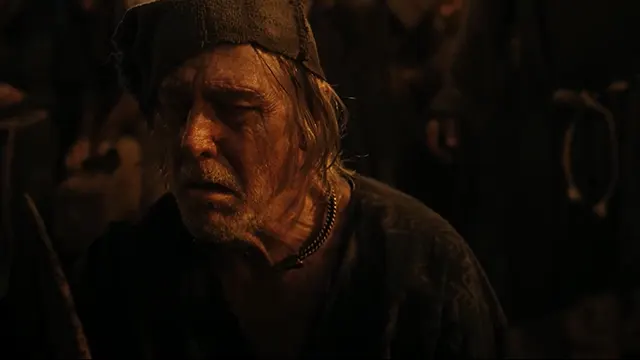 Waldreg (640 × 360)
Good and evil thus become implications of the same medalfor this reason they are not always extricable, often ambiguous, as is the nature of the Foreigner in The Lord of the Rings – The Rings of Power. Nori she is convinced of his goodness: "You are good", she repeats to him. She feels it in her heart, despite the Stranger stressing that because of her power, living beings have already died, the fireflies in The Lord of the Rings – The Rings of Power 1 × 01-1 × 02. But even Nori begins to doubt him, she moves away from him when this same power ends up hurting her, throwing her to the ground scared and swollen. So is there good or bad in him? On the one hand he acts for the good, on the other hand his power of him, still uncontrolled, risks doing harm.
Even in the Stranger so lights and shadows overlap and alternate, making us doubt, we with Nori, of his real nature and his intentions, he who has come down from a fiery meteor whose flames, however, did not burn. On the trail of him we also see gods mysterious new characters: if really the Stranger is Gandalf they could be the Istari, the Sorcerers who in Tolkien are other than incarnations of the demigods, of the Maiar. Fascinating to imagine that the creepy young man in a white robe, with a penetrating and apparently evil gaze, is Sarumanwhose distinctive color in the Order is precisely white.
Also in him, as in all the protagonists of the tv series of The Lord of the Rings, good and evil seem to merge and mix, asking you to choose which path to follow.
So also for Elrond, torn between respecting the promise to a friend and the need to save his people: in his case, sincerity wins over doubt, friendship over deception. For Miriel finally good and evil collide for the last time in the final choice on the war to be waged: now everything is really ready for the clash, even if for Numenor the good, in Pharazon's words, also seems to be imbued with darkness, between perspectives of I earn and desires of domination.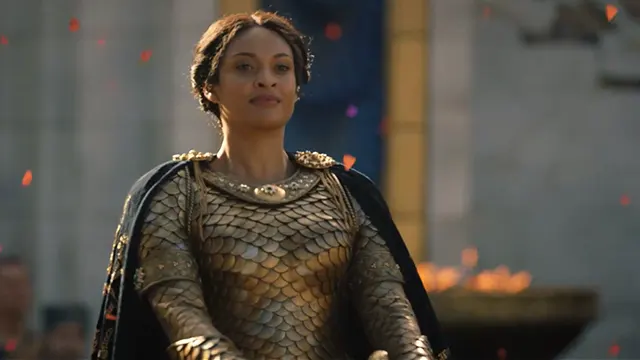 Miriel (640 × 360)
From good to evil, from evil to good. This is the destiny conceived for all creatures by Eru, the destiny of those who are constantly torn between the doubt of good and the fear of evil. This is the age-old path that everyone is called to walk in the certainty that sometimes, even to find light, it is necessary touch the blackest darkness.
In the appendix, some news relating to this Amazon Prime Video production: the controversy over the presence of black characters has recorded a new chapter with the intervention of Elijah Wood and the cast of The Lord of the Rings against racist comments as he expressed himself Elon Musk against the TV series: «Tolkien is turning in his grave». Maybe a little exaggerated.