Let's find out together which are the Apple TV + titles that will be presented in competition and in the Freestyle category at the Rome Film Fest 2022.
The seventeenth edition of the Rome Film Fest 2022 is ready to go and, among the many films that will be presented this year, let's see together which titles are branded Apple TV + which will be screened at the Parco della Musica Auditorium.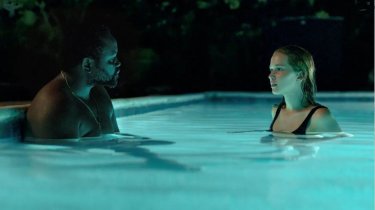 Causeway: Jennnifer Lawrence and Brian Tyree Henry in the pool
Among the 16 titles in the international competition, Causeway, the film with Jennifer Lawrence and Brian Tyree Henry directed by Lila Neugebauer, and Raymond & Ray, the film by Rodrigo Garcia starring Ewan McGregor and Ethan Hawke, certainly stand out.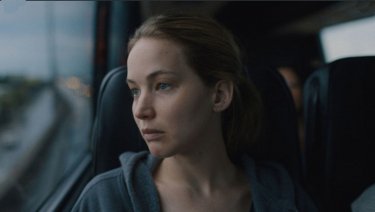 Causeway: A close-up of Jennnifer Lawrence
Lawrence's new work tells the story of a female soldier struggling to adapt to her life after returning home to New Orleans: her vehicle hits an explosive in Afghanistan, seriously injuring her, Lynsey returns home, finds herself forced to live with the mother and accepts a swimming pool cleaning job waiting to be transferred.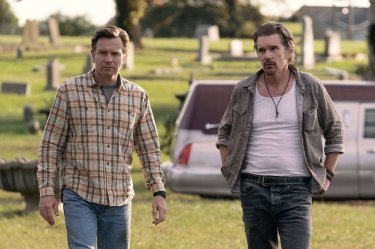 Raymond and Ray: Ewan McGregor and Ethan Hawke in the first photo of the film
Raymond & Ray, on the other hand, tells the story of two half-brothers who lived in the shadow of a terrible father. Somehow, each of them still has a sense of humor and his funeral is a chance to reinvent themselves. There is anger, there is pain, there is madness, perhaps there is love and surely there is a job as a gravedigger.
Apple TV +'s third title, in the Freestyle category, is Louis Armstrong's Black & Blues, a film by Sacha Jenkins that offers an intimate and revealing look at the musician who changed the world, presented through a lens of archival footage, private recordings. and personal conversations never heard before. Directed by Jenkins, this documentary honors Armstrong's legacy as a founding father of jazz, one of the first internationally known and loved stars and cultural ambassador of the United States. The film shows how Armstrong's own life spans the transition from the civil war to the civil rights movement and how he became a landmark figure in that turbulent era.