During a recent interview, James Cameron stated that the public will not be able to predict the story of Avatar: The Way of the Water.
James Cameronthe director of the highly anticipated Avatar 2, claimed that audiences will not be able to predict the plot of the sequel, the full title of which is: Avatar: The Way to Water. Released in 2009, the original film surprised audiences with stunning graphics combined with a story that won the hearts of viewers around the world, albeit with a few exceptions …
Set over a decade after the events of Avatar, the upcoming sequel will center on the characters of former Marine Jake Sully (Sam Worthington) and his partner Na'vi Neytiri (Zoe Saldana). The film will show the two protagonists as they fight for their family's survival, and although the original was a huge financial success, some have criticized the story for being too simple and predictable.
During a recent interview published by IGN, the director said that this time the audience will not be able to predict the plot of the film: "I guarantee you that you will not be able to predict the plot. What people hate most is to go to see a movie and say 'oh … predictable'. This is not predictable, I don't think it is. I challenge anyone to predict where this story will go. "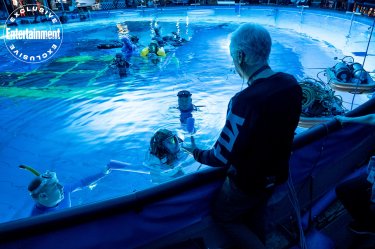 Avatar 2: James Cameron on set
James Cameron's official synopsis for Avatar: The Way of the Water reads: "Jake lives his life happily with Neytiri but Pandora still hides many mysteries. As a patriarch she will find herself fighting a tough war against humans."