Life according to Jim Life according to Dwight – episode 1 × 01
Cheryl, get me a nice beetroot smoothie!
There is no better way to start the day than before heading to the office and having to put up with it Jim Halpert and his stupid jokes: breakfast in my armchair in the living room with a good dose of beets, strictly from the Schrute farm. They are the best, no doubt, even if now Mose is the only one to take care of them. Since I got married, but especially after the birth of the children, I don't have much time left for the farm. I'm assistant to the regional director of the Scranton office of the Dunder Mifflin Paper Company, a volunteer deputy sheriff and now a husband and father as well, I can't do everything myself. But against all odds Mose is doing well, and she also replaces me as husband and father if necessary.
Mine, you know, is a big family. However, there are forty rules that all Schrute boys must learn before age five, we are used to asserting ourselves from an early age. Unfortunately I cannot say the same for my wife's family: her brother Andy is an inept who is always behind me but who I hold on to use him when necessary; her sister Dana on the other hand is an unbearable know-it-all and she never stops putting her beak into things that don't concern her. She says I'm a nerd, that I'm creepy and that before eating a beetroot he prefers it to be passed over him with an asphalt paver. It would suit her well, and it's not like she never thought about it, but I gave up. The fact is, however, that she really needs a good lesson, a lesson in the Schrute way.
Life according to Jim or Life according to Dwight?
Cheryl accompanies Ruby and Gracie to school but Kyle isn't doing very well, so Dana is (again) at our house to look after him. That baby has potential, I've been thinking about it since he was born: I doubt he's really sick, I think he just wants help his father with today's plan. Before I leave, I pretend that I am interested in dealing with her and I tell her that during my lunch break I will have to go to the farm to do an injection to Mose, a therapy for severe back pain. She tells me that louts have pains everywhere. Calm down, Dwight, it's not time for you yet.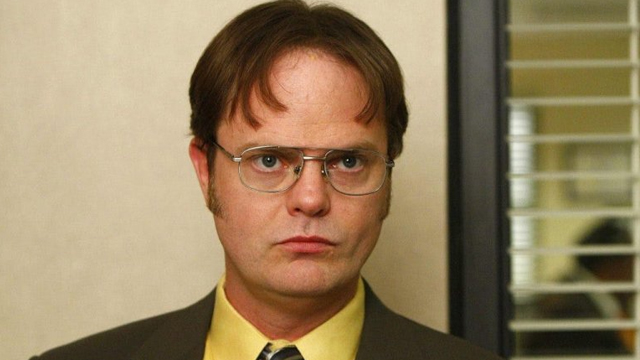 Like every day, I drive to work, arrive in the Dunder Mifflin parking lot, go up to the office, take a Phillips screwdriver from my arsenal and with the naturalness that distinguishes me bore two of my wheels. I look towards the windows of the building and who is there looking at me with that doubtful air of him? Jim, of course. You would like, Halpert, for this series to be called Life According to Jim, but it's Life According to Dwight and you have to get over it. Then I go back up, avoid his curious questions and show everyone who he is the best seller of the company.
The realization of a foolproof plan
During my lunch break I go out into the parking lot and with a performance worthy of a Oscar Prize I pretend that someone has punctured my wheels. I blame Toby, because there is always a need for a scapegoat. Then I call Cheryl and ask her if she can come and get me to take me to the farm, I tell her that she is urgent, Mose could die. She obviously can't, it's lunchtime for Kyle too, but send Dana. Oops, what a pity, everything goes exactly according to plan. Dana arrives and I get in the car, of course on the rear seat and on the driver's side, it's the safest place and I don't want to die in the car with that crazy woman driving. On the way she barks about how absurd it is what she has to do in life and how much she deserves a doctor husband and a nice family instead of having to take me for a walk. Poor deluded, why should a doctor marry her?
We arrive at the farm and everything seems to be going well. I get out of the car and ask her if she wants to go into the cow shed with me. She doesn't know, but that's right there Moses awaits us, ready to attack her and tie her to the wooden chair cleverly positioned by myself in the center of the room. Next to it is a bucket full of beets, which Dana once tied up will be forced to eat one by one. I don't care if she begs for mercy, if she cries, if she throws up: she'll finish them all because that's how it was decided.
The epilogue
We enter the stable and Moses is hidden behind the door. Dana looks around bewildered, she doesn't see anyone. Mose emerges screaming from her hiding place, runs towards Dana, screams too. He tries to pass the rope around her but she kicks him which knocks him down, takes the bucket with the beets and empties it on his head. Moses looks at her and says nothing. God, my poor beets. Dana frowns at me.
Lout you are nothing else, if I tell Cheryl what you have done, or rather what you have tried to do, he is asking for a divorce. But I am a good and generous person, and for $ 200 I can forgive.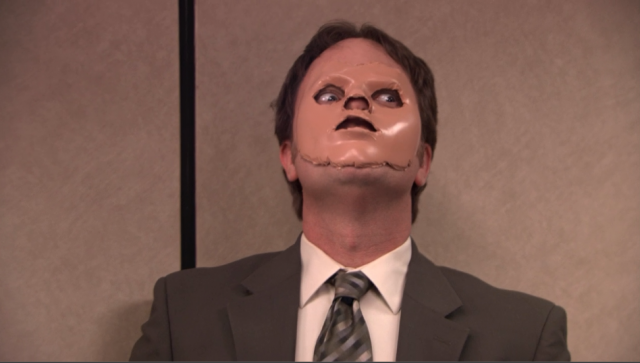 I give Dana the money and she drives me back to the Dunder Mifflin sitting in the passenger seat, but before I leave hole the other two wheels of my car. I guess I'll have to ask Michael for a ride back home.
Curtain.