Writer Diana Gabaldon shared a Facebook post revealing that she had not been informed of the development of the Outlander: Blood of My Blood prequel series.
Diana Gabaldon shared a post on Facebook in which he expressed his perplexity after the announcement of the prequel series from Outlander. The writer has in fact revealed that she has not been informed of the developments regarding the project.
In February Diana Gabaldon revealed that she was working on an Outlander prequel novel dedicated to the story of Brian and Ellen, the parents of Jamie Fraser.
STARZ, apparently, however, did not inform her of the intention to adapt the work into a TV series.
After the news about the development of Outlander: Blood of My Blood spread, Diana Gabaldon used her social media account to clarify: "This is interesting … I would like to point out that I have no idea what Consulting Producer means. , and no one has ever told me about it. That doesn't mean I won't be involved in the show, but I currently don't have any details about it. "
The writer then reiterated: "Yes, I am writing the story of Brian and Ellen. I have no idea what the timing of the series might be or how the showrunners plan to use the book (as it exists so far)." In development 'it's not the same as getting the green light, it just means they're putting the pieces together. I'm only saying that here because Starz announced it on Twitter and Facebook, so I figured everyone wants to know something. " .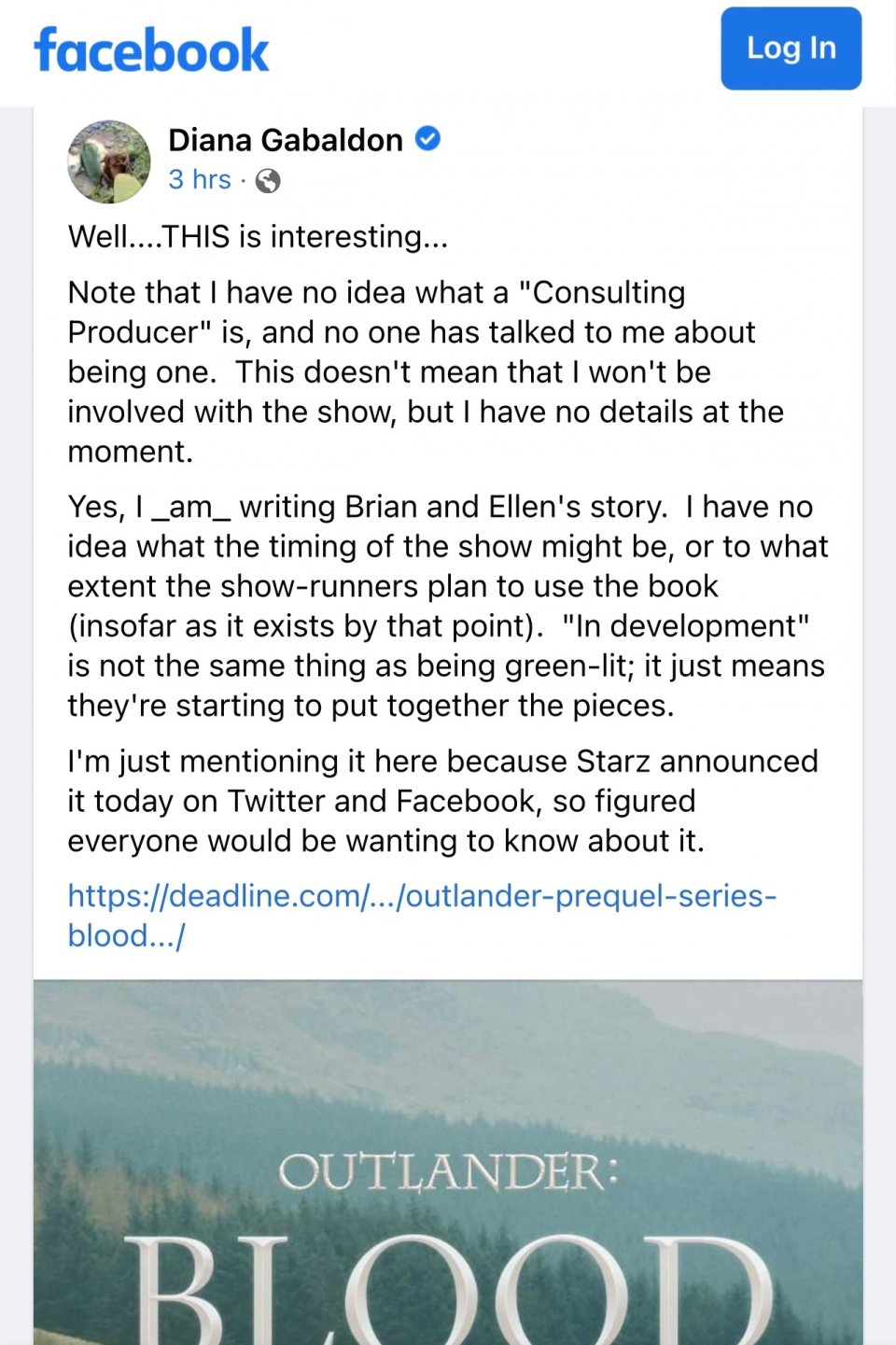 Matthew B. Roberts is writing Outlander: Blood of My Blood and will serve as showrunner and executive producer. He is also the showrunner and executive producer of Outlander, currently in production in its seventh season. Maril Davis will also executive produce the prequel alongside Ronald D. Moore, who developed Outlander for television, under their production label Tall Ship Productions. Story Mining & Supply Company participate in the production with Diana Gabaldon as a consulting producer.