From tonight on Sky Investigation at 9:15 pm and streaming on NOW, Agatha Christie – Why Didn't They Ask Evans ?, miniseries by and with Hugh Laurie.
On Sky it arrives Agatha Christie – Why didn't they ask Evans?the miniseries – available with all episodes from tonight on Sky Investigation and streaming on NOW – signed by Hugh Laurie, also executive producer and performer, the brand new adaptation of the 1934 tale of the same name by the queen of mystery.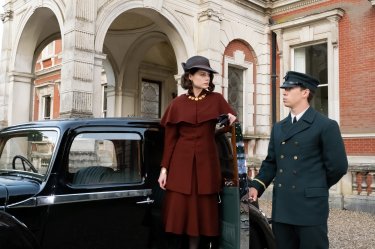 Agatha Christie – Why didn't they ask Evans? – a scene from the series
The distinctly and irresistibly British miniseries follows friends Bobby and Frankie as they embark on a perilous journey from Wales to England in an attempt to answer the question: "Why didn't they ask Evans?", The mysterious last words spoken. to Bobby from a dying man he happened upon on a beach on the North Wales coast. The only witness is Bobby Jones, discharged from the Royal Navy and returned to his hometown, where he juggles between a job and another, in the company of Frankie Derwent, a childhood friend met again after ten years. The two friends, armed with curiosity and guided by a photo found by Bobby in the dead man's pocket, decide to embark on a risky journey to England, with a single goal: to find out what lies behind that cryptic question. In doing so, however, they will come face to face with a dangerous killer …
Agatha Christie – Why didn't they ask Evans ?, the review: Hugh Laurie signs a tasty puzzle
The two protagonists are played by Will Poulter (Black Mirror) and Lucy Boynton (Bohemian Rhapsody), joined by a stellar cast of supporting actors, including Conleth Hill (Game of Thrones) as Dr. Alwyn Thomas and even Emma Thompson and Jim Broadbent in those of Lady and Lord Marcham. Also in the cast are Hugh Laurie, Maeve Dermody, Daniel Ings, Jonathan Jules, Alistair Petrie, Nicholas Asbury, Morwenna Banks, Richard Dixon, Benedict Wolf, Nia Trussler Jones and Christian Patterson.