How Devils ends 2
How Devils 2 ends: The second season of the financial thriller by Sky Studios and produced with Lux Vide ended on Friday 13 May. The clash between Massimo Ruggero and Dominic Morgan, the titans of global finance interpreted respectively by Alessandro Borghi and Patrick Dempsey, comes to an unexpected solution that sees them join forces against Liwei Cheng's expansionist aims in Europe.
ATTENTION: the following is the full explanation of the ending of the second season of Devils and includes big spoilers about everything that happens. If you have not yet finished the vision of the second season or you do not want to spoil the surprises, we advise you not to continue reading. If you want to find out how Devils 2 ends, below you will find the complete explanation.
In the latest episode of Diavoli 2, Massimo intends to deliver a key containing the evidence that nail Dominic Morgan and Rebecca Farmer to the deaths of a Guardian journalist. Kalim Chowdry and of Damian Curtis, the app developer who led NYL to focus on "Remain". Nadya, meanwhile, decides to leave Dominic's side and return to Warsaw: she is against the oligarchic system that regulates world finance and she no longer intends to become an accomplice of her.
read on after the ad
Wu Zhi she discovers she is pregnant with a baby girl, and asks Massimo to make a decision about his future involvement in their lives. Meanwhile, Oliver intends to betray Massimo to prove to Liwei and the NYL board that he is no longer his trusted man. His wife Latoyah does not agree with this strategy at all, and she does not fail to point it out to him. Oliver's double game causes him to go to Massimo to get a job again: Ruggero asks him to sink Ellams Automotive, unaware that Oliver is plotting behind him.
Massimo, meanwhile, gets a small win in European Commission together with Carolina Elsher: if it can demonstrate the danger of Chinese investments within 48 hours, the European Commission will not obstruct AIKOA and FramTEK merger. To obtain that evidence, Massimo recruits Carl Wong, with the aim of delivering everything to the reporter. Unfortunately Agnes Sharma is joined first by Dominic, who also proceeds to send Carl Wong away. Liwei Cheng accuses Zhi of cheating on the bank and asks her to resign while she hires Oliver as a bargaining chip for betraying Massimo.
It was Rebecca's men who killed Kalim and Damian, Dominic warns Massimo: "Run away and never come back". Dominic tells Massimo that he has evidence that Massimo operated behind the Financial Conduct Authority and conducted money laundering strategies. Massimo decides to leave the country, Zhi helps him and gives her the ultrasound photos. "She's a little girl," she tells him. Massimo thus becomes an international fugitive: the accusation of money laundering hangs over his head. Thus we arrive at March 13, 2020 and the scene on which the second season opened. At the Duomo bar, in a deserted square, Dominic urges Massimo to surrender: "when the game ends, the king and pawn end up in the same box"Says Massimo, who hands himself over to the agents.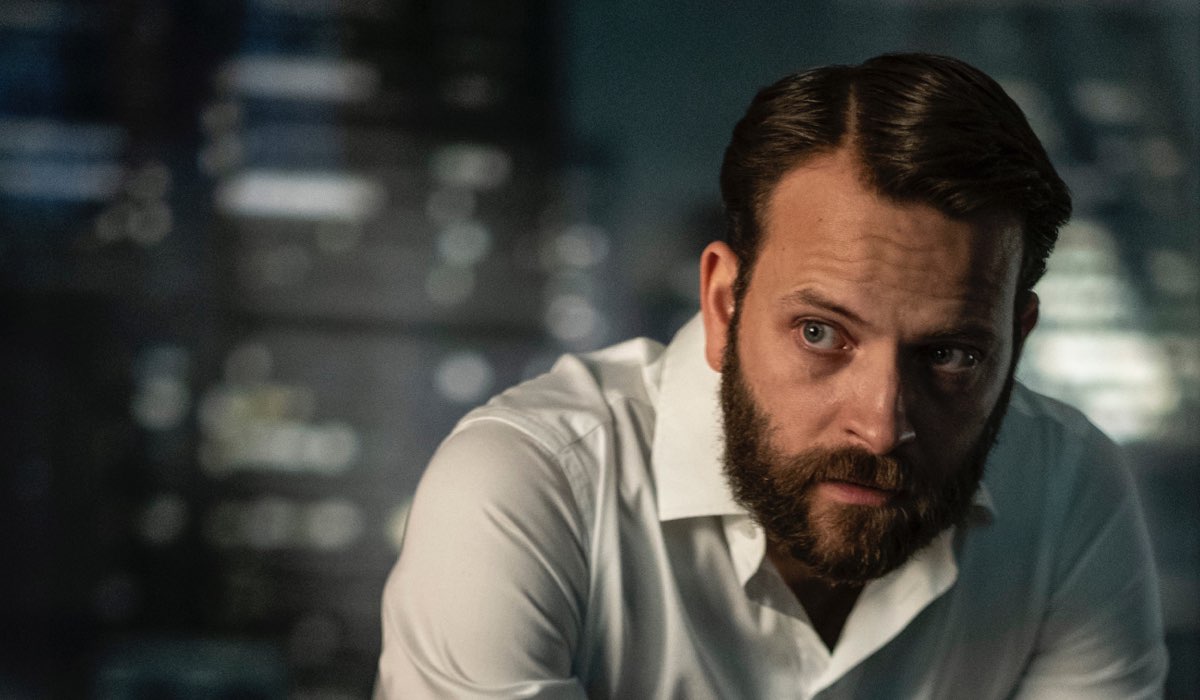 Alessandro Borghi plays Massimo in a scene from the second season of "Diavoli". Credits: Sky / Lux Vide.
read on after the ad
We are at 14 March 2020. Massimo's voice-over says: "When I was a boy I thought that happiness was a goal. So I ran as far as I could. But the farther I went, the farther my goal became. I was not going towards happiness, I ended up in a cage that I had built myself ". Massimo returns to London to appear before the judge. After paying for one bail of £ 5 millionMassimo is released on probation awaiting the verdict of the court of justice.
Oliver and Toyah got divorced, and Toyah, as a nurse, is overwhelmed by the onset of the global pandemic; this is how she becomes infected with the coronavirus and ends up in intensive care due to low oxygenation. After her release, Dominic asks Eleanor to act as an intermediary between him, Zhi and little Claire. Massimo proposes to Dominic an alliance to protect Europe and the United States. Nadya, meanwhile, has copied data from Dominic's computer to Rebecca Farmer's account: Massimo promises Dominic that with his help he will get rid of Rebecca.
Carolina, Eleanor and Massimo they want to take NYL and ask for help from Dominicall this is possible thanks to the involvement of Nadya and his friends from Flamestar. Rebecca takes revenge on Dominic by selling her shares to Anton Kozlov, who thus assumes the majority of the company. Kozlov controls Dominic. Massimo gives Dominic an ultimatum: take NYL together and win against Jeremy Stonehouse, the head of the thirteenth floor. The attack is launched against the NYL, which is in difficulty because of its capital tightening. Liwei senses Zhi's involvement. Dominic threatens Kozlov: Trump will lose the election and with the return of the Democrats to the White House, the company will be ditched by the name of Kozlov. NYL collapses on the stock market: Liwei asks the Chinese government for help not to lose the bank, but the market is against him. Oliver does the right thing, keeping his promise to Toyah, and gives Massimo a blunder about the NYL's moves to curb the financial bleeding.
In a move that emulates what happened when, in the spring of last year, users of r / WallStreetBets on Reddit bought options of GameStop and AMC to the point of making the prices of the two stocks soar, many small investors launch the attack. against NYL by buying shares in the bank: Liwei is therefore forced to sell, thus putting an end to China's ambition in Europe. The accusations against Massimo collapse: the evidence against him was acquired illegally and therefore cannot be used. Oliver is named CEO and Eleanor Head of Trading. Anton meets Rebecca in a parking lot: her partners in Moscow would like to talk to her. Liwei congratulates Dominic on the battle, however anticipating that China will be determined to win the war.
read on after the ad
Oliver shows up at the hospital with a bouquet of flowers to finally be reunited with Toyah, but discovers that his ex-wife died two hours earlier of complications from Covid. Just when the two finally seemed ready to let go of the past and move on, together. Massimo finally meets and hugs Claire, his child, while Oliver has to tell his children that their mother is gone.
Two months later, Nadya is located in Kiev. Massimo has returned to Italy and gives Nadya the go-ahead to start the operation called BANG, in which thousands of young lonely traders have made Wall Street tremble by buying in bulk the purchase of shares of Blackberry, AMC, Nokia and GameStop . In this fragmented and unpredictable scenario, the era of hedge fund seems to have arrived at dusk, but the battle is still open: Dominic Morgan looks worriedly out of the window of the London office of the NYL.