The first four seasons of Young Sheldon, a spinoff of Big Bang Theory, arrive in streaming on Netflix starting today, April 15, 2022 for all users.
The first four seasons of Young Sheldonspinoff of The Big Bang Theory, arrive in streaming up Netflix starting today 15 April 2022 for all users subscribed to the service.
The story at the center of the episodes is told by the adult Sheldon who looks to the past to explain how he became the nerd we know and love. Iain Armitage plays the young version of Sheldon Cooper, the scientist who lends his face to Jim Parsons. Laurie Metcalf plays Sheldon's mom in The Big Bang Theory, while the actress's real daughter, Zoe Perry, was cast in the same role for the spinoff.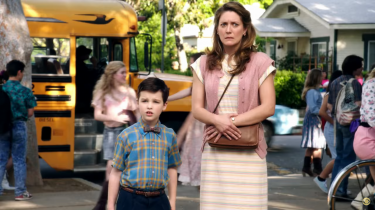 Young Sheldon: Zoe Perry and Iain Armitage in one scene
The story of the first season kicks off when the character is ten, following the difficulties, friendships and problems of his family. The series was one of the most viewed shows in the United States and was for its first year the second comedy in terms of audience figures behind The Big Bang Theory, with about 14.6 million weekly viewers. Precisely for this reason CBS has renewed the show, reaching the fifth season aired so far, but having already put in place the sixth and seventh! On the portal of American critics Metacritic Young Sheldon scored a score of 63 out of 100, more or less a draw with the origin of the whole Big Bang Theory which sees a total of 61 points.