Tom Holland doubles up at the American box office to take first place with the debut of the adventurous Uncharted, while Spider-Man: No Way Home climbs back to third place.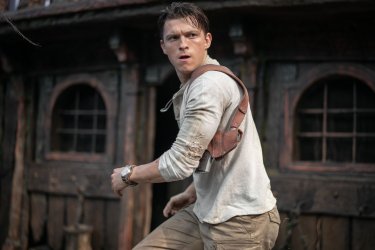 Uncharted: Tom Holland in a sequence
Tom Holland proves to be a guarantee of success to the US box office. As Spider-Man: No way Home continues to rack up revenue, the British actor celebrates the success of his new collaboration with Sony, the action Uncharted, which debuted in first position with a collection of $ 44.1 million raised in 4,275 theaters, and an average per room of $ 10,328. The adventures of Nathan Drake conquer the public, as our review of Uncharted also points out, which sees a young Nathan Drake engaged in incredible adventures accompanied by mentor Victor Sullivan (Mark Wahlberg). In the cast also Antonio Banderas and Tati Gabrielle.
Uncharted, Tom Holland: "In the film I had to learn to move like a man, not like a kid anymore"
Dog opens in second place, which tells the misadventures of a former army ranger played by Channing Tatum, who is on an incredible journey together with Lulu, a Belgian shepherd dog. The two climb aboard a 1984 Ford Bronco and leave for the Pacific coast in hopes of arriving in time for a soldier's funeral. Along the way, they'll give each other a hard time, break some laws, avoid dying, and learn to let their guard down for a chance at happiness. A film that is warming the hearts of the American public and that opens grossing over 15 million in 3,677 theaters, with an average of $ 4,116 per screen.
Tom Holland still star of the box office with Spider-Man: No Way Home, which climbs back to third position and collects another 7.6 million dollars reaching a national total of 770.5 million dollars. As anticipated by our review of Spider-Man: No Way Home, the cinecomic is linked to the events that occurred in the ending of Spider-Man: Far From Home in which the true identity of Spider-Man is revealed to the world. Now that all New Yorkers have discovered who is hiding behind the mask of the neighborhood superhero, young Peter Parker (Tom Holland) has to deal with public opinion and with the knowledge that he will never be able to separate his own again. private life from that of a hero.
Spider-Man: No Way Home, the 10 best scenes of the film
The murder mystery Murder on the Nile slips to fourth place. Kenneth Branagh's film grosses 6.2 million which brings him to 25 million box office receipts. But the production of the all-star film starring Gal Gadot, Annette Bening, Russell Brand and Letitia wright cost a whopping $ 90 million – not to mention the additional costs the film accrued in several health-related delays – which means. that it will not be easy to recover costs. As we read in the review of Murder on the Nile, Kenneth Branagh returns as the iconic detective Hercule Poirot to solve a new intricate crime that took place during a cruise in Egypt.
Murder on the Nile: what changes (and why) in Kenneth Branagh's film
Fifth, Jackass Forever, the new chapter in the crazy saga with Johnny Knoxville who collects another 5.2 million, reaching a total of 46.7 million.